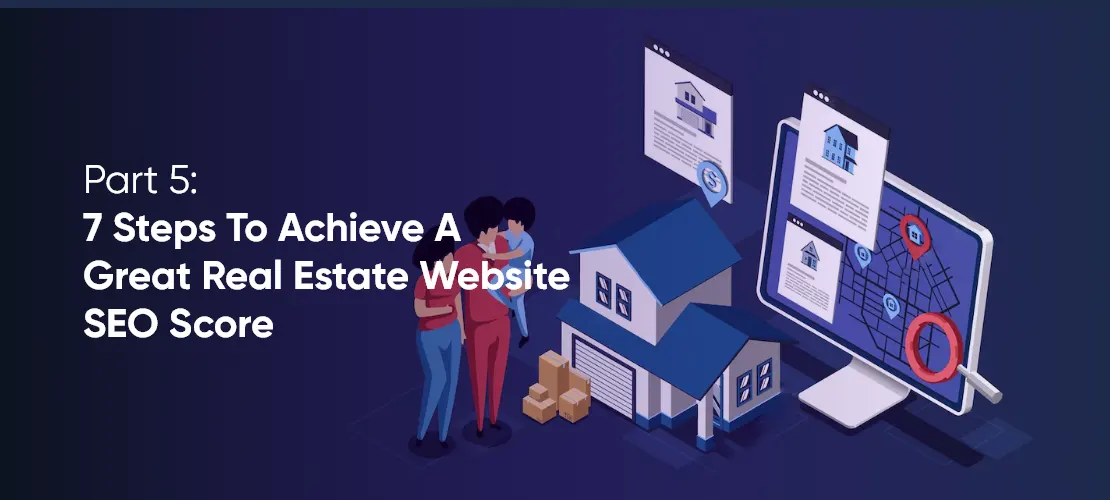 January 19, 2023
Reading time about 5 minutes
The property rates are shooting sky-high. With increasing rates, more and more people are investing in real estate to gain maximum profits. Therefore, real estate agents, brokers, and realtors are in a race to engage audiences who are searching or looking to buy new property with their luxury real estate website design.
Today, most real estate properties are sold online and if you want to be successful in the real estate industry right now, then you need a real estate agent personal websites with IDX with a strong real estate SEO strategy. SEO is a group of strategies and processes that make your website attain the highest position in the search result. Here, we will discuss how to achieve a great SEO score for your real estate website.
Why A Great SEO Score Is Important For A Real Estate Website?
As of December 2022, Google is the most-used search engine worldwide with a global search share of around 84.08 percent. Meanwhile, Yahoo's market share was 2.55 percent and Bing accounted for nearly 9.0 percent. With this data, many real estate agents and brokers' websites enhance their SEO score for the Google search engine
Many real estate website owners claim that organic SEO efforts increased sales growth compared to costly PPC advertisements. While many real estate website owners with IDX broker websites have significantly lower customer acquisition costs with SEO efforts than paid ads. The best part about increasing real estate websites for realtors with IDX SEO scores is that it never rests and generates leads for you 24/7.
How To Achieve The Top SEO Score
Maintaining a good SEO score takes a lot of time and regular effort. It is a logical process in which every bit of your effort adds up to take the optimization process ahead. But many real estate businesses with luxury real estate website design don't find it optimistic and hence consider it as a time and effort-intensive process. A good SEO score comes with an arranged SEO strategy that also aligns with your long-term goals. Let's see the various strategies that align with your real estate business.
1. Choose A Domain Name With Mater Keyword
Domain names play a great role in increasing the SEO score of your real estate website. Therefore, choosing a domain name enhances your brand image as well as the keyword that defines your real estate business. Many real estate agents and brokers choose domain names that are easy to remember but unfortunately led to the failure of the website.
2. Reduce Your Page Loading Speed
Google uses more analytics to show your website in the top search result. Page loading speed is one of them that can increase or decrease your page loading speed. Therefore, always check your website hosting platform and test for loading speed to improve the SEO score of your website. Maintaining a page loading speed of 1-2 seconds can help you in delivering a user-friendly experience to the visitors.
3. Enlist Your Target Keywords
Choose the keyword that resonates with your business and enhances your business. Integrate these keywords across all your website pages to make them easily available for your customers. Don't use different keywords for different pages as this will lead to variations in your page ranking in the search engine result. It is important to build a real estate keyword list throughout your local SEO efforts. You can use tools like Google Keyword Planner or WordStream to identify the best keywords for your website.
4. Ensure Alt Text And Title Tags
Adding alt text descriptions in the images and videos and title tags in the page description helps you to increase the engagement of the users and analyzed them by crawlers. You can also include keywords into the alt text and title tags to rank your page higher in the search engine. Incorporating a couple of keywords within these descriptions helps the bots to see the media's relevance to the page topic.
5. Integrate Meta Description With Keywords
Meta descriptions are short descriptions of your article, blogs, or the content of your pages. These short descriptions help you in targeting the audience who are looking to buy a new property. In meta description, you can easily integrate the keywords so that your webpage shows first in the search result. When the targeted keywords in your meta description match the user's search query then Google automatically displays the result. This makes your search result more attractive and enables users to visit your website
6. Interlink Your Web Pages
Interlinking your internal web pages with one another enhances the web traffic on your site. When you interlink the website content to your other pages within your site then it helps in keeping visitors from bouncing away from your website's pages. When interlinking of your pages is done right then it boosts the inflow of additional traffic to your real estate websites for realtors with IDX
7. Submit Your Sitemap To Search Engine
Every day, many websites are being launched, and reaching the right audience can be a difficult task. Therefore, it becomes very important to reach your audience. You can create sitemaps for the various sections of your website and submit them to the search engine to mark your website valuable enough to serve their search user base. This will help you in targeting the right buyer for your listed property.
Conclusion
With the growing demand for the best real estate website platforms with luxury real estate website design, it becomes very important to achieve a great real estate website score to target your customers that can grow your business. BidHom is the best real estate website platform for real estate businesses that helps you in developing a great real estate agent personal website with IDX.