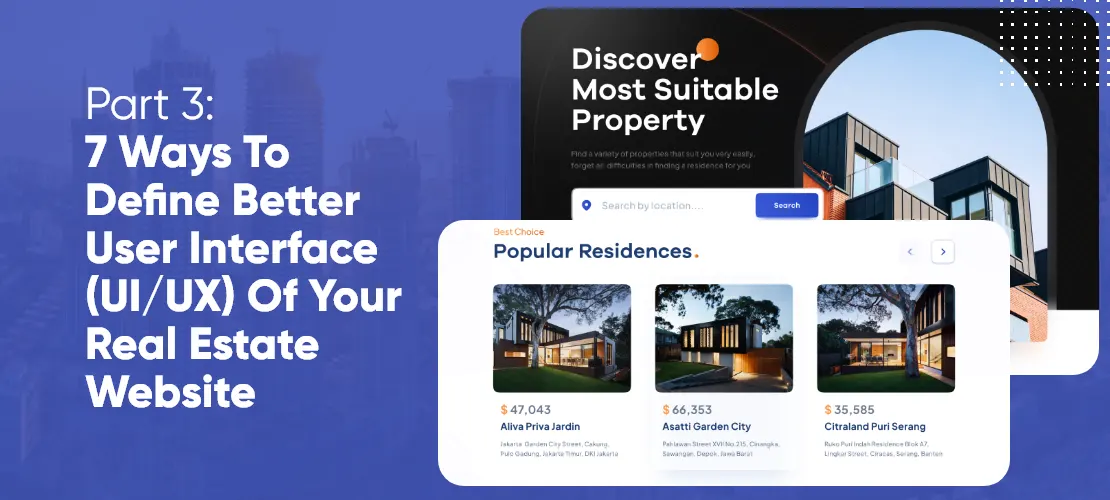 January 6, 2023
Reading time about 6 minutes
Today, developing user interfaces for real estate websites could be tricky and involve many pitfalls when we look for a user-friendly UI/UX of real estate website. The idea behind a customer-focused website is to create a custom real estate websites designand web page that can engage them and attract their attention.
Do you want to rely on delivering a better experience to customers through mobile responsive idx real estate websites and luxury real estate website design? Here, I will share some best practices to help you figure out the best ways to eliminate beginner's mistakes and create well-functional web pages to engage your customers and for your booming business.
Why UI/UX Are Important In Real Estate Website Development?
We all know that web pages are made up of code. The UI/UX layer helps mask to keep these messy codes and numbers to keep the front view of the website clean, simple, and easy to use for the visitors. Whenever user interacts with your website then instead of seeing codes, they see a compelling design and menu structure to perform an action.
User interfaces are the front-end aspects of a website that help you in interacting with the customers and help them to see and interact with menu items like- tabs, contact forms, slides, graphics, images, and various other interactive elements. Real estate website development company helps you in designing a good real estate website development.
Delivers Positive Impression To The Customers
Most importantly, the UI/UX of your website decides the level of your customer engagement. Therefore, your website must be tailored to meet the demands and needs of your customers to deliver an excellent browsing experience. It means that your website navigation, visuals, and contents, must communicate with the customers' or visitors' expectations.
Increases The Rate Of Conversions
A well-designed user interface helps to engage the audiences and increases the rate of conversion. When your customers visit your website then engage them with desirable property features, luxury real estate website design, and various listings so that they can easily provide contact information in the most convenient and simple ways with Call-To-Actions (CTAs).
Enhance Your Visibility
Streamlining the experience of the customers helps you in increasing the visibility of your website. When customers engage for a long time then there is an increase in the visibility on the search engine. The search engine uses parameters like- site duration, number of pages visited, bounce rate, etc. to rank your website higher. High end real estate website design enhances the visibility of your website.
7 Best Practices To Design Custom UI/UX Of Your Website
Many real estate websites fail due to poor user interface and an overdose of graphics and images. This could be the result of slow loading of pages, dead ends click, tabs carrying mismatched links, improper video embedment, etc. that slow down the speed of your website. Therefore, whenever a user encounters such websites then they never want to encounter them next time with such bad UX. Let's see how you can overcome the various UI/UX of your website through real estate website development company.
1. Define Your Real Estate Business
The first step to follow in designing a good UI and UX is to define your business. When you define your business through your website then it reflects on the users and clearly defines you as a brand. Be sure to get your user data from a variety of points like- sales, operations, marketing, product, and support. Divide various product and service sections on your website. Premium real estate website design helps you in delivering this kind of user experience and flow will give you the best experience for the user when they encounter your website.
2. Integrate Images And Videos For Interactive Looks
Videos and images add a more interactive look to your website and act as an engagement tool for the customers. Use images and videos of high quality that have high loading speed. Use 3D images and videos of property listings to remain popular among potential buyers. Add street-view photos and videos to show the neighborhood and location of the property. Mobile responsive idx real estate websites easily include images, videos, graphics, and other interactive elements to your custom real estate websites design.
3. Keep An Eye On Scrolling
Scrolls can make or break the user experience of your website. Therefore, it becomes very important to keep your scrolling smooth and glitch-free. Your website loads instantly whenever a user goes through the website along with photos and videos on your webpage. Highlight their attention to draw back to the most important content areas.
4. Make Your Existing Content Interactive
If you are building a real estate website from scratch, then you can skip this step. But if you are enhancing the UI/UX then you can put down the latest images and videos of your listings and watch how your website responds to the loading time. Go for small animations and a minimalistic approach to check the overall scrolling and glitches of your website to deliver a smooth browsing experience to the customers.
5. Enlist The Important Information Only
Building a great user interface is not an easy task. You must go through a lot of design elements and keep an eye on the details to ensure that everything works fine for your customers. Enlist the important information that is useful to the customers or visitors. You can put all the other information on the internal pages to keep your homepage clean and user-friendly.
6. Integrate Intuitive Navigation Across Site
We have a habit of seeing the common type of homepages, Product and services pages, other offerings, about us section, and contact templates on the bottom of the page. These things keep the navigation simple and easy for the site visitors. Don't try to change these algorithms as users will get lost, confused, and can disengage with your site
7. Integrate Chatbot And Deploy Search Bar
Chatbots are the best to provide instant support to customers. Integrating chatbots helps them in providing relevant information or providing instant solutions to their queries related to property listings. You can also deploy a search bar to refine the list of your listings. This will help customers to gain quick access to various listed properties.
How BidHom Define Better UI/UX For Your Real Estate Business?
Building a better user interface (UI/UX) is complicated and requires a lot of research and expertise. Many real estate businesses are looking for the real estate website development company for designing and want to integrate compelling user interfaces to deliver the best-in-class user experience to viewing their listing and various properties.
If you are one of them then we at BidHom are the premium real estate website design company that helps you in building high end real estate website design and customizable Real Estate IDX Websites & Mobile Apps with faster search & smart lead capture. Launch your real estate website with MLS IDX integration and manage your online presence with a best-in-class platform