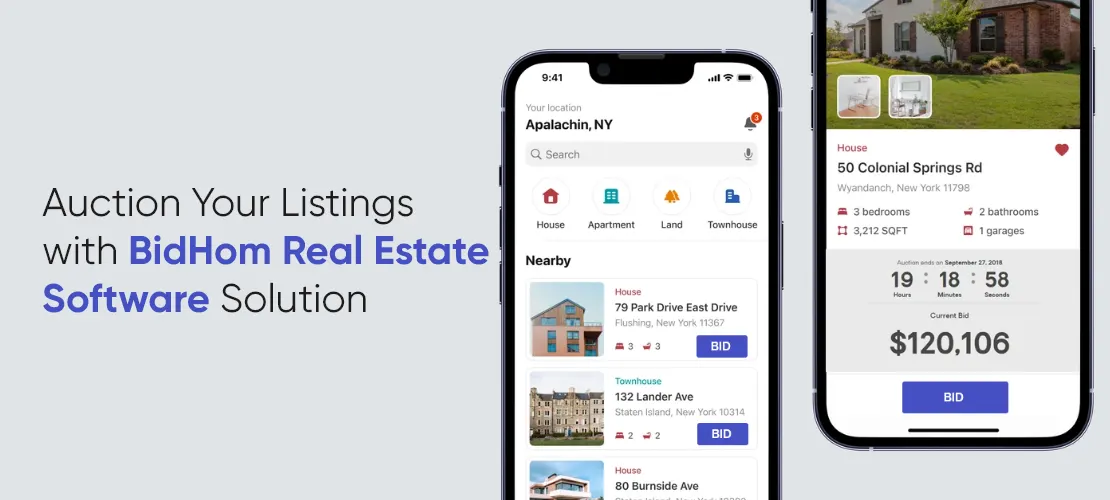 June 6, 2023
Reading time about 5 minutes
When it comes to real estate, conventional auction sales were considered just for bank-owned properties. But in the past few years, we have seen a steady increase in the number of homes sold with more buyer engagement from owner-occupant consumers. Today's real estate agents and brokers need a new generation of auction management software that can streamline and control their complete property management and real estate online auction lifecycle.
Why Do Real Estate Businesses Need Auction Software
BidHom is a complete real estate online auction software solution for agents, brokers, and real estate auctioneers. It is a complete real estate property management software solution that provides a convenient way to list properties, manage them and create auctions with the most flexible approach to deliver a better home-buying experience in an increasingly competitive industry.
BidHom auction platform provides an easy-to-use CMS (content management system), bulk auction import, and contact management for agents and brokers. Therefore, manage all your auction needs from one place like sales and bid management, invoicing, reporting, outbid, and high bid notices, as well as end-of-auction notices.
Types of Auctions for Your Listed Properties
BidHom is a complete real estate property management software for endless opportunities. Our SaaS (software as a service) based online auction platform for agents, brokers, and real estate auctioneers to conduct successful auctions around the globe with a simplified online bidding process and maximum price for your listings.
Absolute Auction
An absolute auction is a type of auction in which the sale is awarded to the highest bidder regardless of the price. It generates maximum response from the marketplace while creating excitement and participation from the customers. Absolute auctions guarantee a property sale as it does not have a reserve price.
Minimum Bid Auction
In this type of auction, the seller or auctioneer sets a minimum price for the customers to place the bid at or above the published minimum price. This reduces the risk for the sellers to prevent loss and accept the bid above from the acceptable level. The set minimum price is always stated in the brochure and advertisements and is announced at the auction.
Reserve Auction
In a reserve auction, the owner determines the price of the property that would be willing to sell the property. This pre-determined price is not published or disclosed to the public. However, the seller or auctioneer is not obligated to confirm a sale other than at a price that is entirely acceptable to them. In a reserve auction, there is no certainty that customers will be able to buy the property even if they place the highest bid.
Sealed Bid Auction
In this type of auction, bids are placed in a confidential manner and then opened at a predetermined time and place. This type of bid is generally organized by the banks and government for their recovered properties against the loans. Thus, sellers or auctioneers can earn more than they thought they would for a property.
BidHom is a SaaS-based auction platform that delivers endless opportunities to your real estate business. It supports multiple auction formats and allows you to manage all your auctions right from the dashboard.
Key Features of BidHom Real Estate Auction Platform
Bidhom is an easy-to-use online real estate auction platform. You can create a listing for a seamless auction on your website.
Easy Auction Registration
Register yourself as an agent or broker and create an account by providing all the essential information about your business like- name, address, and other details. Create a list of properties and easily create an auction from your choice of listed properties.
Pre-Auction Listings
After successful registration and listing of your listings, you can create a pre-auction listing of your properties. Pre-auction listing creates excitement and interest among the customers when they see upcoming auctions. Customers can easily review your listing and take part in it when the countdown closes.
Activate Your Property Auction
BidHom online auction platform provides a convenient way to list properties and manage auctions with the most flexible approach. With advanced filtering, bidders can easily search for properties based on their preferences like property type and other parameters. The feature allows for narrowing down the choices and makes the process of finding the property convenient.
Virtual Tours
Virtual tours allow bidders or customers to take a property tour they are going to buy before the auction. This helps them to see how property looks from the inside and outside as well as they can also see the surroundings of the property. This increases the interest among the bidder to bid the maximum for your listed property.
Track the Status of Your Auction
BidHom's user-friendly dashboard helps the auctioneer or seller track the status of their listed properties. Our real estate property management software helps in analyzing the participants, their placed bids, active participants, highest bidder details, and many others.
Our white-label platform easily integrates with your website and ensures your brand and customers remain intact as well as builds your brand reputation. This makes BidHom a must-have platform for real estate online auctions.
Conclusion
Auctioning your real estate properties helps in bringing more revenue to your business. It attracts potential buyers from all over the world who are looking for their desirable properties. At BidHom, we deliver a complete solution for real estate online auction platform to website. Our easy-to-use real estate software allows you to list properties, manage auctions, and resolve the challenges that arise during the live auction and bidding process.
If you are looking to enhance your real estate website with a live auction platform, then we at Bidhom can help you with a personalized online real estate website with an auction platform with the most flexible approach. Get your free real estate auction website today!