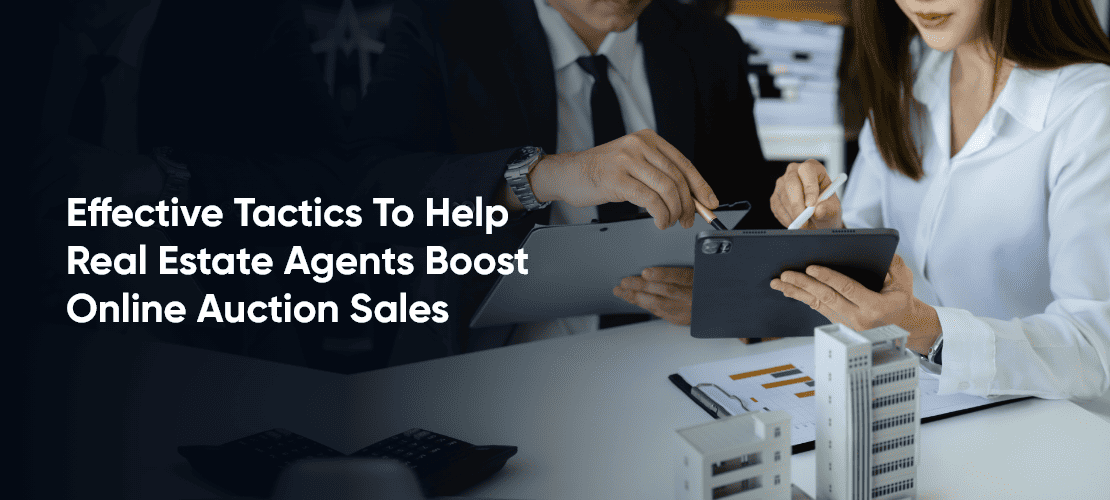 November 7, 2023
Reading time about 6 minutes
The real estate sector is progressing every year with the increased use of online real estate auctions especially after the COVID pandemic outbreak. The market has made the switch to a primarily digital environment making it easy for agents and brokers to sell property easily. Though online auctions have been there for a long time, homebuyers now have a new level of convenience and ease of bidding for their desired properties.
In this blog, we will learn how the right online auction platform for estate agents can help them unlock new opportunities for higher sales.
Real Estate Online Auctions vs. Traditional In-Person Auctions
Both real estate auction types work similarly but online auctions take place virtually without any crowd. In online auctions, there will be the auctioneer and the agent in the room having camera access and a few computers to carry out the live stream of the auction event.
Providing safety and comfort to interested buyers by allowing them to bid from their own homes, online auctions allow any user that has access to a mobile device with internet connectivity. No competitive environment would be there where buyers would traditionally have to face.
On the other hand, sellers just need to log into the virtual auction platform to keep track of the interactive bidding session that is taking place in real-time. Any changes in the auction status, bidding amount, etc. will be visible to keep every auction participant updated.
Best Tips to Help Agents Get the Most from Real Estate Online Auctions
Real estate online auctions are gaining huge popularity in the market due to the immense benefits it offers to both home buyers and sellers. This is the best option if you have buyers and sellers who want a quick closure of the property deal. However, a strategic approach is needed to make online auction sales more beneficial.
Apart from ensuring that you focus on an exceptional customer experience and making sales attractive to potential buyers, you must make sure that the auction is conducted in the right way. Listed below are some of the best ways that can help estate agents to make the most of online auction-
Review the property to find out if it would be an ideal asset to be put up for auction. It is important to ensure that bidders who will attend auctions find the property to be profitable upon acquisition. Though any property type can be presented at an auction, your selling process will highly impact the decision of the bidders.
After inspecting the property and finding it suitable for an auction, you will set a 'Guide Price' to gain the attention of the prospective bidders. This guide price will help to reflect the state of the asset and should be attractive to bidders. For better guidance, you can check out the price of similar assets that have gone to auction and consider the average to decide on your Guide Price.
Another aspect is to make the 'Reserve Price' and the 'Guide Price' identical, which means, only one bid is needed to conclude the sale of the property. If the reserve price is set higher than the guide price and the sale is unsuccessful, it may have a bad impact on the property's future sales prospects.
Give time for at least a month of planning before the auction day. Initially, you need a solicitor to upload the legal documents and for the rest of the month, you must focus on promoting the asset and preparing the last sale details. On that day, deposits will be accepted, bids placed, and contacts exchanged.
As the auction comes to a close, the bid increments can be adjusted to motivate bidders to make one last offer. Based on the asset, the amount usually starts with €5000 but in the last minute of the auction, it can be reduced to €1000. All potential buyers will be notified of this change.
As the auction comes to an end, a bid extension can be activated, which will allow bidders more time to place a bid. Normally, the bid period is for one minute but it can be adjusted to 5, 10, or 20 minutes.
What is the Highest and Best Offer Auction in Real Estate?
As we know when a property is listed, sellers may get several offers, which is a good sign for their sales and can even help in getting them a higher price for the property, but it can be time-consuming too. This is because the seller needs to review and assess all these offers, they need to compare them and negotiate individually with every buyer. This takes a lot of hard work and time as they wait for counteroffers from different buyers.
To overcome this challenge, sellers or agents can now go for the strategy called "highest and best offer auction in real estate" where they send out a call to potential buyers asking them to provide their best offers on the property within the set deadline. This helps to streamline the whole property selling and buying process rather than wasting time negotiating or waiting for the counteroffer. Buyers will give the best price as it will be the last chance to win their desired property and sellers will get offers from all the buyers before choosing the final one.
Closing Statement
As we can see online real estate auctions are growing tremendously with huge competition, it is important to have a clear understanding of the scope of the property platform that sets a solid base for its success. Make sure that you go through the tips stated above to help agents and brokers like you boost sales in real estate online auctions. Another trending strategy is making use of the "highest and best offer" that helps in closing deals faster at the best price.
Being a renowned Real Estate Auction Software, BidHom enables several real estate firms to grow with dedicated real estate auction websites aligned with the bunch of functionality that help to manage online auctions, both from the buyer's and seller's point of view. Having years of expertise, we help buyers increase their chances of success to secure their dream homes and sellers to close deals at the best possible price. Book a demo of BidHom with our experts to unlock new growth opportunities with effective real estate auction strategies.