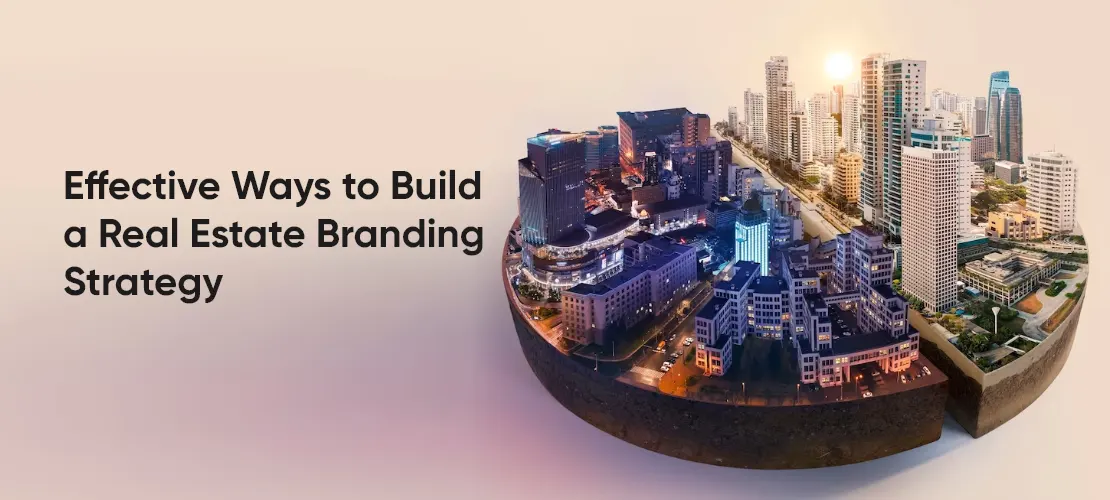 March 2, 2023
Reading time about 5 minutes
If we talk about the branding of a real estate business, we mean building the brand identity that describes how your brand looks or sounds using written and visual media like logos, taglines, websites, etc. that convey who you are to the target audience. As we know real estate is very competitive and making a place can be a difficult task without the experts' guidance and support.
In this blog, we are going you give detailed information on how a well-designed luxury real estate SEO website strategy can help your business become more recognizable, gain a competitive advantage and build an emotional connection with your prospects.
How to Create a Winning Real Estate Branding Strategy?
Weak branding can be one of the main reasons why 87% of real estate agents fail in their businesses within their first five years. Home buyers are becoming savvier than ever with new technological advances that have evolved over the years. Successful real estate businesses are the ones that have Branded Real Estate App and website aligned with authenticity, social proof, and emotional connection.
Here are some of the ways to create a strong real estate branding strategy for your business-
Know Your Business Goals
Businesses must make a strong connection with their customers to sell more. That is why; most of the leading brands have well-defined missions, visions & values defining what they want in real estate branding strategy.
Analyze the Features of Successful Real Estate Brands
Take time to study the best real estate app features to help you build a successful real estate branding strategy. Some of the most successful brands in the real estate sector are Auction.com, Hilton & Hyland, Rochelle Maize, etc.
Plan with a Small-Sized Project Timeline
Making the right real estate branding strategy can be a long and complicated process, which is why planning ahead is important. For proper execution, project tasks must be broken down into smaller pieces where you can set a timeline for each stage and only move ahead after the completion of one stage.
Build Your Real Estate Branding Team
The last step is to take the help of BidHom, which has a bunch of award-winning team of real estate branding experts enabling real estate professionals to design a real estate branding strategy. With the development of a world-class SEO-centric website and app, many clients achieved a remarkable increase in website traffic and sales.
Real Estate Branding Strategies
Real estate agents today are spoiled for several choices when it comes to branding strategies. However, to help you get ahead and gain a competitive advantage, we've shortlisted some of the best real estate branding strategies to consider.
Develop a Top-Notch Real Estate Website
One of the most important aspects is to build a dedicated real estate website, which will be the source of property information, where buyers can browse them before contacting agents and eventually help to build trust.
Apart from the website, you can also develop a real estate auction mobile marketing app by working with an expert team that has expertise in building world-class designs.
Use Content Marketing and SEO
Another thing is to consider content marketing and SEO for the website. SEO and content marketing must work hand-in-hand where SEO helps in getting traffic among search results and marketing to build trust among new prospects. Both are important to ensure the right real estate branding strategy.
Make Appealing Photo & Video Content
To attract users or home buyers, you must make use of professional video and photo content of homes. Successful agents know that people attach sentiment to a house more than any other belonging. Keeping this in mind, they plan their website content including proper images & videos in their real estate branding strategy.
Enhance SEO by Using "Google My Business"
List yourself on Google My Business as it can be a simple & cost-effective way to improve your search rankings. Google favors real estate agents that use their products and regularly post valuable client-focused information.
Customize Real Estate Email Marketing Campaigns
Another way to unlock more opportunities is to send powerful emails that are customized with valuable information, video content, and other media, which can help to persuade prospects and encourage them to partner with you.
Boost Social Media Presence
Almost every user is active on social media, which is why social media act as a great tool in real estate branding strategy. By boosting your social media presence, you can keep up the engagement level high and keep the focus on acquiring new leads and engaging old ones.
Promote the Brand with Paid Ad Campaigns
Another way to drive traffic is to make use of personalized campaigns on the best platforms like Google and Facebook. This can help generate traffic toward your real estate website and bring the right leads on time.
Expand your Presence with Referrals
Using referrals is important in any real estate branding strategy as most home buyers and sellers only trust agents who are referred to them. Referrals act as a great way to bring in new leads and also help in engaging existing ones.
Final Takeaways
As we can see, building a brand is complex and if you want to thrive, it is crucial to know the art and science involved in successful branding. After going through the blog, you must be now quite aware of the latest real estate marketing strategies and the common pitfalls to avoid.
If you need help in the branding of your real estate business to not just help achieve business goals but also in positioning yourself as a leader in the real estate market, talk to the team of BidHom, your all-in-one real estate management platform that enables clients to build custom solutions along with the best luxury real estate marketing for agents and brokers.