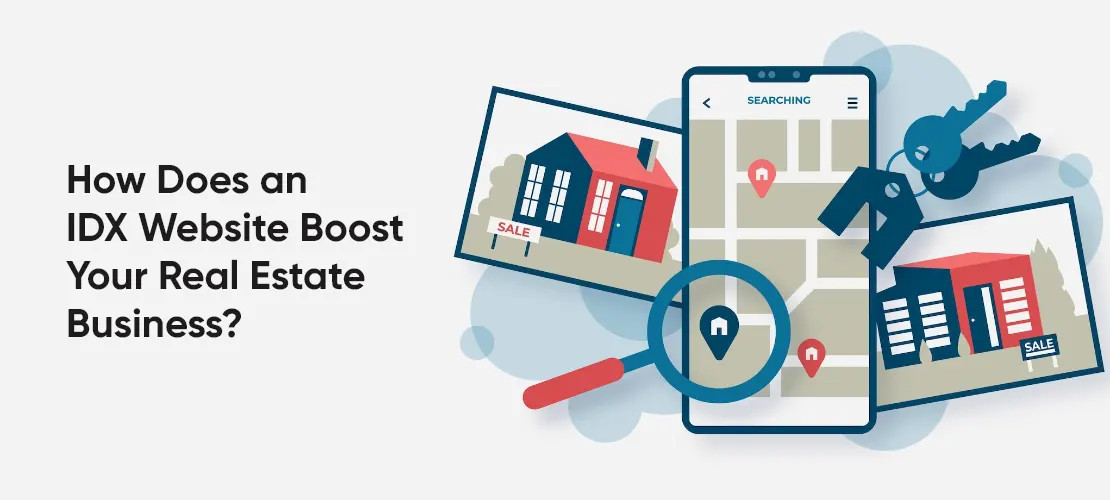 November 6, 2023
Reading time about 5 minutes
Your potential customers are looking for their dream property on the Internet. Amid busy lives and tight work schedules, people look for convenience, more options, and cost-effective deals. As a real estate agent or broker, even if you get good business through referrals and have a good reputation, your potential customers will still explore their options online. In such a case, if you have a real estate website but it doesn't have IDX and MLS integration, you might lose business here because your competitors show the most recent property listings while your website doesn't feature those listings.
An IDX website for realtors allows real estate agents and brokers to display up-to-date property listings from their local Multiple Listing Service (MLS) on their website. This keeps your online presence up-to-date and makes your visitors stay on your website.
Here are the top five benefits of an IDX website for a real estate broker or agent:
1. Online Presence & SEO
An IDX website for a realtor is the first step toward real estate success. For potential clients to find you online, there must be a platform where they can browse your listings. IDX integration allows you to display a wide range of property listings from their local MLS (Multiple Listing Service) on their website. The extensive listing list can make your website a one-stop solution for real estate needs.
When a potential buyer browses a property on an IDX website, they can make use of advanced search features to filter property listings based on location, price range, property type, and more. These functionalities enhance users' experience tenfold, and sales potential is even higher.
Having a real estate website is one thing and having it appear in search engine results is another. An IDX website for realtors usually has a substantial number of property listings with detailed pages for each listing. It automatically enhances the possibility of driving organic traffic to the website.
2. Lead Generation & Capture
An IDX website helps a realtor convert a website visitor into an actionable lead. It is designed to attract potential clients through property listings, informative content, and other resources. People who visit an IDX website are usually in search of real estate information or a service. This is the first milestone for you as you've successfully generated a lead by engaging them.
Your IDX website has multiple lead capture mechanisms, such as contact forms, inquiry forms, newsletter sign-ups, or requests for more information about a property. Leads who submit their information through these forms are the leads you've captured. This is the second milestone for you; you've turned website traffic into actionable leads.
3. Updated Feed & Information
There's a new property listed on the market every minute, and it can become quite hectic to keep your real estate website up to date in such a dynamic industry. New properties are listed for sale, existing ones are marked as sold, prices change every hour, and property details are updated. It's literally too much going on in the real estate space.
A real estate website with no IDX and MLS integration must be updated manually, making your job as a real estate broker or agent difficult. Here's how manual updating can look: You will have to continuously monitor the MLS and manually edit the website to reflect the updates. This can be quite overwhelming.
When you opt for an IDX real estate website, it automatically updates your listing feed, ensuring that your website always has the latest listings. Here's how: An IDX system connects to the MLS and accepts continuous data feed of property listings. When a change occurs in the MLS data, such as a new listing or a change in property status, the IDX system automatically captures it and reflects the change on your real estate website.
4. Brand Awareness & Image
Besides providing a visually appealing online platform, an IDX website for realtors offers an opportunity to personalize the website with unique branding elements such as a logo, color scheme, and tagline. These elements distinguish you from your competitors and help you create a strong online image.
Content marketing is one of the most effective ways to create brand awareness and image. By adding value-added content to your website, you can drive organic traffic to your website. Besides, posting useful content on your IDX website can help you build trust among potential clients. Content posted on your IDX website can be further shaped on social media. This can help boost your content reach massively. Enhanced content reach boosts engagement and the possibility of good business.
5. Enhanced User Experience
This is the age of automation, where online users are in constant search of user-friendly solutions. Gone are the days when people had to tour the property in the initial phase of their house-hunting. Now potential buyers need real estate solutions that make the buying and selling process easier for them.
The IDX real estate websites offer features like interactive maps to visualize the property's location and nearby amenities. The interactive way to understand a property's surroundings and potential neighborhood offers an unmatchable user experience to potential clients. Other fascinating features like property comparison tools, virtual tours, saved searches, and Wishlist assist potential buyers in their real estate journey.
In a Nutshell
In a highly competitive real estate market, it is important to stay on top of your game to sustain and make profits. The earlier you switch to digital mode, the greater the benefits you will enjoy. If you are a real estate broker or agent looking for real estate IDX MLS services, Bidhom can be your best bet. Bidhom offers ready-to-go real estate IDX MLS integrated solutions with advanced automation and analytics.