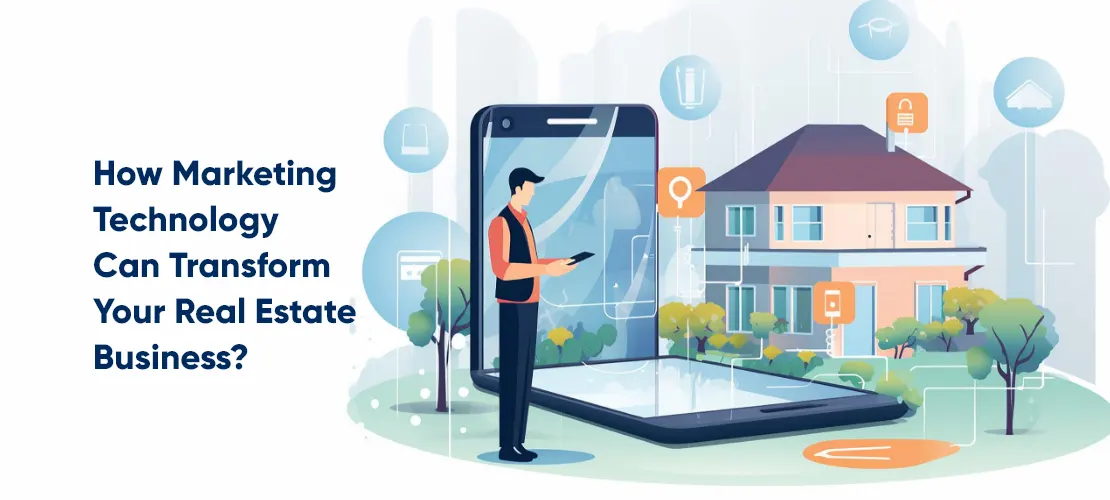 October 30, 2023
Reading time about 7 minutes
Automation has stirred many global industries and real estate is no exception here. With AI, machine learning, and deep learning rolling the best of their features, real estate marketing automation is still in the evolution phase. The MarTech industry globally has been evaluated at USD 344.8 billion, explicitly highlighting its outreach. The marketing automation software industry will almost double its valuation by 2031.
What do all these prospects mean for real estate marketing automation?
Real estate automation has already started to change the way commercial real estate businesses work. According to a survey, 70% of real estate marketers rely on technology for their return on investment. With premium real estate auction software taking the market by storm, it has become crucial for realtors to understand what marketing technology is and how it can transform your real estate business.
Let's find out!
What is Real Estate Marketing Automation?
Real estate marketing automation is much more than accelerating your marketing tasks. It's about how you are transforming the real estate experience for your customers. As a real estate broker or agent, you can plan to reach your new leads in a strategic way when you work through real estate auction software. Let's understand real estate marketing automation through the following example.
Talking about the communication part of your business, you might be reaching out to your lead in three possible ways:
Standard '8 by 8' framework where you send out helpful communication once a week over an 8-weeklong period.
A semi-regular framework where you might be reaching out to your leads on important dates, anniversaries, and events.
Sporadic outreach where you send out mails to your leads when you get time, or you have a good reason to contact them.
In any way, whenever a reminder pops up about sending a mail, you will have to sit down, draft a message and send it.
How about leveraging the real estate marketing technology for your real estate business?
When you opt for real estate auction software, you say yes to better client communication and lead management. There are ready-to-use email templates you can use to communicate vital details to your potential clients. Real estate automation tools offer personalization. You can simply tag your leads in the communications which you think are relevant for them. Here's an example of idea follow-up sequence you can use.
Welcome the first-time buyers with emails on how real estate buying works, and how realtors can help them in the process.
Help experienced buyers in their decision-making process via emails on important mortgage updates, tax-saving tips, and other regulations.
Fancy the sellers with emails on best auction strategies, real-time market insights, and pricing strategies.
Personalization helps you get a competitive edge over your competitors. Real estate marketing automation does the job aptly.
How Real Estate Marketing Automation Works?
Real Estate Marketing automation starts with building an online presence. Building a real estate IDX MLS website is the first step toward marketing success. A real estate IDX MLS website provides brokers and agents with a powerful platform to automate various aspects of their marketing efforts.
Having a real estate website helps brokers, agents, and auctioneers display their up-to-date properties from MLS directly on their platform. This integration ensures that the listings are correct while having an online presence activates the benefits of SEO for your realty business. A real estate website helps brokers and agents in multiple ways-
Effective lead generation through automated property search
Successful lead capture as visitors save searches, favorite listings, and request more information on the properties.
Strategical lead engagement by sending them matching listings to their saved properties.
Sharing automated market insights and statistics to keep them informed.
Effective integration with email marketing platforms to enable a personalized experience for the leads.
Social media integration with the IDX website to deliver targeted content to the potential clients at each stage of the buying/selling process.
Ensuring successful integration with real estate auction software to experience the next-level marketing automation.
What are the Benefits of Real Estate Marketing Automation?
Real estate marketing automation opens the door to many rewards and benefits. Whether you want to focus on buying, work as a listing agent, or a referral agent, or are an owner of a real estate business, real estate marketing automation can increase your efficiency in every sphere of business.
Automated Database & Quicker Outreach
As a real estate broker or agent, you get a lot of new leads at open houses, and networking events. Getting them to fill out a paper form or record their details manually is a task of the past. Automation at this stage can truly save your time and effort significantly. Top real estate IDX MLS websites incorporate contact forms at different junctures to record their visitors' details. You can have it set on a landing page for your active listings or a blog that might interest your potential lead. By giving value to your visitors, you can route them to a contact form through a call-to-action button.
Once they fill out the form with their contact details, congratulations, your database has been updated.
Now imagine adding the details to your database manually and managing all the leads simultaneously. There's always a possibility of missing a few. There are millions of real estate brokers out there who also have entered the same data in their database. If you aren't reaching your leads promptly, you are losing business.
With real estate marketing automation software, you don't have to take the pain of prioritizing a few leads over others because every single lead has been taken on priority. Leads automatically receive predefined emails and SMS based on the communication tracks you've created. Your outreach is multiplied when you opt for real estate marketing automation software.
Consistent Branding & Client Communication
Having a brand image helps you convert leads into customers. A consistent brand voice and message help you build credibility and convey your USP to potential customers. As a real estate broker, it is important for you to use marketing automation at this point. Most real estate auction software has integration and Application Programming Interfaces for you to link all your content together.
You can build any customized content strategy to post a series of interrelated topics. You can create these blogs and schedule them to be sent to diverse groups in a way that makes the best sense to your potential customers.
Better Review and Analysis of your Marketing Efforts
Automated data analysis is one of the most useful features of real estate marketing automation. As a realtor, you don't have to compile data, analyze, and interpret it to know how effective your marketing efforts are. Automated data analysis helps you identify important touchpoints.
Assess your leads through data to know when the right time is to approach them.
Picking the messages that show interest and potential of conversion
Tracking listings with the most activity.
Reviewing Marketing channels and knowing which one is generating more leads.
These data analysis tools come with real estate auction software.
Better ROI in your Marketing Efforts
Real estate marketing automation makes you aware of your most effective marketing campaigns and channels. More data means better scope of analysis. As you collect more data on leads, do not forget to take note of the cost of acquisition per lead. It will help you understand which campaigns and marketing efforts are generating the maximum return on investment.
There's no space for guess games when you opt for real estate marketing automation software.
Upgrade Your Marketing Performance with Real Estate Marketing Technology
The crux of successful real estate marketing is hidden in making a successful transition to automation. It is the right time for you to opt for real estate marketing automation to free up your time and space for more productive business activities.
Why wait? Bidhom can take your real estate business to a new level with unmatched automation and marketing technology. Get started today- it's free!