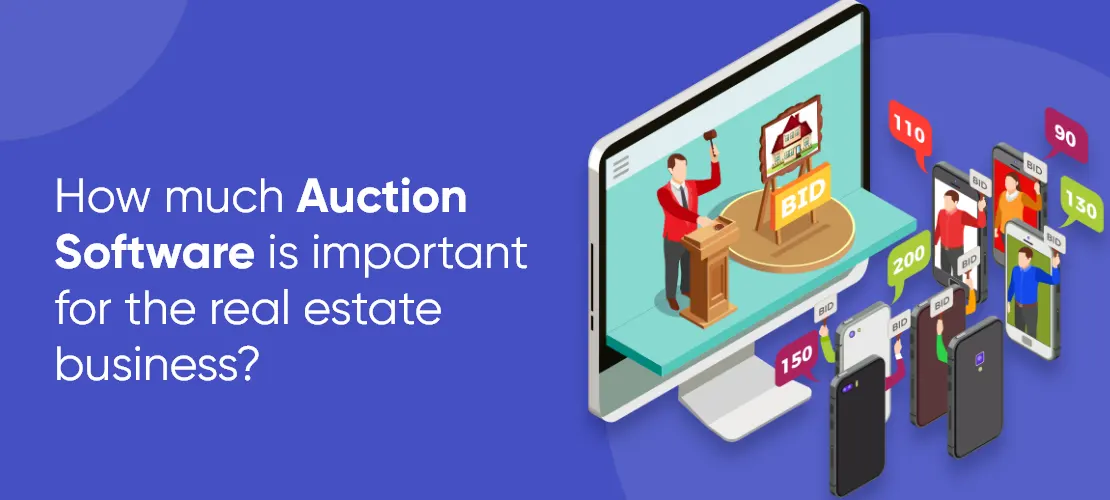 July 12, 2023
Reading time about 5 minutes
In this age of technology, home buyers want easy access to find the most beautiful homes. Today, most of the real estate agents, brokers, and realtors are leveraging online tools and real estate auction software to provide buyers with a more realistic view of the property, also bringing transparency to the market.
If you are a real estate broker or an agent, then you need a potential solution that can help to reach your potential customers. BidHom is a SaaS-based real estate platform that allows you to list multiple properties with IDX solutions and create auctions in real time. In this blog, we will discuss how real estate auction software can make real estate auctions easier and bring maximum ROI to your business.
Why Real Estate Businesses Need Auction Software?
Real estate auction software is a must-have online software for real estate businesses. It allows businesses to provide serve exposure to the listed properties and helps them to market their listing to online customers. Real estate transaction management software seamlessly integrates with your existing website and platforms. BidHom online auction software is designed with a user-friendly interface, ensuring that both auction participants and administrators can easily navigate the platform.
With the advancements in Proptech, online auction platforms have become an increasingly safe and simple tool for real estate agents and brokers as well as homebuyers. To take part in the auction of properties, homebuyers must prove their status as capable investors with proof of funds and provide a refundable participation deposit before participating in the auction. This proves a sense of potential participation for the real estate agents and brokers. On the other hand, homebuyers enjoy secure transactions and a fast certainty to close the deal.
As more and more real estate agents and brokers are seeing the value in the auction software, we are seeing exponential growth in the number of buyers and leads per auction listing over the year. This is because homebuyers can easily browse available properties, place bids, manage listings, and track auction progress effortlessly.
Still confused about investing in real estate transaction management software, let's dive deeper to explore the more benefits of real estate online auction software.
Real-Time Bidding Boosts Engagement
The auction platform offers real estate agents and brokers to create a live auction for their listed properties. Homebuyers can participate in real time and can place their bid for the participated listings. With the real time participation, potential buyers stay engaged and make the transaction exciting. They can observe the value of their bids and the rise and respond immediately, making for a satisfying close for the seller once the clock hits zero. This way real estate auction software boosts the engagement of the participants.
Auction Software Encourage Competition
BidHom SaaS-based real estate auction platform supports multiple auction formats including live-stream webcast auctions, timed auctions, or hybrid auctions. Real estate agents and brokers have the flexibility to choose the best format for your property auction. CRE auctions have attracted thousands of participants and even new buyers to the sector making it a powerful marketing engine designed to expose properties to the broadest pool of viable homebuyers. Transparent access to the data keeps the bidding environment competitive.
More Cost Effective for Agents and Brokers
Conducting auctions online eliminates the need for physical venues and reduces associated costs such as renting event spaces, arranging transportation, and hiring staff. Buyers can participate from anywhere, reducing travel expenses and saving time. When there is potential customers and you do not need to charge the seller for venue hiring there is not any extras cost included in the overall auction. We believe that online auctions is best serve all real estate buyers and sellers.
Better Data and Analytics
Real estate transaction management software not only provides management of properties, sales, and auctions of your listings but also provide you with the detailed analytics and reporting capabilities of homebuyers. Thus, real estate agents and brokers can track bidding patterns, view participant data, and gain insights into market demand and property value. The introduction of predictive analysis algorithm accurately targets customers with the exact kinds of properties they are looking to buy. These data-driven insights can inform future pricing strategies and decision-making.
Cybersecurity Advancements
Advancements in digital payments technology and cybersecurity has made it possible for real estate sellers and homebuyers to make secure and safe transaction. Now, homebuyers can trustfully make online transactions when buying a property in a real estate online auction. Similar to eCommerce, online auction software is a powerful tool for buyers and sellers in this rapidly shifting market.
Easy Integration with Existing Systems
Many online auction platforms offer integrations with existing real estate systems, such as property management software, CRM tools, and financial platforms. This integration streamlines processes and improves efficiency for real estate professionals. BidHom real estate transaction management software offers you integration like never before, you can integrate it with your existing website, or you can create a free real estate auction platform.
Conclusion
Real estate auctions software offers speed, accessibility, and most importantly deal certainty in uncertain markets in which liquidity and speed matter more than ever. Thus, online auctions are one of the industry's most valuable tools in this regard. If you are looking for a potential real estate auction software solution, then we at BidHom can help you with real estate transaction management software. It offers greater control and transparency while providing sellers with more effective marketing tactics and a broader reach.