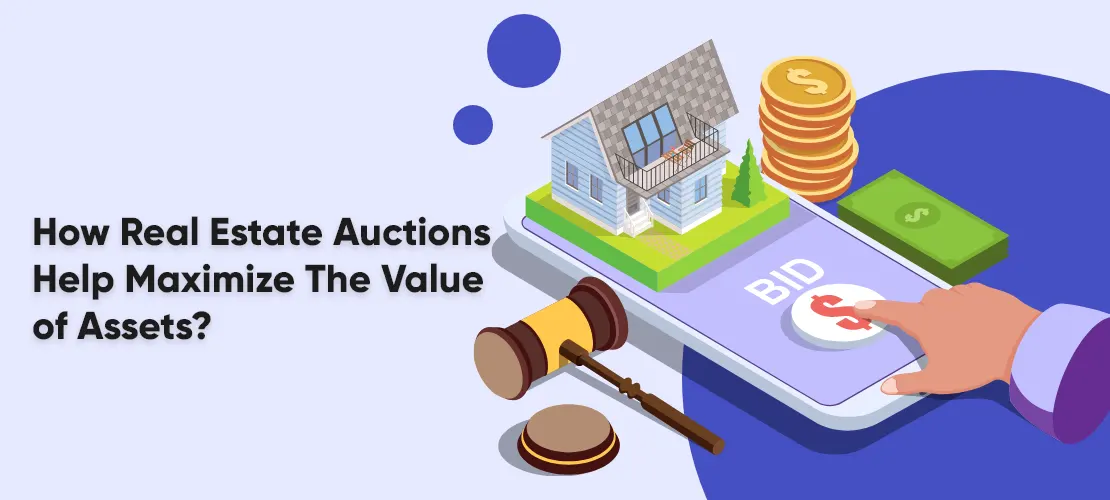 July 3, 2023
Reading time about 6 minutes
As the real estate market is quite competitive with evolving expectations of home buyers & sellers, it can be difficult to make a place and stay ahead. Many real estate firms have moved towards the digital era that has not only transformed business operations & work culture but also helped to provide hassle-free property selling and buying experience.
After the COVID-19 pandemic era, real estate businesses have found new ways to connect with potential customers in digital form. Online real estate auctions are becoming the future of property buying and helping professionals to maximize the value of assets. In this blog, we will learn more about online auctions and how a trusted Real Estate Online Auction Platform can help in giving the maximum value to property assets.
What Makes Auctions a Great Way for Sellers of any Property Types?
While selling properties through traditional sale listing, sellers often end up putting the property at an unbelievably higher price above its fair market value scaring off most potential buyers. Go for the auction sale process and plan an effectively marketed auction to create a market-driven process leading to robust interest in and bidding for the property.
Auctions offer the most effective way to sell properties for their value worth. While selling different property types associated with legal matters, lawyers are called upon to help clients sell their assets. Clients may look for lawyers' help for many reasons such as to wind down a business, fund taxes due in connection with an estate, or monetize assets to satisfy a lender in a distressed scenario. Making use of a dedicated Real Estate IDX Website for auctions is a great way to realize the fair market value of assets in such situations.
Here are some of the ways that show how auctions are effective for sellers of all types of assets-
Fair & Transparent Auction Process
One of the reasons why most of the traditional sale processes failed miserably is due to its design and exclusive process. The $1 billion price tag of the property may help to generate lots of public relations buzz without connecting with any legitimate buyer interest.
However, if you make use of an auction which is an open and transparent process, the assets for sale are easily available for everyone to view. This means there are no barriers to entry for prospective buyers to overcome, thereby encouraging robust competition. The price of the property at auction starts low and ends high most of the time.
Give Confidence to Buyers and Sellers
In the traditional home buying and selling process, both parties sometimes walk away dissatisfied with one another keeping hold of a good property deal, which is not at all good. Mutual dissatisfaction is not a great way to end up, which is why most buyers and sellers now prefer the transparent process, which comes with auctions.
Real estate auctions enable both parties to openly bid up the price of an asset in predetermined increments, boosting the confidence of buyers and sellers that the asset transferred is at a fair market price.
Auctions in Down and Up Markets
Another best thing about property auctions is that it works both in downward as well as upward market. Though it's been already a decade since the depths of the "Great Recession," the chaos and issues in that period still linger in people's minds.
This is one of the main reasons why many perceive an auction as the most suitable tool that is best utilized in a downward-trending market. Yes, it holds true that auctions work really good to quickly determine the value of and monetize assets, especially for financial institutions dealing with distressed lending situations.
Additionally, an auction can work even better in an upward-trending market. If you are wondering how — it is because auctions can help in avoiding issues associated with a long, drawn-out negotiation process, insignificant list pricing leading to reduced bidding results and even causing sellers to bid against themselves
Making the Most of Real Estate Auctions
It is true from the above section that real estate auctions work incredibly well in helping property professionals fetch the best market value for an asset. However, one thing that you must keep in mind is not all auctions are created equal. This means conducting a successful auction process needs a skilled and experienced auctioneer that will guide throughout the auction process. Their main motive should be to create a robust, competitive marketplace for the assets being sold.
Many auction-based platforms are very successful i.e. they have lots of buyers and sellers for the assets whose values are being bid up or down. One main problem associated with private auctions is that they don't have built-in market demand. It is crucial to generate demand and this can be accomplished only through strategic planning, innovative technology, and the marketing capability of the auctioneer.
Today, most successful auctions take place online due to the benefit of not being constrained by geographic boundaries. Online auctions can take place throughout the week, unlike traditional auction which takes only a single afternoon. More days facilitate more bidding for an asset. The difference in the number of people who take part in an online auction versus an in-person one is significant. While 100-300 people may show up for a live auction, 10,000-25,000 typically view an online proceeding.
The right mix of new and traditional marketing techniques i.e. digital ads and email databases can help to reach broad audiences and advertising in targeted trade journals can also work well. Your auctioneer must have a thorough knowledge of the asset being sold and the types of people and organisations it might appeal to. Only after the asset availability is marketed to the right audience, then only it can generate a high chance of selling for the highest price possible.
We can conclude here that just like every asset is different, every auction is also different. This means the right strategy is needed to get the best value for an asset and the auctioneer must be able to generate demand among the right target audience.
Final Takeaways
Undoubtedly, it may be clear that online real estate auctions not only help to grow the market but also help buyers get the best deals on desired properties and sellers to get maximum market value. Digital auctions have made the property buying experience simple and hassle just like online shopping offering a higher level of ease among sellers and buyers.
If you wish to upgrade your real estate business and close more leads effectively with maximum property value, take help from BidHom, an all-in-one Real Estate Online Bidding platform that has helped thousands of property firms. Connect with our experts to make use of online auctions, the fairest way to sell assets for their value worth.