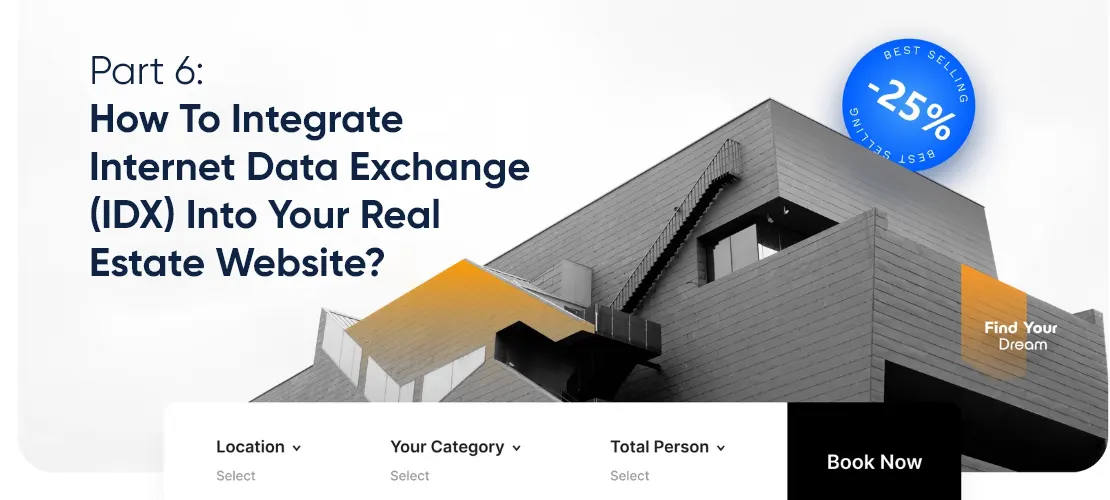 February 6, 2023
Reading time about 5 minutes
Designing a real estate website helps you in building a huge customer base and increase your popularity. If you're designing a real estate website for your business, then integrating real estate website MLS IDX integration can make a huge difference in how effective the site is for both the real estate agent and potential buyers.
But adding IDX to your real estate website is not a straightforward process. It requires a lot of research and some web development process like- coding skills or plugin installation processes, which can be frustrating and limiting. In the earlier parts of our blog sections, we have seen various steps to design a good website. Here we will see how MLS IDX website integration helps you in growing your business.
What Is An Internet Data Exchange (IDX)?
The term IDX represents internet data exchange and sometimes it is also considered as "Broker Reciprocity". Integrating real estate agent websites with IDX platform allows real estate agents to share Multiple Listing Service (MLS) data on a third-party website, such as their individual or agency real estate website. It acts as a powerful tool for agents and brokers to integrate listings from the Multiple Listing Services (MLS) and realtors can upload, share, and manage local listings in a particular location.
Most real estate professionals and marketers use the term IDX to refer to it as a tool or software that can display MLS listings on agent websites and can provide consumers a way to search for active listings. Mobile responsive IDX real estate websites contain standards, best practices, and policies related to displaying the information in real estate listings on websites. It protects customer's contact/budget information by allowing them to choose which real estate professional to share it with.
Why Does Your Real Estate Website Need An IDX Integration?
Today, it is more simpler for agents and brokers to show off their listings on their sites using IDX. It has also made it easier for the audience to find their perfect homes via search and filter functions. Thus, real estate agent websites with IDX platform for your real estate website play an important role in boosting customer engagement as well as boosting sales.
IDX integration helps you get prospects from all listings on your website by creating the data connection between your website and the MLS. The listings are automatically updated and appear or disappear from your site as soon as they are listed or sold. This reduces the load of updating your various listings. IDX integration allows agents and brokers to display not just their own listings, but also those from agents in their area.
MLS IDX website integration offers many advantages for agents, brokers, and customers. It is a win-win for everyone. Agents and brokers can share the most pertinent, appealing listings on their websites to attract prospective buyers and can also go through the most recent listings.
How To Integrate IDX Solution Into Your Real Estate Website?
Integrating IDX solutions into your real estate website can add various advantages and can enhance your business. Here you will learn how you can easily integrate the IDX solution into your website. Here are some of the ways that you can use to integrate IDX into your real estate website.
1. If you want to integrate the IDX solution into your website you can use the standard Real Estate Transaction Standards (RETS) feed and contact your MLS and enquire about RETS. Obtain RETS login credentials accordingly and then proceed to integrate your real estate website.
2. Try the framing method to integrate IDX solution to your website. It is a short-term strategy that can help you in integrating IDX solutions into your website and can reduce the cost of your website setup. However, this is a short-term strategy that can lower your website ranking and can cost you more.
3. The National Association of Realtors makes regulations for using IDX therefore be sure of the usage policy in your area. Enter the login credentials to access the RETS server. Research existing software interfaces to navigate the RETS server or get a form from the vendor.
4. Carefully check each import field on the RETS server and connect them to the corresponding fields on your website. This will open the road of available listings in your location.
5. Add contacts and queries to remember prospects that can help you in finding CTA without stress or difficulty. You can also run an initial import listing that will be shown to your listings manager.
6. Verify the listing and field mapping. Set cron jobs to auto-sync your listings and run updates for further verification. Now, you can close the RETS client site and navigate back to your website to display property searches on your website.
Conclusion
If you want to win real estate customers, then be sure to cater to client needs and demands. A real estate agent websites with IDX platform is a must-have for effective business growth for real estate agents and brokers. Mobile responsive IDX real estate websites welcome you with a feature of active listings in a magazine layout. This is followed by a search bar and allows you to narrow down the location and type of property for your potential customers.
BidHom offers ready-to-go real estate agent websites with IDX platform that helps your customers in exploring the various curated categories and listings of luxury homes and communities. Build your real estate website MLS IDX integration today and grow your business with lower investment.