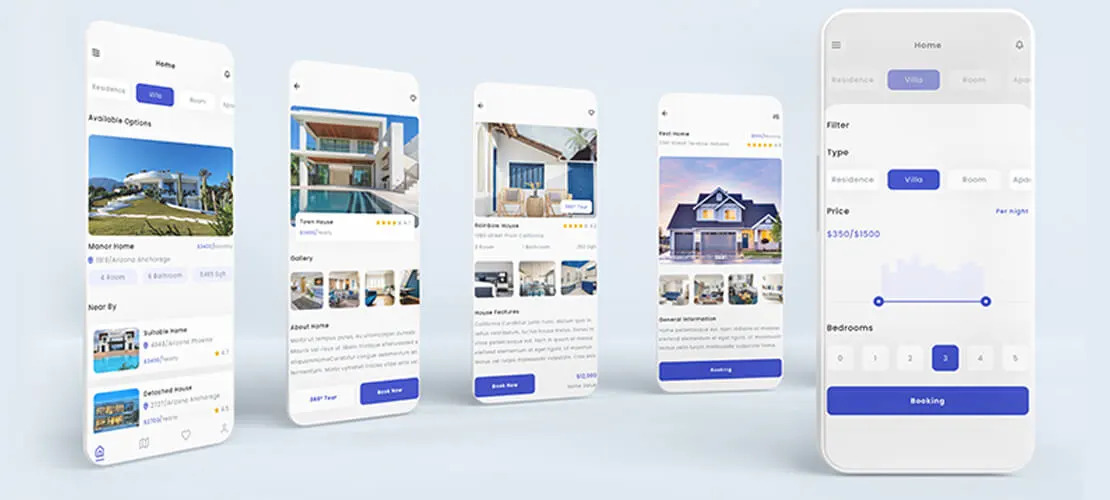 November 16, 2021
Reading time about 5 minutes
With rising technological advances & growing customer demands, there is stiff competition in the real estate market. Many real estate agencies are struggling to offer the best services and win customers' hearts. Keeping updated with the latest app development trends is one of the best ways to ensure continued growth in your real estate agency. One question that may pop up in your mind is whether your business is doing enough to meet expectations. Without wasting further time, let's take a look at all the real estate technology trends that must be kept in mind to stay relevant in the competitive real estate market.
7 Real Estate App Trends That You Must Be Aware Of
When we talk about the real estate sector, technology is playing a huge role in automating the business processes that enable real estate customers to have an exceptional property buying & selling experience. Advanced features such as 3D virtual home tours, interactive maps, IDX listings, MLS integration, lead capture technology, etc. are gaining huge popularity among real estate professionals. To make your business grow in 2022 and beyond, we have shortlisted some of the best Real estate trends to watch for.
Automated Platform
Technology is transforming the way people buy properties relying on the internet for online searches. Taking the help of an automated real estate platform can simplify interaction with real estate agents, which is useful in providing desired property information to potential buyers thereby making the real estate purchase decision faster. Make use of valuable automated property technologies while building web or mobile app for your business to help customers find homes quickly.
3D Virtual House Tours
Customers have no time for a physical visit to check every property they are interested in, which is why having 3D virtual tours can be a great advantage. This feature helps prospective buyers to take a virtual tour of homes before finalizing the one they will purchase. These realistic property virtual tours not only help in saving time and effort but also give more clarity on property state, interior details, nearby location, etc. while making the final decision.
Conversational AI
The tech-savvy customers of today expect the best service at the earliest time possible. Your real estate business must use robust technologies like AI-based virtual assistants that are available 24/7 to answer queries of customers anytime anywhere. Having an automated customer service desk with conversational AI can make the response time fast with a lesser error rate.
Big Data Analytics
The real estate business deals with a huge amount of property information as well as customer preferences data. Research says real estate apps based on machine-learning tools can predict changes in property pricing or rental rates with better accuracy than any other property metrics. If your customers make use of this feature, they can easily understand what property is best for their investment ensuring that they make smart decisions.
Blockchain
Another trending technology that is becoming popular in the real estate industry is Blockchain. Though this technology came into evolution for cryptocurrencies, it is used for verifying encrypted transactions that ensure no tampering with financial records. The traditional approach involves offline transactions involving face-to-face engagements but smart contracts in blockchain allow real estate to be tokenized with better transparency.
Fractional Ownership
Percentage ownership or fractional investment in the real estate business is gaining attention and it is flourishing with the use of blockchain technology. The high price of properties like vacation homes can put buyers out of reach but fractional property investment enables individuals or groups to build a deposit for future full purchase.
Internet of Things (IoT)
We live in the world of smart devices, which is powered by the IoT & this technology is becoming one of the top property management trends. To transform homes into smart ones, we can include devices such as smart lights/locks for services like home cleaning & package delivery. Using sensors, wireless connection & smart access controls helps in enabling devices to connect & communicate as required.
What is Proptech & How It Can Keep Your Business Ahead?
Proptech is the combination of two words, property & technology that comprises various solutions associated with the development of commercial real estate software. This aims to facilitate faster property rentals & sales leading to more convenient living arrangements. The future of proptech is expected to grow drastically in the coming years and may double up by 2050. Not limited to agents & investors, property technologies help in assisting all real estate stakeholders. From processing financial transactions using blockchain to managing lead pipelines on CRM, technologies are changing the real estate sector tremendously.
Here are some of the Benefits of Proptech in the Real Estate Industry-
Data-driven Decisions
Smart Advertisement
Guidance during Sales
Enhanced Communication
Final Verdict
The adoption of technology can indeed transform your real estate business but choosing the right technology is what counts, which is determined by its ability to provide value for customers. Implementing emerging technologies in real estate not only helps in processing customers' requests more quickly but also makes the home buying and selling experience effortless in lesser time. Make sure that you take the help of the right real estate app development company to take your business to new heights of success.