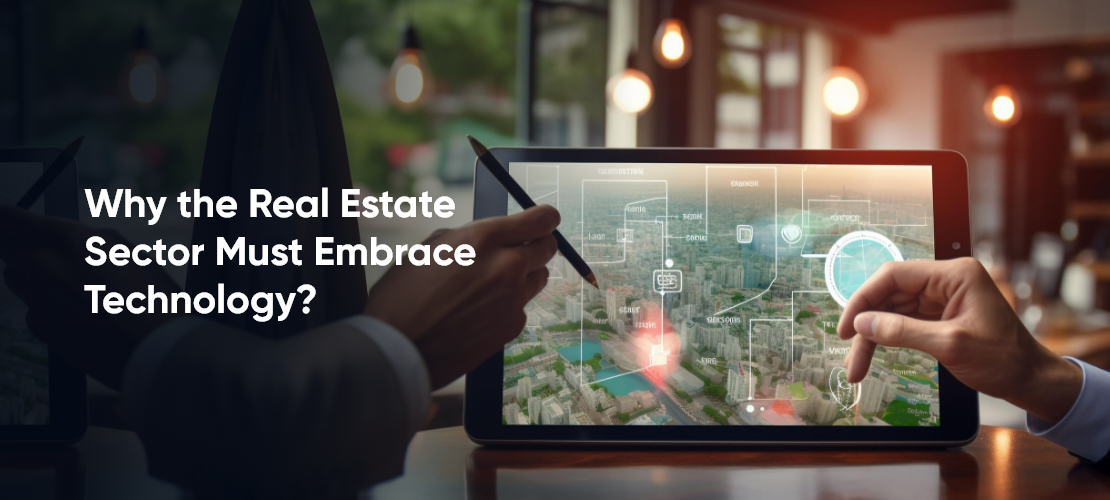 October 6, 2023
Reading time about 6 minutes
Undoubtedly, technology plays a huge role in transforming the way businesses work in every industry and the real estate sector is not an exception. With the evolution of new technologies in the market such as Artificial Intelligence, Virtual Reality, Blockchain, Big Data, etc., real estate businesses are increasingly adopting new technology trends to unlock better growth opportunities for both property buyers and sellers.
Though the real estate sector has been slow to adopt new technologies, it is coming on track and real estate professionals are shifting their attitude to embrace technology-enabled solutions that directly benefit realtors, property managers, real estate developers, etc.
Before you invest in reliable Real Estate Auction Software For Brokers, let's find out some of the main reasons why the real estate industry needs to embrace new changes by implementing the right technology.
Reasons Why Real Estate Businesses Must Embrace Technology for Better Growth
If you own a real estate business, you must start taking advantage of the technologies as they will help you shape the real estate industry in 2023 and beyond. Implementing modern technology is the only way to adapt to evolving demands or you will stay behind your competitors and may lose your clients to them.
Here are some of the main reasons that show the significance of implementing technology in your real estate business-
More & More Younger Generations in the Real Estate Industry
In the coming years, many Gen Z and millennials are likely to purchase their first homes. These clients will be tech-savvy, which means, they will look forward to advanced tech solutions in the real estate sector.
As we know millennials and their younger counterparts have been raised with technology throughout their lives with increasing adoption of technologies that show no signs of slowing down anytime soon, these customers will naturally look forward to the latest innovations.
The wise choice would be to introduce technology where possible in real estate business processes to gain the attention of such customers, which will help in bringing smoother sales closure.
Increasing Demand For PropTech
PropTech, also known as Property Technology is becoming a new trend for both residential and commercial properties as it helps to improve the lives of not just residents but also property managers and staff.
With an increasing number of real estate Online Auction Platforms in the market today, PropTech can be a great help for residents allowing them to live more comfortably and streamline their everyday processes.
Proptech solutions can be in different ways such as smart home devices, keyless building entry, motion sensor lights, solar-powered building monitoring systems, virtual tour platforms, etc. All of these proptech upgrades can help in winning better leads, leading to lower vacancy rates, an increase in rent value and better resident satisfaction.
VR is here to stay
We know the growing popularity of Virtual Reality in the real estate businesses where VR-based solutions can bring ease and convenience when it comes to buying and selling properties. This enables potential buyers and renters to view the building and rooms without the need for the physical visit saving efforts & time for in-person viewing.
Additionally, one can add VR footage of homes and units on sites like Zillow to gain attention of the home buyers and renters, helping them choose desired homes just by sitting at home. If they are interested, they can schedule time for an in-person visit with realtors.
Technology Dependent Marketing Efforts
To witness great marketing results in your business and gain more leads, some form of technology is used even for the development of a real estate website. However, without using a well-planned online marketing strategy, your website will not reach your target audience.
Popular real estate listing sites like Zillow act as valuable tools in terms of marketing approaches for buyers and sellers. Apart from that social media platforms like Facebook, Twitter, Instagram, TikTok, etc. help promote and market real estate to a wider audience, especially millennials and the Gen Z generation who are part of most renters.
Faster Real Estate Business Processes
Making use of real estate technologies ensures seamless real estate business operations. For instance, Blockchain helps secure the total assets of a property and allows them to be transferred online to new buyers, which means less paperwork and better transparency.
Another example is Customer Relationship Management (CRM) software like Salesforce which allows real estate firms to organize vast quantities of data and is quite useful for investors while performing research on the history of a particular property before making an informed investment.
More User-Friendly Technologies for Real Estate Businesses
Over the years, real estate technologies have become more friendly than ever which means even customers with little or no technical knowledge can take advantage of it. All they need is to know how to operate a smartphone.
To grab the benefits of real estate technology solutions, one does't need training as they are self-explanatory to use with online guides available free of cost. Additionally, with the advent of wireless technologies, proptech hardware has become quite easy to install and use.
Closing Statement
Staying ahead of the curve in the real estate market is the key to making your real estate business thrive and it is possible only by implementing the latest real estate tech innovations that will help revolutionize the way we do business.
Successful real estate companies are the ones that are turning to tech-based solutions for their needs with the help of property aggregation platforms, drones, predictive analytics systems as well as custom services. Being more open to technology will help in benefiting the business as well as their customers. Embrace change to unlock better progress in real estate business with the right technology
BidHom is a trusted Property Listing Software for Agents and brokers that enables real estate businesses to take control of the market with dedicated solutions aligned with the most suitable technology thereby helping clients sell or buy homes smarter. Connect with our experts to see how we can help you boost your real estate presence with a free website.