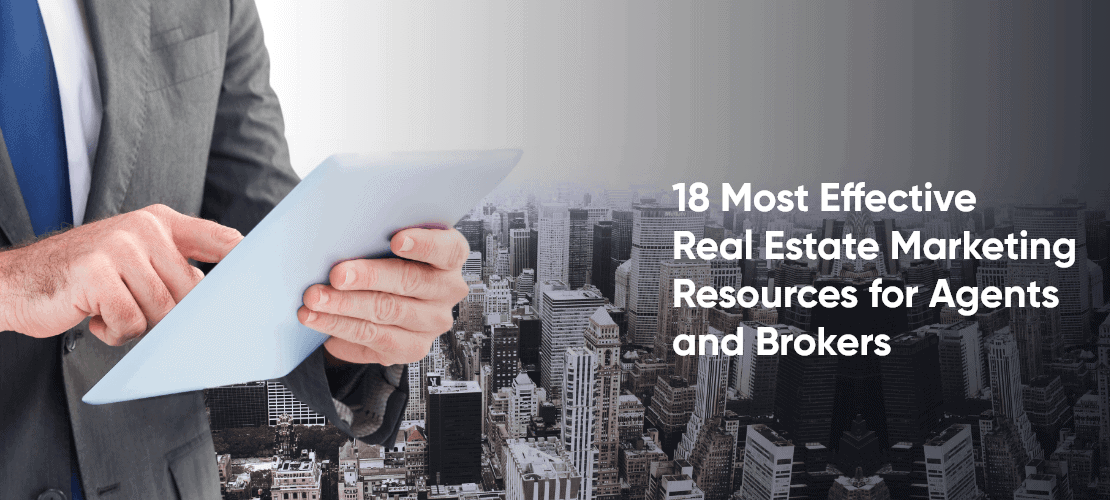 November 10, 2023
Reading time about 10 minutes
What's the right marketing material to reach a potential real estate customer?
As a real estate broker or agent, this question must have crossed your mind many times. What has been working wonders for other businesses might not work the same for you. Reason? The real estate market is highly competitive and governed by factors like location, property type, target audience, and regulatory requirements.
That leaves less scope for generic marketing resources.
This blog will discuss the top 18 real estate marketing resources that will help you reach your target audience.
Business Card
Business cards are a wonderful way to make a stellar first impression. As a real estate agent or broker, you can represent your brand in the most concise way through business cards. Rather than handing them over to your potential leads, you can put them in the shared areas or lobbies of the small businesses in your referral network.
Apart from having your name, contact information, and other required details, you should add your logo and maintain brand consistency. A professional headshot that truly represents who you are, along with a personalized quote, can make a great first impression on your potential clients. Lastly, adding a QR code to your business card can take people directly to your website, bringing the desired traffic to your real estate auction software.
Blog & Articles
Content is still king when it comes to acing the game of digital marketing. Your real estate leads are in search of credible reading material to understand the market, trends, prices, properties, and industry better. Blogs and articles on relevant real estate topics can establish you as a thought leader. It builds authority for your brand and establishes you as a credible real estate player.
Through real estate blogs, you can share useful real estate tips, trends, insights, local news, and much more with your target audience. Besides, posting blogs is a terrific way to drive traffic to your real estate IDX website. By incorporating the most searched keywords into your content, you can master the SEO game and generate a sizable number of leads.
Door Hangers
Traditional, but still effective! The door hangers are a wonderful way to reach out to people you think would want to do business with you. As a real estate agent or broker, you know how competitive the market is and how easy it is to lose a client. Going into your neighborhood and putting door hangers on the doors of people who you think might be planning to buy or purchase a property can boost your business.
Design the door hangers in alignment with your brand style and identity. They can be effective marketing materials to put across your brand message.
Listing Presentations
You have a lead on someone who is planning to buy their property. It's time to utilize the listing presentation to convince them that you are the right real estate agent or broker to do the job. A listing presentation is the master plan supported by correct figures, numbers, and mockups that you would want to sell to the potential client.
A listing material can be a PowerPoint presentation with multiple slides, including the brand introduction, market analysis, property valuation, marketing plan, mockups, commissions and fees, your credentials, handling offers and negotiations, contract and legal disclosures, and a convincing closing.
Newsletter
Sending an update on new top listings, new blogs you posted, and upcoming real estate events is always a great idea to engage your potential clients. As a realtor, you must realize the power of a well-articulated newsletter. Whether you have new listings on your website or have important industry updates to share, a newsletter does the job just right.
Newsletters are a cost-effective way to reach out to your existing and potential clients. You can also measure its impact through open rates, click-through rates, conversion rates, and other key metrics.
YouTube Videos
People tend to believe what they see rather than what they read or listen to. Luring potential buyers toward property listings can be achieved through posting YouTube videos. You can give your target audience house tours through these videos. It's a great way to build interest. Besides the property showcase, you can talk about your brand and present a case study in these videos. It will empower your personal brand and build brand authority.
Social Media Content
Your potential clients are on social media browsing through stunning pictures of properties. With social media becoming the favorite place for new-age buyers and sellers, social media marketing has become crucial. If you think posting pictures of new listings on your Facebook or Instagram page is enough, you are mistaken.
You must prepare a social media strategy where frequent postings and follow-ups are included. Your social media posts can be about:
Portfolio of a new listing
Industry updates
Market insights
Announcement of property sold
Besides, just posting often isn't enough. You will have to engage with your audience. Like their comments, reply to their comments, and hold live sessions to convey to your target audiences that you value their presence on your social media page.
Facebook Cover Page
It's all about how you present your real estate business. The Facebook cover is the first thing most people notice when they come to your page. If it's missing or is poorly formatted or designed, chances are people won't take the pain of scrolling down and leaving from the first fold itself.
Ensure that your cover picture is relevant to your real estate business and has the right dimension. A blurred image or poor design is a big turn-off for first-time visitors. Taking care of these small yet key details can enhance your brand image significantly.
LinkedIn Posts
A professional networking platform works a little differently from social media. LinkedIn can be an effective platform to approach professionals. Moreover, your potential clients might come looking for real estate services here. In that scenario, it becomes important to have a reliable presence on LinkedIn.
You can post important industry updates and insightful content on LinkedIn so that people who follow them take you as an industry expert. Another feature that you can make use of is direct messaging. You can approach your potential clients by messaging them directly.
Window Displays
Window displays are easy to create and can be effective in attracting potential clients. The top features of a property listing, an ad copy, a new service announcement, or discounts and offers—the list can go on—can be communicated to your target audiences through window displays.
You can create these resources without much hassle and display them in your referral network easily. These displays are eye-catching and can help you build a brand image.
Real Estate Brochures
Having the most fascinating details about your real estate business in one place is a clever idea when your target leads are scattered. Designing a well-formatted brochure of your best listings, deals, and contact details will help you share details at your convenience. In the middle of a conversation with someone from your target audience, it can lead to a business opportunity at any stage. Handing them your brochure at the end of the meeting will help them retain information and revisit it.
Open House Flyers
Have an open house? You can ensure a great turnout with one simple marketing material. Flyers aren't out of fashion yet. You can create attractive flyers and share them with your referral network. Do not
forget to put your contact details on the flyer along with property details, time and date, and address. You can also drop these flyers in the neighborhood mailboxes. Even if they don't want to buy or sell a property now, they will have your contact details for the future.
Open House Signs
Just like open house flyers, open house signs can grab the attention of those who might be interested. A standee or a billboard can be an ideal way to inform people about such events. Ensure that the design and colors used are coordinated with your brand kit. Even if you cannot design such material in-house, there are many templates that can be customized per your needs.
Also, it is important to ensure that the font size is large enough for people to read it from a distance.
Eye-Catching MLS Listing
Having an IDX MLS real estate website ensures that your website is up-to-date and that you get good traffic. However, if your MLS listing isn't supported by high-quality images and detailed property descriptions, your potential customer might not go ahead in the funnel.
Ensure that you have uploaded high-quality pictures of your listings along with dynamic content to bind the website visitors.
High-Definition Portfolio
Professional photographs of a listing make it 50x more attractive and influence a buyer's decision greatly. It might feel convenient to click a picture of a property and upload it to the website. Don't!
It will not look as attractive as professional photographs. Arrange a professional shoot of the listing and create a high-definition portfolio to make it saleable. After all, you must bear this cost to engage your clients and build your brands.
Paid Ads
Paid ads are a terrific way to get assured leads. By running ads on your recent blog or social media posts, you get assured reach, and it multiplies the possibility of getting quality leads. Besides, paid ads target specific audiences based on demographics, which helps to streamline and distribute your budget to marketing activities that will generate a good ROI.
IDX MLS Website
An IDX real estate website allows visitors to search for property listings on your website only. It keeps them browsing without having to search for more options online. MLS integration ensures that all recent listings are updated on your website. Updated content automatically makes your website SEO-optimized. It enhances the chances of people discovering your website in search results.
Email Marketing
Email marketing is still considered one of the most credible means of communication. It adds to the sincerity part and appeals to the target audiences aptly. It is important to segment your audience before starting any email marketing campaign. For example, you cannot send a new lead an email about buying a property. First, you will have to nurture the lead by gradually engaging them.
There is trusted real estate auction software like Bidhom that automates this process for you. You don't have to sit down and draft the emails. The automated email marketing campaigns do the job perfectly.
Revamp your Real Estate Marketing Strategy with a Free Real Estate Auction Website
With so many effective real estate marketing materials in your arsenal, you can launch a hero real estate marketing campaign. You can use these marketing materials as needed and see considerable results in a short time.
A real estate marketing platform can automate your marketing efforts and free up your space for business development activities. Investing in real estate auction software is the dealmaker here. Bidhom offers comprehensive real estate technology solutions for brokers and agents. Start building your free IDX website today to experience advanced real estate marketing automation.