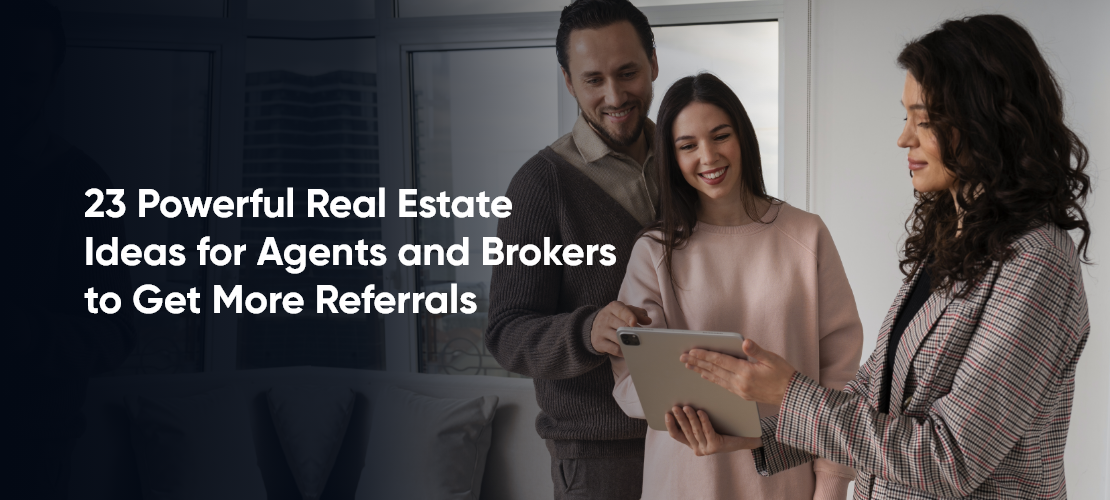 September 22, 2023
Reading time about 10 minutes
As a real estate agent and broker, are you tired of knocking on doors, cold calling, sending out direct mail, running Facebook ads, etc. to generate new real estate leads? But have you ever wondered that almost 70% of all real estate sales transactions come from the real estate referrals business. This is because people trust recommendations from their family and friends more than they trust ads. In this blog, you will get to know 20 real estate ideas to generate real estate referral leads.
Importance of Referral in Real Estate
Referrals are the lifeline of the real estate industry and are considered the most reliable means of generating business and expanding your client base. Most home buyers and sellers find their agents through a personal recommendation or referral from a friend, family member, or colleague. Referrals in the real estate industry can boost an agent's reputation, generate high-quality leads, and contribute to long-term success. Thus, agents and brokers should focus on building and maintaining strong relationships to foster a robust referral network. Referrals can come from a variety of sources leading to a more diverse client base. Real estate broker agent referrals from different segments can expand their reach and cater to a broader range of clients.
23 Real Estate Ideas to Get More Referrals
If you're on the lookout for promising referral networks that can boost your business, there are several options to consider. BidHom is the top real estate IDX MLS platform with proven success in generating real estate referral leads. Integrating BidHom real estate software solutions helps you to connect with potential clients and grow your business. Let's see the top real estate ideas to get more referrals.
Build Your Own Website
It is important to create your own web presence. Having your own website allows you to build a personal brand, showcase your specialties, and share reviews from satisfied clients. Potential customers will be able to go through listed properties and can easily convert into leads. It ensures a cohesive presence in the market and helps real estate agent referrals even if you switch brokerages.
Understand Your Client Needs and Preferences
As a real estate agent, it is important for you to understand your client's needs and preferences. Interact with them and fulfill their needs based on their needs and preferences. Connect with their goals and integrate listing and property recommendations specifically for them. Thus, providing an exceptional customer experience with your services increases real estate referrals.
Deliver Personalized Experience to Your Customers
Go above and beyond to exceed the expectations of customers in order to deliver your customers personalized experiences. Personalizing helps in creating a memorable and rewarding experience for your customers. It is estimated that 80% of customers are likely to recommend their real estate agents and brokers they had a positive experience with. Thus, delivering personalized experience can enhance real estate broker agent referral.
Publish Information for Your Clients
Whenever a customer interacts with your business then try to provide them with informative information including anything from home-owner advice to local activities. Taking the time to remain helpful after the transaction will keep you at the top of their minds. This will help you to earn their confidence and increase the likelihood that they will recommend you to others.
Maintain Healthy Relationships with Clients
Maintaining strong relationships with clients can lead to many benefits. It can bring more referrals to your real estate business. It is estimated that 70% of luxury real estate professionals consider referrals to be the most effective marketing strategy for their business. Maintaining healthy relationships with other real estate agents and brokers to bring a pool of potential increase in real estate referrals.
Collaborate with Partners and Service Providers
Collaborating with other real estate agents, brokers, partners, and other service providers who have expertise and experience in the real estate business can help you bring more referrals. Create a mutually beneficial cycle of growth for all involved in your network and bring more reliability when it comes to acquiring customers with their preferred property.
Host Events and Conferences
Hosting events and conferences can improve your chances of generating more real estate referrals in the industry. Showcase your best property and tell your audience about your upcoming projects. This will help you in establishing a brand image that will never fade. Thus, you can get leads as well as more referrals from your clients.
Use Social Media Platforms
Social media platforms act as a platform to showcase your listings and promote your brand among the audiences. Social platforms like Facebook, LinkedIn, Instagram, etc. allow you to target users based on demographics, interests, and location, ensuring that their message reaches the right people at the right time. Thus, social media platforms can help you in generating real estate referral leads.
Use Email Marketing to Attract Real Estate Referral
Real estate agents and brokers can use email marketing to stay connected with past clients, interact with present clients, and establish themselves as industry experts. Sharing valuable market updates and incorporating property buying and selling tips, keeping them updated with the latest and trendiest news in the market builds your brand awareness and this could lead to referral opportunities.
Join the Referral Network
A referral network helps you and other parties to get more referrals to both businesses. You both receive or earn a commission from each other when you refer a client to them, or they will earn a commission when they refer clients to your business. This network fosters a healthy relationship and helps in growing your real estate business.
Share Success Stories and Testimonials
Showcasing the success stories of your potential satisfied client is a way to bring more potential customers and bring in more referrals to your real estate business. When new customers watch your existing client's satisfaction rate along with your portfolio then they will surely convert into leads. You can also ask existing clients for real estate broker agent referrals.
Surprise Your Past Clients with Pop-up Gifts
When you can get in front of potential and existing customers, greeting them with gifts is a way to boost your referral power. This type of investment in a small gift can pay off in ways you can't imagine and can bring real estate referral business. They will surely promote your brand and refer your business to potential customers who are looking for properties.
Incentivize Real Estate Referrals
Incentive is a significant source of income for agents and brokers nationwide. You can offer a percentage of your sales commission to an agent or broker once you close a deal, they've referred to you. This is a great way to earn more referrals from them. Keep updated with other agents and brokers to meet the specific need of their clients and any leads will be greatly incentivized.
Video and Content Marketing
Create virtual property tours, market updates, and Q&A sessions on YouTube to attract a wider audience. Sharing this type of insightful articles, videos, and other content enhances your real estate business reach and can bring more real estate broker agent referrals. You can also market through informative content such as eBooks, guides, and infographics that people can download in exchange for their contact information.
Join Real Estate Groups and Forums
Join online real estate forums and groups to connect with potential clients and other professionals in the industry. Exchanging your ideas, property listings, and upcoming projects can help you in bringing in more real estate referrals. You can also start your own real estate podcast where you discuss market trends, interview experts, and share advice for buyers and sellers.
Take Part as a Volunteer
Find community events to attend from your local newspaper event listings, physical flyers, bulletin boards, and community center, and take part as a volunteer to promote and build your real estate business connection. or community agency websites, and your town's official website. Be as involved as you can in your target community to bring more real estate broker agent referrals.
Sponsor Events and Partner with Brand
When you sponsor events, your real estate brand logo, and contact information are shared and displayed throughout the event and printed materials. Be it a sports event, charity, or community event, seeing your name associated with the organization will build a strong connection and attract similar-minded people with whom you can build a network. You can also partner with other real estate brands to generate real estate referral leads.
Create Contests and Deliver Prizes
Everyone loves the chance to win free stuff. You can create online quizzes on your website and promote them on your social media channels to expand your brand reach. Thus, you can easily gather lead info phone numbers, email addresses, etc. on a landing page or through the contest.
Create Paid Ads to Generate Real Estate Referrals
Paid advertising is a way to scale your real estate business and helps you attract referrals from specific audiences. Targeting audiences with tailored messages can improve your chances of getting real estate referrals who are most likely to be interested in your services. Facebook Ads and Google Ads allow agents and brokers to target users based on demographics, interests, and location to generate real estate referral leads.
Keep Your Website Updated with New Listings
Everyone loves the chance to win free stuff. You can create online quizzes on your website and promote them on your social media channels to expand your brand reach. Thus, you can easily gather lead info phone numbers, email addresses, etc. on a landing page or through the contest.
Contribute to Industry Publications
Keep your reach higher to connect with more potential leads. Take part in real estate publications like magazines, blogs, eBooks, etc. to attract audiences and engage them with your brand. Thus, you can interact with other real estate businesses, agents, and brokers to generate more referrals. Taking part in publication can increase real estate referrals.
Build Connections with Banks and Credit Union
The idea of building connections with banks and credit unions is to share potential leads back and forth. A homeowner needs a loan to buy your property, renovations, etc. When they get all facilities under one roof then significant volumes of clients can return the favor by connecting you with warmth. This will help in an increase in real estate referrals.
Send Birthday & Anniversary Gift Cards
As a real estate agent or broker, never miss a chance to delight your customers and greet them with perks and personalized gifts on their special occasions. Sending an annual gift card on their birthday and anniversary helps you in building a better relationship. Stay on top of your client's minds to encourage them to refer you to their friends and family. This small gesture of greeting your valuable customers helps in bringing more leads and referrals.
Generate More Real Estate Referral with BidHom
Referral marketing strategies are powerful tools for real estate agents and brokers to close more deals. If implemented properly, it can easily boost their real estate business as well as boost ROI. If you want to generate more real estate referrals for your business, then we at BidHom can easily help you with the real estate IDX and MLS website along with auction platform. Our expert professional helps you build a real estate platform that not only brings more referrals but also helps you close more deals easily.