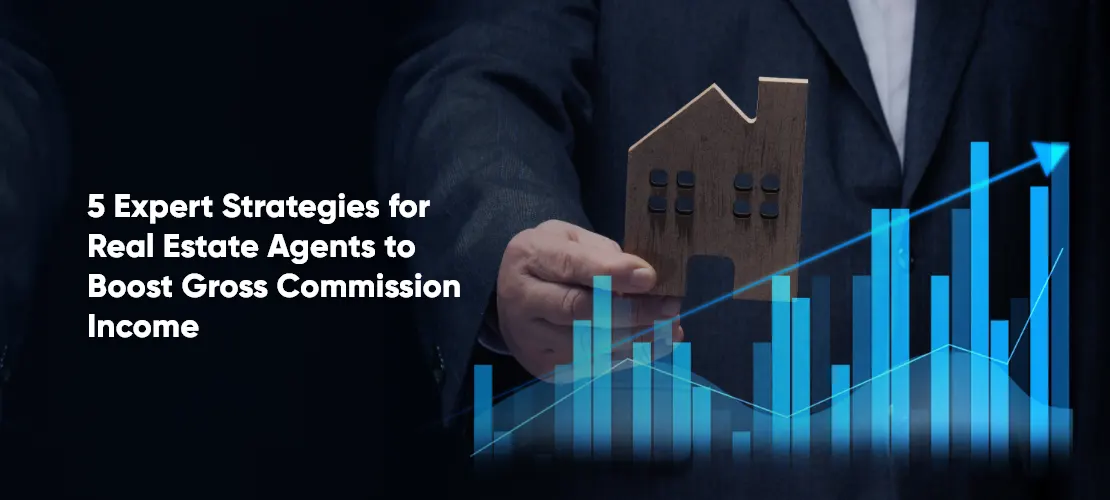 August 16, 2023
Reading time about 5 minutes
Real estate is the fastest-growing sector. Many of us want to become real estate agents to generate a good amount of income. Some people are completely switching their careers as real estate agents for a better work-life balance. But not all real estate agents are able to generate gross commission income (GCI) income and at certain points, real estate agents lack energy and lose the fiery passion they had earlier.
One of the ways to get paid with gross commission income (GCI) is by adopting the top real estate IDX MLS website with online auction software to engage more potential customers and generate high income. In this blog, we will discuss gross commission income and various strategies that real estate agents can adopt to boost their GCI.
1. What is Gross Commission Income?
Gross commission income for real estate agents defines the total revenue he/she earns from commissions on real estate transactions throughout the year. The GCI of a real estate agent is independent of marketing costs, brokerage fees, taxes, and other direct and indirect costs. Thus, GCI defines the net income of a real estate agent.
GCI acts as a success metric for real estate agents to track their performance in closing deals and identify any seasonal or location trends. It defines the ability to set goals and provides a better understanding of past earnings by following the previous trends and market behavior. Thus, real estate agents can strategically plan their expenses to fit within their anticipated net income
2. Why GCI Is Important for Real Estate Agents?
The real estate business opens the door of unlimited income potential which can be easily measured with the help of gross commission income. It helps in measuring the performance of real estate agents. It tells them how much money they made from commissions successfully by closing deals and serving clients.
It can be a major aspect for real estate agents to define their financial planning by figuring out their budgeting, spending, and investing. They can clearly define their expenses like marketing, rent, and other fees that they are paying to figure out how much money they're really making.
3. How Real Estate Agents Can Boost Their GCI?
A. Build Your Real Estate IDX MLS Website
A real estate IDX MLS website establishes a connection between your real estate business and audiences. It helps in attracting their attention and encourages them with the various types of listings, import listings, and displays them on your website. These listings are updated automatically so that it can engage potential customers to access to the most recent listings. This will help you in getting more sales and ultimately boost your GCI.
B. Collaborate and Expand Your Network
Building and collaborating with professional and other real estate agents can help you in creating better opportunities to boost your CGI. Building a strong network of contacts can result in a more comprehensive service offering so that more potential customers can connect with you. You can also collaborate with other real estate agencies or can join the association to increase the chances of receiving more referrals and finding new business opportunities.
C. Don't Settle for Less Specialize in More Property Type
It is essential for real estate agents to expand their market reach and expertise in various property types. Real estate agents can take advantage of the IDX MLS website and real estate online auction software to sell various property types like – luxury properties, commercial properties, residential properties, plots, and specific property that can help you in generating revenue.
D. Invest in Real Estate Online Bidding Platform
Today, online auction is very popular in selling and buying real estate properties. Customers easily take part in real estate bidding to purchase their dream property. Invest in a real estate bidding platform to auction your listed properties. Focus on the unique properties to auction and attract more potential buyers to participate in the auction. This will help you in collecting more commission from the auction of properties.
E. Boost Your Marketing Efforts
Effective marketing is the key to a successful real estate business. Thus, it is necessary for real estate agents to market their real estate business to attract and engage more potential buyers. BidHom real estate online auction software helps real estate agents in building a strong online presence through a professional IDX MLS website, social media marketing, email marketing, online SEO, etc. Thus, marketing efforts can boost your CGI.
4. How BidHom Can Improve the GCI of Real Estate Agents
Improving your gross commission income is as simple as finding the right partner to grow your credibility and discover new clients. BidHom helps real estate agents in integrating the top real estate IDX MLS website that is professional, easy to access for audiences, attracts more highly qualified clients, and outpaces your competition in the market.
If you are looking to boost your gross commission income (GCI) then we at BidHom can help you in boosting your transaction volume and commission rates with the best IDX MLS website and real estate online auction software. Thus, bring an advantage that goes beyond GCI and boost your credibility for future success in this competitive real estate market.