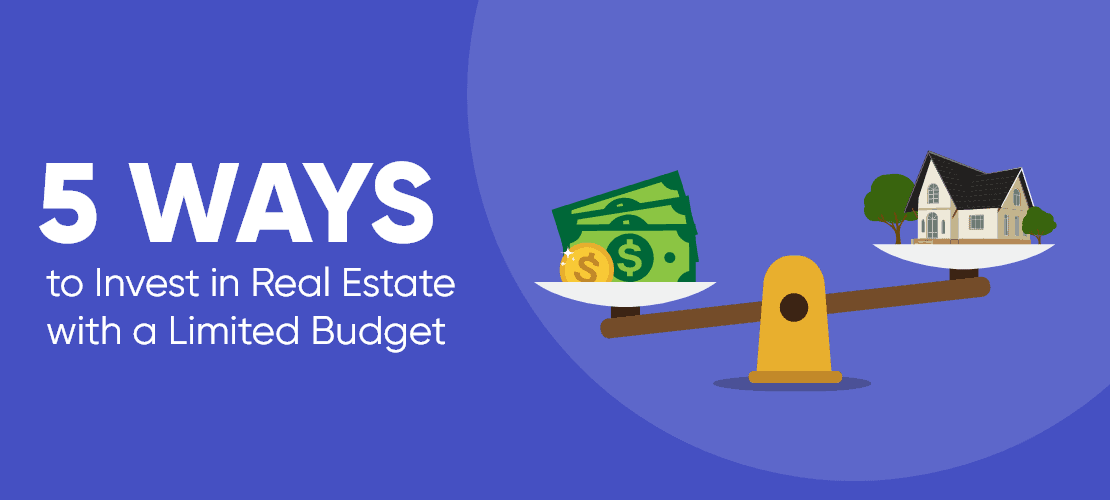 November 14, 2023
Reading time about 6 minutes
Is it possible to invest in real estate with little or no money down?
This is one of the most asked questions by real estate investors. A lot of people are ready to invest in real estate, but they don't want to take out massive amounts of their pockets. The reasons may vary for different buyers- moderate incomes, insufficient savings, or more expenses.
It is highly recommended not to exhaust your savings while buying your dream property. There are ways to invest in real estate without spending too much.
Here are five ways you can invest in real estate with little cash.
1. Invest in a Property as a Primary Residence:
Investing in real estate with minimal upfront costs is possible when you intend to use it as a primary residence. You can benefit from homeownership tax benefits, such as deductions for mortgage interest and property taxes. Gradually, your property may appreciate, subsequently producing greater profits when you decide to sell off. Regular mortgage payments also help you build equity, effectively acting as your savings plan.
There are perks to owning a house as you can predict the monthly housing costs. You have full control over your property and can make improvements as desired. You can even generate rental income by renting the spare space. Additionally, capital gains tax exclusions and the option for home equity loans are perfect financial incentives.
2. Buy a Duplex and Rent Out a Part:
Buying a duplex and renting out a part is an excellent real estate investment strategy. You can enter the real estate market with a smaller down payment, saving your capital. Duplexes are generally more budget-friendly than single-family homes. By renting out one unit while living in the other, you can smartly cover your expenses and even save some money. It's called "House Hacking".
When you finance a duplex with an FHA loan, you need to make a down payment of 3.5% which is quite economical compared to other ways of financing. Then, there are tax benefits too. However, you must research the local market, understand landlord-tenant laws, and browse the most investible properties on top real estate IDX MLS website.
3. Create a Home Equity Line of Credit (HELOC) on Your Primary Residence:
Creating a Home Equity Line of Credit (HELOC) on your primary residence is a smart financial move that promises both flexibility and cost-effectiveness. HELOCs usually have lower interest rates compared to credit cards or personal loans. The cherry on the cake is that the interest paid on HELOCs is tax-deductible, specifically, if you utilize the funds for home improvements.
If you have a good credit score, you may take up to 85% of the equity you have in your home. For instance, if someone with a good credit score and DTI ratio can get approved for a HELOC up to $1,70,000 on a home valuation of $3,00,000 with a loan balance of $1,00,000.
HELOCs offer an interest rate of 9% which is historically high at the moment, but still is far cheaper than credit cards and home loans. HELOCs can have variable interest rates as they have a prime rate associated with the Federal Reserve Policy. What truly sets them apart is the absence of closing costs and quick closing.
Besides all the benefits HELOCs offer, it's always recommended to pay down a part of the principal while the interest rates are low. As the prime rate stabilizes, the interest amount you pay will drastically decrease as you chip away at the principal every month.
4. Convince the Seller to Pay Your Closing Costs:
Buying a property in the USA with little money isn't about haggling over the price, but also negotiating on the closing costs. Convincing the seller to foot the bill for these expenses can be the turning point in your real estate journey. If the seller is settling the closing costs, it can considerably lower the upfront expenses and you can save big cash for other crucial needs, such as down payment, improvements or simply bolstering your savings.
In real estate markets, an offer with the seller covering closing costs can make your bid stand out, potentially tipping the scales in your favor. A broker auction platform allows the required transparency and bandwidth to work such arrangements.
5. Find a Lender Who Pays Your Closing Costs or Issues a Rebate on Your Down Payment:
It's not about immediate savings, it's about improving your financial position overall. Finding a lender who's willing to cover your closing costs or offer a rebate on the down payment can benefit your pockets significantly.
When the lender covers your closing cost you need not bring the huge cash to the table, making your dream to own a property a cost-effective reality. With less upfront expenditure, you can own a house without exhausting your savings.
This strategy is a winner for long-term savings. When you get a rebate on the down payment and the closing costs are covered, you get a smaller initial mortgage balance which means lower monthly payments and less interest paid over the life of the loan. It's a strong negotiation point that can save you big bucks. The real estate market is highly competitive. Many lenders offer incentives to attract borrowers. You can research the market and seek out lenders that either cover your closing costs or provide a rebate on your down payment. This can considerably reduce the initial investment needed to acquire a property.
In a Nutshell
Investing in real estate with little or no money down is not a faraway dream. It is not only feasible but also a smart financial move. These strategies can help you achieve this goal. You can find the top listings on top IDX MLS websites and move ahead in your real estate journey through a broker auction platform.
When you buy a property through a broker auction platform, you get the top options, best offers, and 100% transparency. If you are a real estate broker, you can revolutionize the experience of your customers through a premium broker action platform like Bidhom. Bidhom can be an ideal moderator to manage real estate terms and processes between buyers and sellers. Connect with us today to learn what Bidhom can do for you.