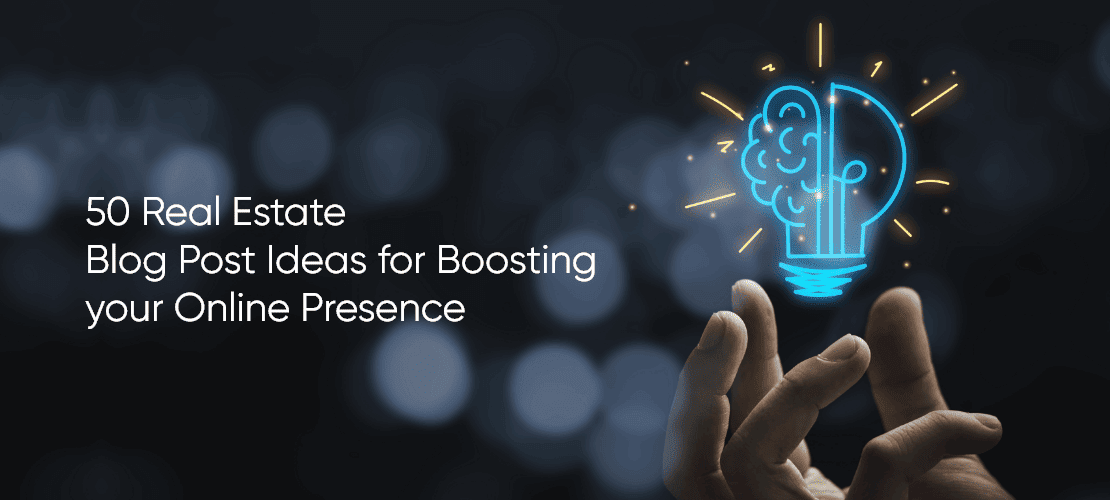 November 15, 2023
Reading time about 6 minutes
Are you a real estate agent or blogger looking to amplify your online presence?
You need quality blog content on your real estate website.
Eye-catching titles, value-adding content, and relevant pictures can drive massive traffic to your real estate IDX MLS website. Through real estate blogs, you can cater to the unique needs of your potential clients. You can post blogs that reflect your real estate brand, solve a problem for your target audience, and establish yourself as a thought leader. Before you ponder what topics you should include, here are a couple of things you need to get clarity on.
Know Your Audience
If you don't know who your target audience is and what content they crave, it is difficult to offer relevant content to them. If you are a local real estate agent or broker offering services in an area that is a popular vacation destination, you can humor your potential clients by offering them insights on why they should think about their second homeownership in that area. Understanding what your potential clients need will boost your content strategy significantly.
Decide on your Brand Voice
It's your approach that builds up how your content will resonate with your potential clients. Your brand voice is the personality of your brand, and it determines the way your audience perceives you. You may start by choosing your tone, style, and language. An authoritative and trustworthy brand voice helps you reflect a genuine interest in helping clients navigate the complexities of real estate.
Here are 100 blog ideas that can turn your real estate website into a lead magnet.
Become a Thought Leader by Offering Market Insights & Trends
You can become a trusted destination for potential real estate buyers for data-driven insights and industry trends. Following are the latest trends you can write blogs on to engage your audience-
1.Tips on How to Navigate a seller market as a buyer
2. Impact of the festive season on the real estate market
3. Impact of Seasonal Changes on the Housing Market
4. Impact of Fluctuating Interest Rates on real estate
5. Benefits of a Real Estate online auction software
6. The Future of Real Estate: Predictions for the Next Decade
Become a Trusted Solution Provider
There are hundreds of questions buzzing in the mind of a potential buyer or seller, and they are actively searching for credible sources to clarify their concerns. That's why offering content that helps your audiences make well-informed decisions will always win over clients.
7. The Ultimate Guide for the first-time buyers
8.Top 10 Tips for Selling Your House Quickly
9. Renting Vs Buying
10. Tips for Buying a Fixer-Upper
11. Tips for Buying a Home in a Seller's Market
12.Tips for Selling a Home in a Buyer's Market
Become an Interior expert
Client engagement is important and that's why it is advisable to stay connected with existing clients by providing them with post-purchase content.
13. How to Upgrade Your Property for Quick Sale
14. Home Renovation Ideas to double your
15. Real Estate and Interior Design: Creating the Perfect Space
16. DIY Home Improvement Ideas for Weekend
17. Home Office Design for Work from Home
18. How Home Design Affects the Resale Value
Become the Local Real Estate Expert
Global outreach matters in this digital age. But it's equally important to build local credibility among the audience. For that to happen, you can take the aid of quality content and write on the most relevant blog topics.
19. Spotlight on Up-and-Coming Neighborhoods in Your City
20. Choosing the Right School District for Your Family
21. Real Estate and Community: Building Strong Neighborhoods
22. Spotlight on Historical Homes: Preserving the Past
23. Spotlight on Gated Communities: Privacy and Security
24. Spotlight on Tiny Homes: Embracing Minimalism
25. Spotlight on Celebrity Homes: A Glimpse into Luxury Living
26. Spotlight on Vacation Homes: Tips for Buying and Renting
Share Expertise in Real Estate Financing, Loans & Taxes
There are only a few credible sources of information when it comes to real estate financing options. By sharing your understanding of mortgage rates, taxation, and other norms, you can clearly win the competitive advantage here. Here are some topics that will bring good traffic to your website.
27. A Comprehensive Guide on Mortgage Rates
28. Guide for Beginners on Real Estate Investment
29. Creative Ways to Finance Your Home Purchase
30. Exploring Real Estate Investment Trusts (REITs)
31. Tips for Investing in Commercial Real Estate
32. Real Estate and Retirement
33. Real Estate and Retirement Communities
Introduce them to the Real Estate Technology
Technology advances like real estate online auction software have made online buying and selling easy for all. By breaking down how these real estate auction platforms work, you can win the trust of your target audience. Here are some topics you can cover to highlight the technological supremacy in real estate.
34. The Role of Technology in Real Estate Marketing
35. The Rise of Real Estate Auction Platform
36. The Impact of Virtual Tours in Real Estate Marketing
37. The Role of social media in Real Estate Marketing
38. The Benefits of Real Estate Online Auction Software for Buyers and Sellers
39. The Role of Home Automation: A Tech-Savvy Future
Equip Them with Legal Know-How
Legal hassles around buying and selling properties can be tiring. Most of the time, people are clueless about the legal requisites or want to confirm their knowledge through online resources. Create credible resources for them so that they can trust you. Here are a few topics you can cover.
40. The Importance of Home Inspections
41. How to Choose the Right Real Estate Agent for You
42. The Benefits of Hiring a Real Estate Broker
43. What to Expect in the Closing Process
44. The Role of Title Insurance in Real Estate Transactions
45. Property Division after Divorce
Give them Lifestyle Tips
Every real estate enthusiast wants to know how to make their real estate journey more lavish. You can easily bind your audiences by writing blogs on lifestyle and luxury.
46. Eco-Friendly Homes and Sustainable Real Estate
47. Luxury Homes and Extravagance
48. The Benefits of Homeownership for Millennials
49. Real Estate and Interior Design
50. The Role of Feng Shui in Home Design and Selling
Want to streamline your real estate marketing? Investing in a real estate auction platform is a wonderful way to manage your content and marketing efforts. Bidhom is one such platform that allows you to build top real estate IDX MLS websites and helps you drive the desired traffic. By automating your auction processes, real estate marketing, and content strategy, you can put your time into business development activities.