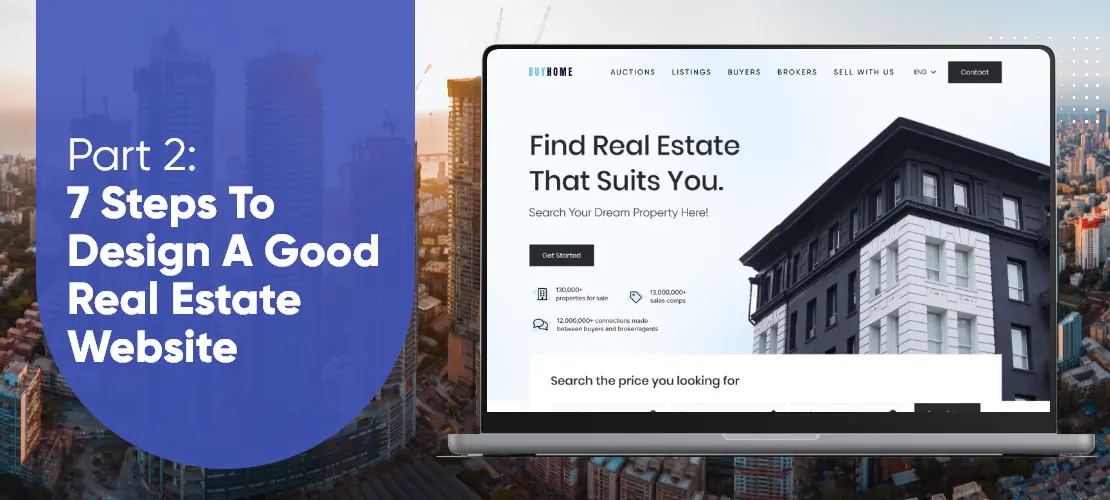 December 30, 2022
Reading time about 5 minutes
Today, website design has become a need for every business. People also expect businesses to deliver their goods and services over the web that they offer in the offline world. The same goes for real estate businesses to develop the best real estate broker website design and encourage your clients to make their purchasing decisions.
Designing a good website requires a lot of processes like- planning, conceptualizing, and executing the basic structural arrangements of your website development. Businesses are keen on building premium real estate website designs and mobile-compatible websites as people are spending more time on their smartphones rather than sitting on their desktops. In this article, we will see seven steps that will help you in designing a good real estate website.
Why Should You Create A Real Estate Website?
Gone are the days when property dealers, agents, and realtors aimed to get their classified ads in the local newspapers and magazines. With the age of digital evolution, everything is going digital now. Real estate developers are building their websites with custom real estate software website design and deploying advertisements over the web to attract an audience from various locations.
Smartphones have become a real gamer changer in overall digitalization. People are accessing smartphones more than ever and there are many channels, platforms, and websites over the internet that brings more customers to real estate agents and dealers. Let's see how realtors website design helps you in creating a real estate website for your business.
Lead Generation
Building real estate websites helps you in engaging customers and capture potential leads. The multiple listings on your website attract the attention of the users and help you in generating enough traffic and converting them into clients
Build Brand Awareness
Real estate websites are not just good-looking brochures or profile pages, but it establishes your business as a brand. When people interact with your website then it helps in presenting your business as a brand name.
Show Your Expertise
Having a real estate website helps you interact with a wider audience. It helps you in building a level of trust and creditability among the audience. Provide them with the best property and deliver them satisfaction level. This will build your brand reputation and trust among the audience.
Deliver Updated Information
Websites help you in delivering the right information. You can increase your sales by providing the latest information about the property. List the newest property and attract audiences from everywhere.
7 Steps To Design A Real Estate Website?
Designing a real estate website helps you in engaging your audience and enhance your sales growth. If you are determined about creating your real website, then continue with us. Here we will discuss seven steps to build a real estate website.
1. Set Your Business Goal
Having a predetermined goal helps in designing a good website. When you have the aim to implement on the website then you can easily determine the functionality and features of your website. This will help you to attract more customers and increase sales. You can also analyze the website of your competitors. This will help you in implementing the right design elements, navigational links, features, and pathways in designing a premium real estate website design.
2. Choose Your Domain
A domain is a site that hosts your website. Choose your domain that suits your business or choose a name through which people know you. This will help you in personalizing your website with your brand name. Thus, the audience can interact and purchase the property with you freely by using the space. Luxury real estate IDX website design helps you in choosing the right domain name for your business.
3. Implement The Right Design
After choosing the right domain name, implementing the right design can help you in building the website for your customers. Explore a variety of other web designs you feel would best align with your business and brand. Custom real estate software website design helps you in designing website templates that you can integrate with your domain name.
4. Layout Your Website Design
Draw an outline of your website. Draw a sitemap of all the pages you'll need on your website and how they all connect to each other. Finalize your pages like- the homepage of your website, an about page, a contact us page, and a gallery of properties. Therefore, you will never miss out on the basic design requirements of your website.
5. Integrate Color Palette And Fonts
The color palette and fonts make your website more compelling and deliver a better user interface to the customers. Placing nature-centric color tones that are pleasing to the eyes attract the attention of the customers while fonts such as serif, sans-serif, and script can play a part in emotional marketing.
6. Optimize Your Website For SEO
After completing the website designing process, it's time to check whether your website is optimized for SEO or not. Be sure to check off your SEO checklists like- page loading speed, images with alt descriptions, meta tags, internal linking, and other elements that are optimized or not, and make some last-minute layout edits if you need to.
7. Publish Your Website
Once your website is SEO optimized, then publish your website if everything works as intended. Check all the pages and links of your website. Look for the internal pages, tabs, note pages, and image loading time are working properly or not. If everything goes right, then publish your website and be ready to track home buyer footprints.
Conclusion
Here are the seven steps that can help you in developing a good real estate website for your business. If you want to develop a premium real estate website design, then we can help you in developing a high-end real estate website design that will enhance the sales of your real estate business. This will take care of all your FSBO website design development processes.