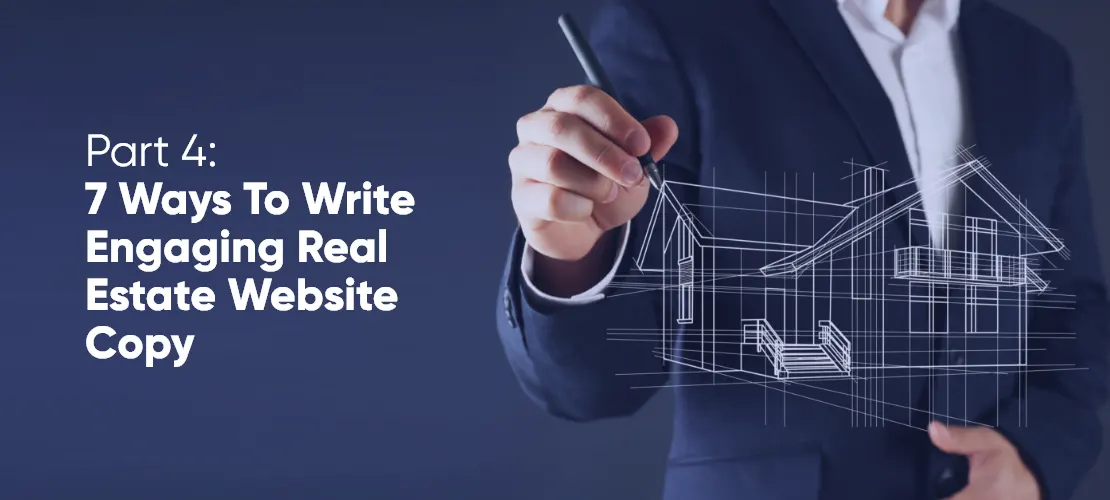 January 12, 2023
Reading time about 6 minutes
We all know that every single sentence of a story should either reveal something about a character or advance the action. The same thing correlates while developing website copy for your real estate website. Every single line of copy on your website should engage your visitors and help in delivering meaningful functions. Build your own real estate website and deliver emotion to accomplish your business goals.
So, how does a copy play a role in your real estate website development? Developing an engaging and meaningful website copy with custom real estate websites with IDX and CRM adds a balance of function and emotion that tells the story of your brand. Here we will discuss how you can write engaging website copy for your real estate website development and how it builds your brand.
What Is A Website Copy?
Website copy refers to the written content that appears on a website. This can include things like product descriptions, blog posts, landing pages, and more. The goal of website copy is to inform, educate, and persuade website visitors to take specific action, such as making a purchase or signing up for a newsletter. It acts as the core content of your real estate websites for realtors and landing page that talks about your brand or business and what you offer and do.
Why Website Copy Is Essential For Your Website Development?
An attractive design can boost customers clicks but an engaging website copy is the key to boosting customer engagement. When the quality of your copy is high then it helps in determining the brand image and describing your work. However, if your real estate website lacks quality copy then nothing can save you from the failure of your website. The best mobile real estate websites for agents help you in interacting with customers and describe the words on your website.
Creative content marketing engages customers and encourages them to act with compelling objectives which are to make people click, browse, sign up and spend money on your business website. A website copy when paired with a quality copy then it ensures that your site conveys your business objective and purpose effectively to the target audience.
7 Steps To Write Engaging Website Copy
When it's time to write website copy for your real estate website then you must keep an eye on the various factors so that it can deliver the best experience to customers. An attention-grabbing copy helps active homebuyers, property agents, and visitors in finding the right property. Let's see the seven factors to write a compelling and engaging website copy for your real estate website.
1. Determine Your Target Audience
Writing an attention-grabbing website copy is a piece of art. But writing a website without knowing your target audience cannot define your business process. Therefore, if you want to engage your audience then you should determine your target audience, their needs, demands, and most importantly their interest in the property. Research and identify the keywords that they use to search for potential properties. You can choose a variety of different keyword generators to engage your customers.
2. Use Strong Headlines To Grab The Reader's Attention
If you really want to attract the attention of the audience then use a customer-centric tone and reach out to your customers. Use strong headlines and keep the style and tone that correlate with your business. This helps the customers to find the best solution for them while building your own real estate website by analyzing your product offerings and identifying your unique selling points.
3. Highlight Unique Selling Points Of Your Listing/Property
Just think about how you'd like to sound when your potential buyer visits your website. Keeping this in mind while writing website copy will never let you down. Highlight the unique selling points through words about your listed property and point out the important and unique features of your property. Ensure that your highlighted points reflect your brand voice while building the best mobile real estate websites for agents.
4. Use The Right Call-To-Action (CTA)
Implementing the right CTA helps you in engaging the customers with the listed properties. Determine a specific goal for each page and set a clear call to actions for the users that you want to get across through your homepage. Writing a clear Call-to-action for every page and interlinking the various properties pages within a similar location encourages visitors to view the various listed properties. Luxury real estate website design uses the right CTA to engage your audience.
5. Keywords And Phrases For Enhanced SEO
Writing website copy is one of the best ways to boost your online visibility on search engines. Integrating keywords and phrases throughout your website while creating website copy for your real estate website can help you in reaching the top of the search results. Thus, you can easily target your potential customers and grow your real estate business with keywords and phrases for your luxury real estate website design.
6. Integrate High-Quality Images With Your Web Copy
Images always attract the attention of customers. When your real estate website consists of relevant images related to various listed properties then it enhances the buying experience of the customers. Images and powerful words can easily turn visitors into potential buyers. Therefore, it is essential to integrate your website copy with the images while building real estate websites for realtors.
7. Include Testimonials Or Reviews From Satisfied Client
A testimonial is an honest endorsement of your product or service that usually comes from a customer, colleague, or peer who has benefited by purchasing your listed properties. Writing a genuine testimonial and review of their purchasing experience helps you in promoting your business. The Best real estate website platform always includes testimonials and reviews of customers.
How BidHom Can Help You In Building Your Real Estate Website
A good website copy helps you in attracting and engaging the audience with your real estate property. It helps in improving the statistics and delivering better customer satisfaction. Thus, you are always ahead of many other real estate agents from the start. BidHom is ready to go real estate platform that helps you in building the best mobile real estate websites for agents and custom real estate websites with IDX and CRM. We take care of all the website and app development from the scratch and keep you updated with the latest website copy to grow your sales.