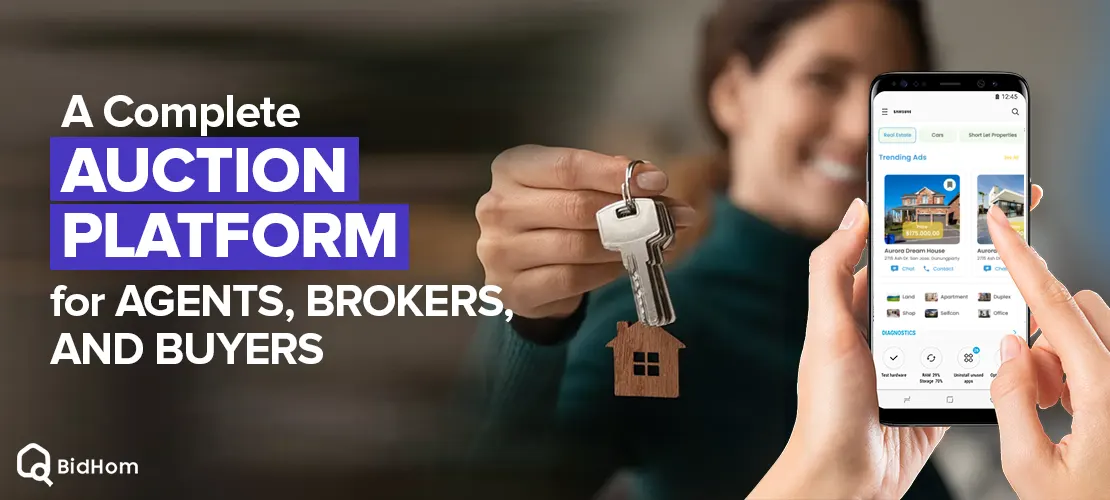 May 12, 2023
Reading time about 6 minutes
The idea of online auction is not new. When eBay came up with the idea of an online auction to sell various products on their sites then they hardly got customers or buyers to take part in their auction. This idea of online auctions often evoked negative feelings among the major companies and for buyers, it seems this is a way to fraud or fool them.
In the real estate industry, when the real estate auction platform was introduced then agents, brokers, and sellers all had similar perceptions. However, the increase in the use of technology had a significant impact on the real estate industry for digital transformation and this led to the huge success of online auction platforms across the globe.
Today, real estate auction platforms are very popular among real estate agents, brokers, and sellers to sell their properties across the globe. It offers a rich virtual experience to the customers without having to leave the comfort of their office or home.
BidHom- A Ready to use Online Auction Platform
BidHom is an all-in-one real estate auction platform for real estate agents, brokers, and sellers. It is a SaaS (software as a service) platform that acts as a real estate auction website builder that transforms your real estate website into an online auction platform.
BidHom easily integrates with your website and delivers an auction platform for agents, brokers, and real estate auctioneers to list their properties and conduct successful auctions and bidding. It is the go-to platform for real estate businesses that simplifies the online bidding process and maximizes the price you get for your listings as BidHom creates a competitive environment for buyers with real-time visibility during the entire live bidding process. around the globe.
How BidHom Online Auction Platform Works?
BidHom real estate auction platform allows buyers and sellers to participate in the live bidding process from across the globe against the listed properties they are looking to purchase.
It all starts with property listing. Agents, brokers, or sellers list their property for sale on the online auction platform and include all the detailed information about the property like- photos, videos, location, legal documents, and other details of the property.
The property is typically listed for a period of time before the auction begins. During this time, customers can register for their participation. Potential buyers can view the property details, investment highlights, contact information for the listing broker(s), as well as auction details, like the minimum bid amount and the dates the auction will start and end. Thus, buyers can access the full property and can easily execute due diligence agreements.
When the auction starts, buyers can log onto the online platform to participate in the bidding. Bidding typically lasts for a set period of time. Buyers can place bids in real-time and can reserve a price. As the price increases or decreases, buyers can again place the bid. This process till the auction time or day is complete.
After the property is sold, the buyer and seller sign a sales contract. After that the buyer typically pays a deposit, and a closing date is scheduled.
Features of BidHom Online Auction Platform
A real estate online auction platform allows buyers and sellers to conduct real estate transactions entirely online. BidHom is a real estate website that offers various features to real estate sellers, agents, and brokers. Here are some of the features of the BidHom real estate auction platform.
Secure and Scalable Infrastructure
BidHom is a real estate auction website builder that enables your website or existing website to build on a secure and scalable infrastructure. It allows a large volume of online traffic and online bidders to participate in your auction and delivers a better customer experience. However, real estate sellers, agents, and brokers can easily control the parameter of bidding time and can auto-extend to avoid snipping.
Multiple Auction Formats
Our SaaS-based custom real estate website builder helps you in building a real estate auction platform that supports multiple auction formats including live-stream webcast auctions, timed auctions, or hybrid auctions. Real estate sellers can choose the best format for their property auction as required by their businesses.
Auction Management
Real estate auction website builder helps real estate agents and brokers with an integrated dashboard that allows them to manage all their auctions from one place This includes- sales and bid management, invoicing, reporting, outbid and high bid notices, auction watch notices, end of auction notices, etc. Thus, you don't require any additional software or tool to manage your auction.
Interactive Bidding Countdown
BidHom real estate auction platform comes with an integrated automated countdown timer with a change in color and updates automatically with the new bid. Users don't need to refresh their browsers while watching and bidding for the auction. This interactive bidding countdown timer encourages buyers to place bids easily.
Analytics and Insights
Get more certainty with a custom real estate website builder to provide real-time analytics and insights on the bidding activity. Online sellers, agents, and brokers can easily track the interest of the buyers in their properties and make informed decisions about pricing and marketing. Thus, reporting and analytics help you in identifying potential buyers.
Don't Let Menial Tasks Hold You Back – Integrate and Soar
Most real estate auction platforms don't provide access to integrate all your listing whether residential or commercial properties with IDX integration and top CRM platforms. Now, remove the load of adding properties manually on the top CRM platforms and MLS website. BidHom is an all-in-one real estate auction platform that helps real estate agents and brokers easily integrate their listings and auction properties on top platforms like- RealNex, Buildout, Sharp Launch, Bright MLS, etc.
Create feeds for Residential property type with IDX integration as well as easy integration with the Bright MLS. For commercial property, all your listings on the BidHom platform easily get integrated with the top CRM platforms like- RealNex, Buildout, Sharp Launch, etc. BidHom platform owners will be able to automatically publish active sale listings and can easily integrate with these platforms to fetch property listings. Thus, you can easily generate reports of potential buyers or leads generated from the two marketplaces right from the BidHom dashboard.
Conclusion
An online auction platform has several benefits and offers you the best features to grow your real estate business. It acts as a moderator to manage the business processes between the buyers and sellers. If you are a real estate seller, agent, and broker then BidHom is the leading real estate auction website builder for your real estate transactions, bringing buyers, sellers, and brokers together to efficiently list, market, and close more deals. Do connect with us today and unlock the potential of your real estate business.