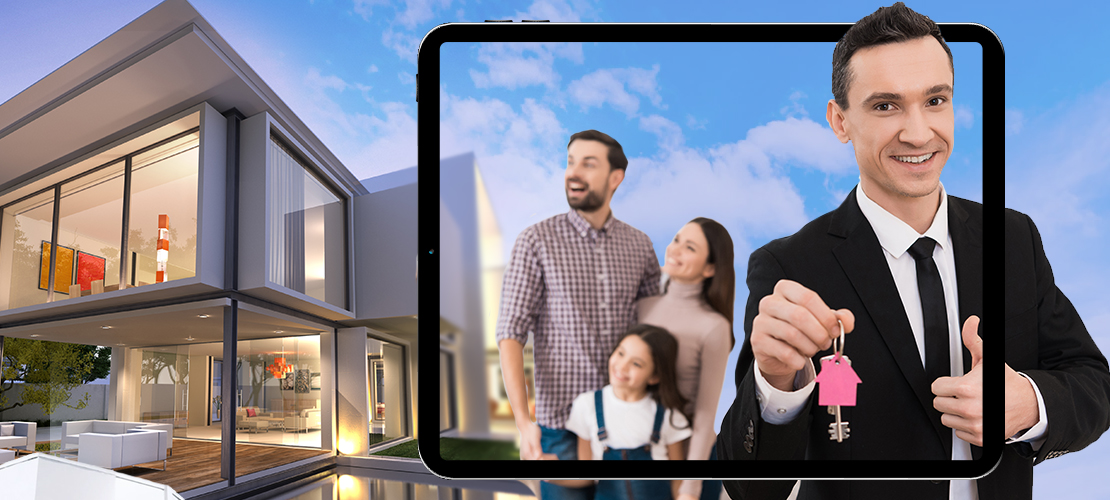 June 16, 2022
Reading time about 5 minutes
Building a website is always a good idea if you want your business to serve customers online. Talking about the real sector, there is huge competition with a large number of realtor websites in the market today. It is crucial to consider the advantages of choosing a customized design website to stand out in the crowd and help you grow in the long run. In this blog, we will check out some of the effective design tips for building real estate agent websites that can help to attract more clients.
Best Tactics for Successful Real Estate Web Design
Before you hire the expert developers of a reliable real estate website development company, let us see some of the best practices you must follow while designing your real estate website-
Keeping updated with the latest practices and building awareness among your prospects is essential. To help you, we have shortlisted some of the sure-shot ideas for effective real estate marketing that can help in bringing in qualified buyers. They are listed below-
User-Centric Approach
Focus on what your target audience is looking for and will they get them on your website with ease. Take time to research your competitors to know their strengths and weaknesses, which will help you make the right choice while coming up with a good web design.
Intuitive Navigation
As research says more than 60% of customers are likely to leave the website if they feel confused with its navigation, which means navigation should be made easy. For this, ensure that both the sitemap and menu navigation are user-friendly to avoid any confusion.
Smart Search
Another important aspect is the faster and smarter search of property listings on your website. Keep in mind that you design your website in such a way that it offers a powerful lie search feature for an exceptional customer experience.
More CTAs
Call-to-actions are a great way to gain attention & generate leads from the website. If you don't have a CTA, you must add it on every webpage of your website to encourage people and let them buy, sell and rent properties.
Focus on Micro-Interactions
One of the important aspects of mobile property websites is micro-interactions that create engagement and offer feedback. These interactions may come in different forms like swipes, input actions, animated elements, CTAs, guides, etc. Examples are the animated downloading process, filter transitions, loading bars, etc.
Property Pictures
As most of the users prefer online investigation of properties before they buy or sell them, ensure that you upload high-quality images that look stunning on every device. If you can afford it, you can also offer 3D walkthrough tours to help in closing deals faster and more conveniently without physical visits.
Valuation Tools/Mortgage Calculator
Buying or selling a property involves a huge investment, which is why ensure that users know the worth of their homes to see whether they can afford the option they like or not. You can help by integrating valuation tools or mortgage calculators along with property descriptions on each page.
Timely Updates
It is important to ensure that your real estate website is updated from time to time to meet the evolving needs of customers. This is essential not just to improve the version of the website but also to generate more quality leads for better closures.
How to Attract More Leads Using Your Realtor Website?
Mobile-Friendliness
Multiple users have different devices to browse your website, ensure that your website design is responsive and mobile-friendly to avoid losing leads to competitors. As more people rely on an online home search, pay focus on information text boxes, dropdown menus, and navigation/submit buttons on the websites to promote easy clicking.
Powerful CTA Buttons
One of the major things that play a huge role in determining the success of any real estate website and increasing conversions is the CTA button. The color of the CTA button should be designed in such a way that it goes with your website theme as users can get distracted if they don't like the buttons. According to research, CTA buttons with green, orange, and blue colors convert the highest. The CTA buttons with the same color as the background also convert well.
User Experience
Make sure that you always put user experience on top priority as you are making your website for users i.e. home buyers & sellers. They should be able to find any information related to property listings easily and quickly. Some of the ways to make your website user-friendly are fast loading of web pages, seamless and easy navigation, and proper whitespace.
Right Design for Website
The only thing that attracts your users to your real estate website is the right design, which is why it is known to make the first impression. Making use of a killer design that captures the attention of the audience is what you need to keep users engaged and avoid them to turn away to competitors instead. Take time to analyze the plan and make use of the right design themes to create a custom design for the website.
Final Thoughts
A one-size-fits-all approach doesn't prove to be successful when it comes to real estate websites. The customized model can help you build your brand presence and gain trust from customers by delivering personalized experiences. The most important thing is to understand your audience, their preferences, and market trends before building the website for your real estate business.
BidHom is known as one of the reliable real estate website builders that hold expertise in building customizable IDX websites for smarter property search and faster lead capture. Connect with one of our expert developers to help you build a dedicated website based on specific business needs.