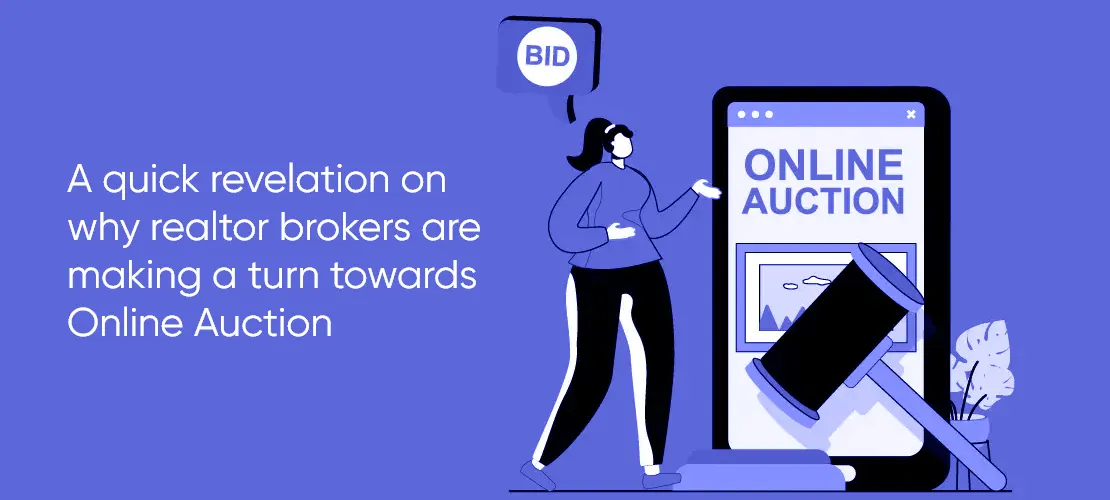 May 19, 2023
Reading time about 5 minutes
Real estate auctions provide a novel and fascinating strategy that breathes excitement and urgency into the process, replacing the days of conventional deals. The auction format has the ability to provoke enthusiasm and turn realtor brokers into contemporary auctioneers due to its quick-paced bidding conflicts and competitive atmosphere. Brokers have a stunning opportunity to demonstrate their negotiating skills, advance their careers, and provide their clients with experiences they won't soon forget.
Furthermore, the appeal of real estate auctions goes beyond the excitement. This alternate approach appeals to brokers since it has the ability to reach a larger market. Also, by utilizing tech innovations brokers are now able to contact a wider audience of potential buyers and maximize exposure for their customers' homes, which improves their ability to close the best transactions.
The role that a broker plays in the success of a real estate online auction platform
A broker plays a crucial influence in the outcome of a real estate auction. Brokers provide a smooth and effective auction process by bringing their experience, market knowledge, and wide network to the table by accessing a free website builder for realtors. First and foremost, brokers are essential in finding and choosing properties that are appropriate for auction, taking into account elements including market demand, property condition, and seller goals. They gain listings and create advantageous arrangements for their customers by using their negotiating abilities. Brokers often serve as a conduit between buyers and sellers, using their contacts to draw suitable bids to the auction.
Brokers operate as trusted consultants throughout the auction itself, assisting in transparent and equitable transactions by directing both sellers and purchasers through the bidding process. Their aptitude for navigating intricate legal and contractual issues further guarantees a seamless transaction. The success of a real estate auction can ultimately be greatly increased by the skills, connections, and market knowledge of a qualified broker.
What attracts realtor brokers towards real estate online auction platform?
The Auction's Amazing Scenes
The auction structure has an unmistakable attraction that appeals to both realtor agents and their clients. Ordinary real estate transactions are made more exciting by the frantic charm of auctions. Auctions encourage competition, sparking bidding wars and raising prices, which frequently provides sellers with higher returns. In this circumstance, brokers have the ability to show off their negotiation skills, boosting their credibility and strengthening their standing within the sector. In contrast, the chance to purchase a desired property at a potentially lower price is what draws purchasers to auctions.
Increasing Market Coverage
Realtor brokers are fully aware of the constraints of using traditional means to market real estate in terms of reaching a larger audience. However, real estate auctions platforms created using a free website builder for realtors provide a creative way to get around these limitations. The ability to exhibit properties to a worldwide audience via technology and online platforms allows brokers to break down geographical boundaries through auctions. In addition to drawing in more prospective customers, this greater market reach also draws additional investors looking for profitable investment possibilities. The ability to tap into a diverse pool of buyers grants realtor brokers a competitive edge and provides sellers with greater exposure and higher chances of securing the best deal.
The Worth of Time
Realtor brokers are aware of the need for speed and efficiency in real estate transactions, and real estate auctions provide a quick answer to this problem. Auctions create a specific timetable within which transactions take happen as opposed to suffering extended discussion sessions and uncertain deadlines. This results in a shorter sales cycle for sellers, lower holding costs, and quicker contract closure. The shortened timescale benefits the buyer by ensuring they can quickly get the home they want and minimizing the chance of losing out to rivals. Real estate agents that participate in real estate auctions are better able to serve the requirements of their customers and meet the expectations of a market that is changing quickly.
Fair and Transparent Market Value
Fair market value and transparency are essential components of real estate transactions. The bargaining process in traditional transactions can occasionally conceal the real worth of a property, leaving buyers and sellers unsure of whether they have struck a fair agreement. However, real estate auctions offer a transparent setting where market forces determine the property's value. This transparency fosters better relationships and encourages a feeling of justice in the sector by establishing confidence amongst realtor agents, buyers, and sellers. Real estate agents are using real estate auction software to demonstrate their dedication to honesty and transparency because they want deals to be transparent and equitable.
Flexibility in a Changing Context
The real estate sector is continually changing as a result of shifting market trends and new technological advancements. Brokers in real estate are aware of how important it is to be flexible and progressive. They exhibit their capacity to nimbly traverse the shifting market and offer cutting-edge solutions for their clientele by embracing real estate auctions. This shift towards auctions demonstrates their openness to adopting new techniques and utilizing technology to improve their services. Real estate agents are able to stay current and competitive in a market that is always changing because of the flexibility and agility that real estate auctions offer.
Conclusion
We have tuned up the layers of the real estate sector in this fascinating investigation in this blog post also we have found the strong arguments that realtor brokers are turning decisively towards real estate auctions. They are being propelled towards this new frontier by the excitement of the auction, a bigger market, and the demand for speed, transparency, and agility. So, to develop a functioning real estate auction software if you are searching for a realty web app development service provider then team Clavax Technologies is always ready to cater you with the most impressive and result-driven services at the fastest pace. Reach us any time to know more.