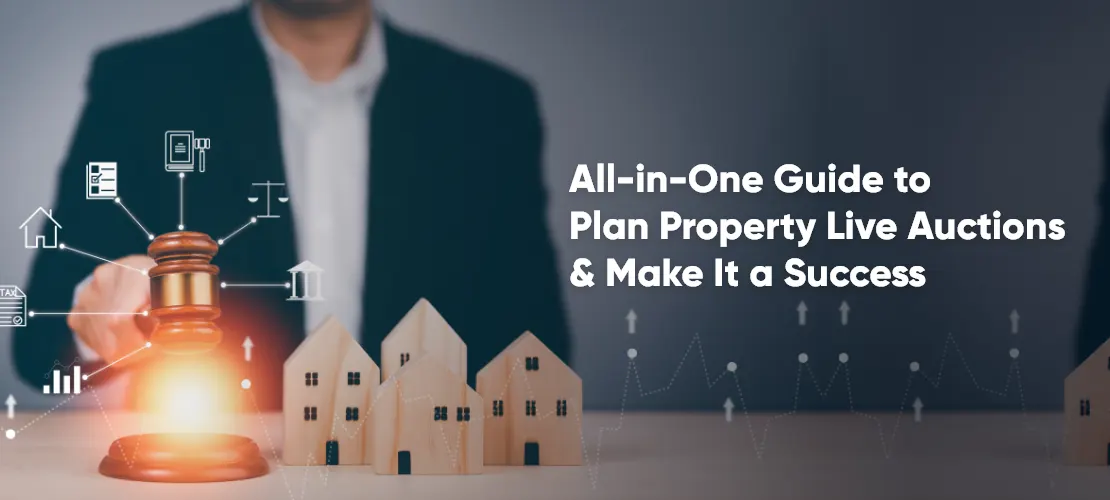 July 17, 2023
Reading time about 5 minutes
Many of you must be now aware of live auctions, which are becoming a great way to buy properties at a good rate. Live auctions are not only the most popular fundraising event for non-profit organizations but also a great way to raise financial support while hosting an unforgettable night and keeping your participants engaged with your work.
If your organization is looking for a way to host its first live auction but still has doubts, you have come to the right place! Before you take the help of the reliable Real Estate Live Online Auction Software, we suggest you go through the blog and check out this guide before you start planning your auction event.
Things to Keep in Mind Before Getting Started with Live Auctions
Live auctions are quite profitable as their fast-paced and immediate nature creates urgency and keeps donors engaged. In live auctions, an auctioneer starts the bidding by introducing the property to be sold and guiding bid amounts. The attendees will start placing bids with the amounts and raise bid paddles to catch the auctioneer's attention.
How do Live Auctions Work?
Pre-Register Bidders
Let every bidder pre-register to take part in the live auction event where they will get a unique bidder number that will be used to place bids.
Launch the program
Plan the event time and day of the auction prior. Once the program begins, the auctioneer will guide bidders to place the bids.
Begin with the Start Bid Amount
The starting bid dictates the minimum amount that the first bidder can bid on the auction property.
Accept Bids
Every bidder will call out the amount they wish to bid, which will help to grab the attention of the auctioneer.
Let Auctioneer Guide Bidding
The auctioneer will guide the bidding process with the minimum raise amount by calling out increments.
Close Bidding
Bidding will be closed to the final and highest bid and the property will be sold off to that bidder.
Pros & Cons of Live Online Auctions
Having a Top Real Estate IDX MLS Website is essential to help your target audience sell or buy properties with ease. Auctions are becoming a popular option nowadays even though it was initially started for selling off foreclosure homes.
Pros of using Live Online Auctions
Desire to Sell Property Quickly
The homeowner may choose the option of using an online auction to sell their property because listing the home on an auction website and selling it to the highest bidder is comparatively much faster than listing the home on the market.
Mortgage Default
When a borrower stops making monthly mortgage payments, the mortgage goes into default leading to foreclosure. The bank will eventually offer the distressed property for sale & online foreclosure auctions help to sell them off.
Sale of Properties foreclosed due to unpaid taxes
Municipalities can sell the properties at auction that has been foreclosed on due to failure to pay property taxes.
More Engaging with Friendly Competition
Bidders are actively participating in the live auction as it takes place in a single day, which makes auctions a great way to add a touch of friendly competition between bidders leading to higher bidding spirit.
Cons of Using Live Online Auctions
Lesser Control
As bidders will take part in a live auction event, they will have lesser control over the event performance.
Complicated Planning
Live auctions often require coordination with different persons to make it a success. The promotion, marketing, planning date & time for the auctions can be complicated & expensive as well.
Tips to Plan a Live Auction
Set Your Goal & Plan Budget
Planning a live auction is not child's play & expenses might quickly add up, which is why setting a clear budget is important.
Decide a Date and Time
Before you pin down the date and time, it is important to know who is your target audience, how many of them are you expecting to take part in the auction, etc.
Hire an Auctioneer
The auctioneer will play a great role in making your auction a success as they are the ones responsible for the introduction of property encouraging bidders to place the bids. Choose an expert professional wisely.
Promote the Auction Event
After planning everything, you are all set to promote your upcoming auction to find more and more interested home buyers that are looking for a chance to grab the best deals on their home purchase.
Promote the Property to Be Sold
Getting your auction participants hyped up about the event is essential and it is possible only by promoting more about the auction property in advance. All the essential details must be included such as event time, date, rules for bidding, starting bid amount, market value, minimum raise amount, high-quality picture of the auction property, etc.
Set Up & Execute the Auction
Double-check everything to ensure everything is ready before the auction starts. Make bidders aware of the auction bidding process to avoid any confusion. Allow your auctioneer to begin by introducing the first auction property, if you are planning to sell more than one property in the same event.
Final Takeaways
Live auctions offer a great opportunity to buy property at steep discounts or sell property faster. However, having good knowledge and expertise is crucial to make the live auction event a success. If you are planning to sell or buy a new house through an online auction, make sure that you are aware of live auctions.
For any queries related to live auctions of properties, get in touch with the expert team of the BidHom, our Real Estate Auction Platform that enables brands to build custom-made real estate auction websites to offer seamless property buying and selling experiences. Connect with our expert developers to build a website of your own and experience higher business growth effortlessly.