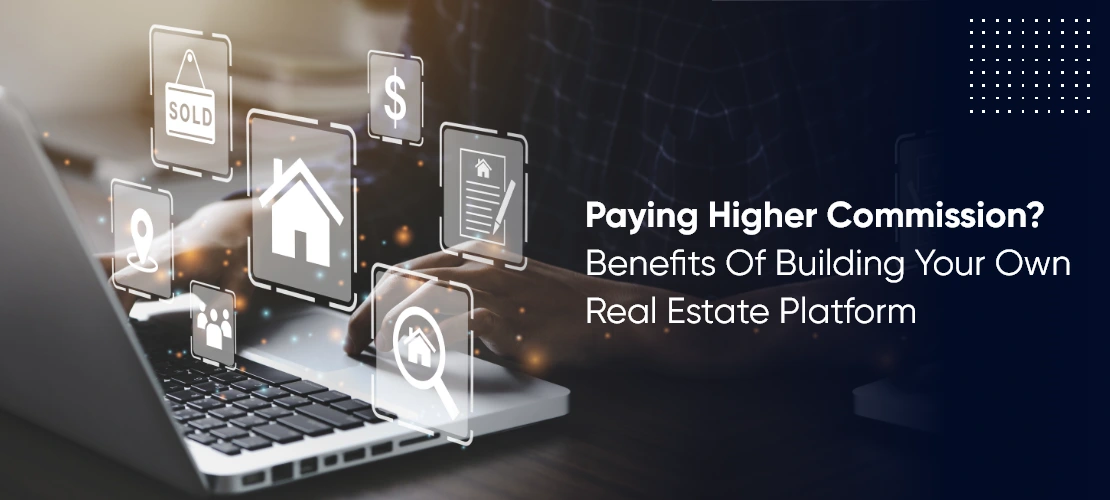 November 21, 2022
Reading time about 5 minutes
The real estate industry has evolved with the advent of technology and the impact of this evolution has practically infiltrated every major business in the world. Today, the online real estate business is no exception.
Most real estate agents make money through commissions and a single commission is usually split four ways. It is between the agent and the broker for the seller and for the buyer, which usually depends on the agreement between them.
Today, people are opting for online real estate websites and platforms to invest in properties. Therefore, it's always a great idea to invest in online real estate platforms. If you're a broker, dealer, or consultant and overwhelmed with the high commission to agents, realtors, and developers then it's time to build your own real estate agent personal websites with IDX.
How Real Estate Agents Are Overwhelmed With Higher Commission?
Real estate agents make money through commissions that are based on the selling price of the property. Agents usually work under real estate brokers and the commissions are paid directly to the brokers. When a property is put on the market, the seller, listing broker, and agents sign a listing agreement. Commissions generally range between 5% and 6% of the final sale price and sometimes it is lower based on market conditions.
For example – suppose an agent takes a listing on a $100,000 house at a commission rate of 6% from a franchise and the commission splits on 70/30 or 60/40. This equals a total commission of $3600 if the house sells for the asking price and the agent gets only 6% of the commission (up to $3000).
The franchise will collect 70% of the margin and the broker will list the broker and the buyer's agent's broker each get 24% and 6% of the commission. While the franchise will also collect a franchise fee of 6% on each transaction.
Another common split that franchises, realtors, and many developers use is 50/50, 60/40, or whatever ratio is agreed upon by the agent and the broker. It is common for more experienced and top-producing franchises to provide a lower percentage of the commission.
How Much Does It Cost To Build Your Real Estate Platform?
You can build your real estate agent personal websites with IDX with an amount lower than you pay as a commission to the franchise or property dealer in a single time. Yes, you heard it right! You can build your online real estate platform for less than $2000.
Bidhom is offering an all-in-one real estate platform to boost your digital business presence at just $166/month while the pro plan comes with $258/month when billed annually.
| Starter Plans Include | Pro Plans Include |
| --- | --- |
| Responsive Website | Theme-based Website Designs |
| IDX Integration | IDX Integration |
| Listings Management | Listings Management |
| Auction Platform | Auction Platform |
| Leads Management | Email Communication |
| Sub-Domain Website | CRM & 3rd Party Integrations |
| Standard Reports | Reporting |
| Email Support | Blogging |
| | User Roles & Permission |
Benefits Of Building Your Own Real Estate Platform
The answer to the question is obvious because its ever-growing niche offers great potential for you to place the listing on the website and attract huge audiences to generate leads from property business and generate huge income without paying any commissions.
Reach To Wider Audience
Today, most people are using online real estate property sites to search for their best property. Therefore, the real estate marketplace is the best way to engage your audience and offer them multiple listings to choose from. You can easily target your audience and expand your reach among people. From here, you can easily track their location, preferred searches, and favorable property.
Collect Real-Time Data
Do you want to know how the market is responding and data from the various locations like – CRM, MLS, etc.? Having online real estate software will help you in generating real-time data and information through which you can analyze your business. Modern real estate agent personal websites with IDX help you in delivering AI-driven reports and analytics to get a clear picture of the current situation of your business.
Scale Your Business Architecture
Do you want to expand your reach? Offline real estate marketplace is limited within the geographical area, thus limiting market reach within certain people. But building a real estate online foreclosure auction platform software helps you in attracting new customers from any part of the world. You can collaborate with various developers, real estate owners, and property dealers to scale your business architecture.
Start Your Real Estate Agent Personal Websites With IDX Today
In the end, you need to find the best fit for you. If you want to meet the ever-changing market without any support or guidance, then building your own real estate agent personal websites with IDX is a great way to generate more revenue.
Be an independent agent and more than others without leveraging or paying commissions to anyone. If you're looking to run your own real estate business, then there's no better platform other than Bidhom. We offer you real estate online foreclosure auction platform software with tons of features so that you can easily capture your leads. You will love to have a real estate agent personal website with IDX to take home more money in the long run.