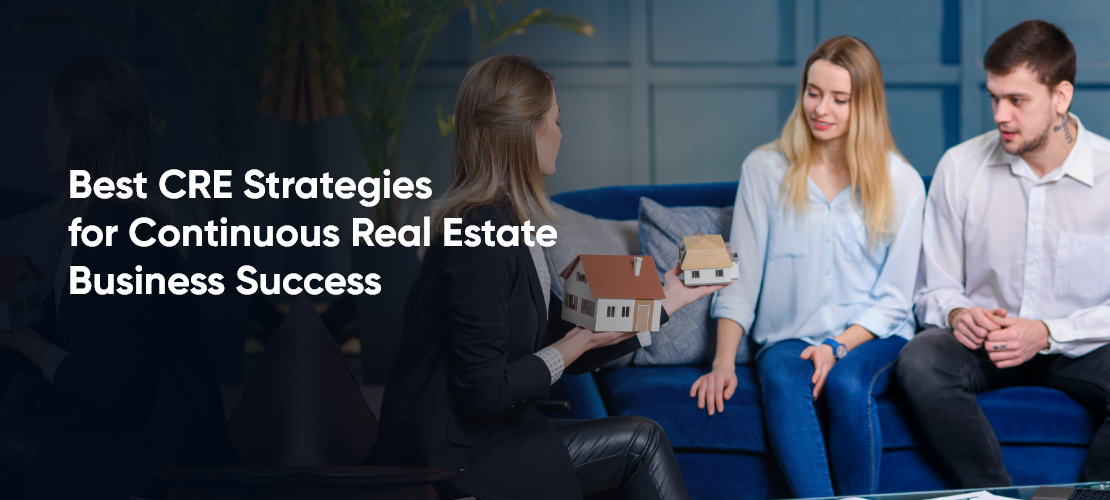 September 7, 2023
Reading time about 6 minutes
If you are a real estate business professional, you must know how competitive the market is, which is why moving ahead with the change is a must to stay relevant and fresh. When you think about the growth and success in your real estate business, what do you think is more important- keeping the sole focus on more revenue and leads or digging in deeper with continual commercial real estate training to stay updated with the latest systems, strategies and processes? You need to work on CRE training & developing it into the framework based on your company's needs.
To know more, you will have to go through this blog that discusses the significance of having expert Real Estate Online Auction Software and how the training strategies can help your CRE business grow.
Training Strategies That Commercial Real Estate Agents Should Be Aware of
To grow a CRE business, you need a constant learning mindset and coaching guidance that can help adapt to the changes like the implementation of new technologies and transition from outdated processes. If you want to stay updated with fresh market trends and would like to gain a competitive advantage over your competitors, you must check out the training tips to ensure long-term growth for your CRE business.
Before you look out for expert advice from the leading Real Estate Bidding Platform, here are a few commercial real estate agents' training strategies to consider and make your business thrive even during hard times.
Know What Your Ideal Target Audience Wants
Your target audience's needs have changed with new developments and the latest innovations, which is why knowing about their evolving needs is a must. If you know your target audience requirements, you can focus on upgrading your marketing skills to the next level.
No matter how long you have been in the real estate business, you must refine your ideal audience as it can help you address changing needs seamlessly while making your business grow further.
Collaborate with Team Consistently for Better Marketing
The marketing strategy that worked years ago may not work efficiently today. It is time to improve content creation and marketing strategies to gain the attention of your potential clients. To create value-packed marketing content, you can leverage your industry and niche expertise about real estate topics- whether it is research on local market trends or transaction mistakes to avoid.
A well-researched and planned marketing strategy prepared after analysing reports for what works best and what doesn't is needed to create the best-performing content. Take time to regularly evaluate your strategy with the team and find out the most ideal marketing type that can help attract clients.
Build a Robust CRE Network for Better Growth
One mistake that most of the CRE training programs make is to give more focus on who you know in the network rather than keeping focus on who knows you. To get more opportunities for network expansion, give special attention to local networking events, associations, organizations and charities.
Building relationships is important to build a quality network that can help your CRE business grow, which is why you must go beyond a few meet-ups or one-time transactions. Take time to provide value so that you can nourish relationships and build successful referrals. Because, if you have connections who truly understand you, there will be a higher chance of building additional referrals and leads.
Go for a Progressive CRE CRM Solution
To make your CRE prospecting a success, you need a top-quality CRE CRM solution that enables you to manage different processes of marketing, prospecting and managing clients.
Go for the software solution that helps you aggregate all your data in a single tool, releases new features or updates based on clients' feedback and allows you to complete every process easily. This helps you avoid headaches from clingy contracts and makes you evolve with time through ongoing maintenance and upgrade services for business changes.
Brush Up Skillset with a Dedicated CRE Coaching
There is no end to learning and upgrading new skillset and the same goes for your real estate business. Real estate agents whether they are new in the market or someone with decades of experience must take time to learn how to adapt to change, unlock new potential and improve their weaknesses.
With the help of the right CRE training partner with decades of experience in training, proven results & huge knowledge of different skill sets, you can improve lead follow-up processes, evaluate new strategies and real-time feedback. This will help your business avoid silly mistakes and accelerate growth seamlessly.
Perform SWOT Analysis for your CRE Business
Taking time to maintain a SWOT analysis is important for your CRE business to build better and more profitable opportunities. Focus on performing these reviews regularly to find blind spots, see where you are lacking, unlock hidden talents or witness new opportunities for better growth.
Including regular SWOT analysis in your internal training processes will not only help you gain knowledge to fill gaps but also unlock progress & better enhancement.
Explore New Neighbourhoods for Fresh Opportunities
If you want to unlock new opportunities for more genuine leads always take time to explore new areas regularly. This will not only help you learn about emerging neighbourhoods but also set your business apart from competitors increasing the chance of new business closures.
Ensure that you keep your mind open to emerging localities, track new options and expand your network to get new leads & gain a competitive advantage.
Focus on Improving Communication Skills
The last important thing to consider is to focus on building relationships. Without good communication that helps you truly listen to your client's needs, your business can never succeed.
Knowing how to address your client's concerns and questions is important to help you respond thoughtfully with the right information. Great communication skills and timely listening to your clients will help in building trust and help you generate future leads as they feel more understood and heard.
Closing Statement
As we know, your CRE business needs ongoing training, the latest skillset and boosting your knowledge base to ensure that it thrives even under unprecedented circumstances. No matter how long you have been in your business or where you are in your CRE agent training, making use of specific tools and tech can help you stay ahead of the curve.
BidHom can be your partner in building the Top Real Estate IDX MLS Website where you work with top real estate professionals available to train and refine the performance of your business with the latest tech tools and methods. If you want your business to soar, book a demo with BidHom to remain updated and keep your business relevant for long-term success.