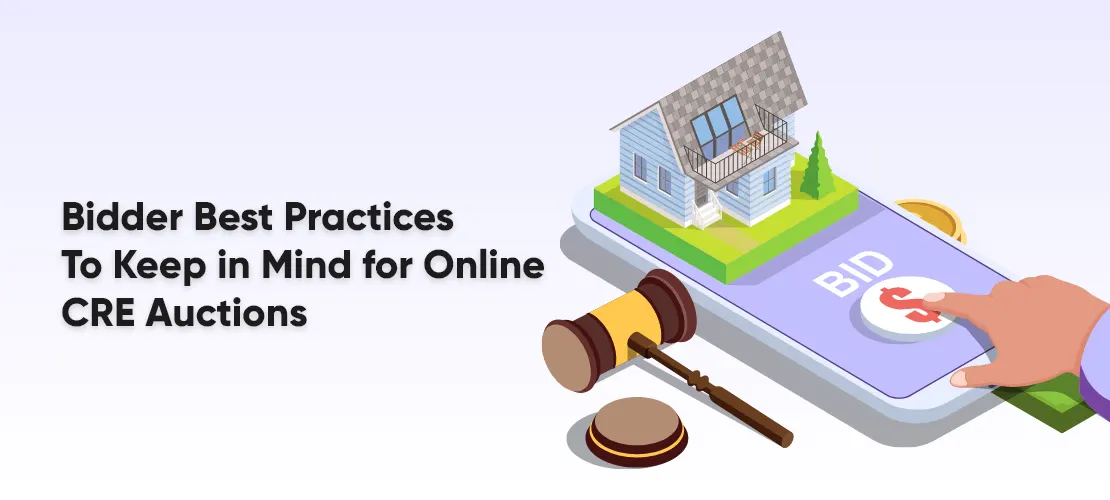 August 14, 2023
Reading time about 7 minutes
Though there is a huge demand for online commercial real estate auctions, many experienced commercial real estate investors are still struggling to understand the dimension of CRE. If you are also among those who are trying the navigate the process of registering as a bidder for an online CRE auction, you have come to the right place.
A reliable Online Bidder Registration Platform can be of great help to give you a clear understanding of the key differences between these auctions and traditional investment sales methods. In this blog, we will check out some of the best practices for bidders participating in online CRE auctions as shared by expert brokerage professionals.
What Experts Say About The Best Bidder Practices for CRE Auctions?
As many are still unclear about the process of online CRE auctions or have basic knowledge in place, we have shortlisted some of the best bidder practices followed by two brokerage professionals – Evan Lyons, a Michigan-based senior director of investment sales, Encore Real Estate Investment Services, and Harrison Klein, an associate with Marcus & Millichap focused on the Boston region.
Based on the conversation with both experts, we have created a list of best practices for bidders participating in online CRE auctions. Having experience working as both purchasers as well as sellers, Lyons and Klein have been associated with numerous successful auctions, representing both purchasers and sellers.
Before you plan to build a dedicated Real Estate Website For Agents and brokers, we suggest you check out the below list of best practices for bidders that plan to participate in online CRE auctions:
Be Present on Auction Day(s)
Find Out How Pricing Works
Take Time to Conduct Due Diligence
Request More Info, If Needed
Take a Virtual Tour of the Property
Create a Post-Acquisition Strategy
Prepare To Move and Pay Cash
Be Present on Auction Day(s)
The most fundamental step according to Lyons is to be present on auction day i.e. to show up once the auction begins, which eludes many potential bidders. He also mentions that- "It's simple to look at a deal, find some things wrong with it relative to where you think the property's going to trade and then move on." However, he says that many times when prospective purchasers find out the final price after the end of auctions, they realize that they have missed a great opportunity. "
The key point that we can learn is that – If the particular property checks the boxes for most of your needs not necessarily all, it's worthwhile to keep the browser open on auction day so that you can click that button [to bid] if you think it is moving in a direction that suits your specific needs," as stated by Lyons in his statement.
Find Out How Pricing Works
Another real estate expert, Klein noted that one of the common mistakes that often new bidders commit is to misinterpret the relationship between the initial or opening bid price & the final price.
Additionally, he said- bidders often assume that the selling price for the property will be around $700,000 if the property has the opening bid price of $500,000. However, in reality, the opening bid only represents a small fraction & Klein predicted approximately 30% of what the property will ultimately trade for, and serious bidders must be mentally as well as financially prepared for that.
Take Time to Conduct Due Diligence
When it comes to the acquisition of any real estate asset, it is crucial to take time and conduct your due diligence. Today, many online CRE auction platforms help to simplify this auction process, which is time-consuming and effort-consuming in a traditional approach.
"One of the best things about using an auction platform is that all the information that is needed to properly assess an asset is provided in prior before auction day. This means, bidders can get themselves registered & prepare themselves to become willing buyers or an investor that have access to all of the third-party reports needed on time, giving them ample time to review and get comfortable with the asset, as stated by Lyons in the conversation.
Request More Info, If Needed
Though most of the relevant materials will be readily available, our expert, Lyons advised that bidders must never hesitate to ask for any additional information they may think is necessary anytime or even on the auction day.
He also shared his own experience where bidders/investors were on call with him "Up until the final few seconds of the auction who were actively bidding down to the last second and are tapping him for more information.
Take a Tour of the Property
Another thing that Lyons noted is one side of the due diligence process that bidders may overlook in the virtual environment is to take a tour of the property as well as the surrounding area. If you think it's not physical to take a physical visit to the property, Lyons suggests going for alternatives like a virtual tour, hiring someone to fly a drone to visit the property, or just having a family/friend or a local representative go and visit the property.
Another way is to connect with the local economic developer to enquire about that area. Do some research to get comfortable with the area to avoid any surprises related to the location in the later phase, as stated by Lyons.
Create a Post-Acquisition Strategy
As per the advice shared by Klein regarding any real estate asset acquisition, bidders must have a well-planned strategy for the property before they become the buyer. He mentions that bidders must consider why the property is being auctioned as there can be a sign that there is some past, which the potential home buyer must be aware of.
Issues that can be possible are- Does the property need a new roof? Are multiple leases expiring? The bidder must understand the possible challenges & have a plan for resolving them.
Prepare To Move and Pay Cash
Another thing that bidders or buyers must prepare according to Klien is the rapid nature of online CRE auctions as compared to traditional investment sales. One thing about online auction is that the property gets sold fast and the buyer must be prepared to move quickly.
Usually, the successful bidder has approximately 30 days to close on the transaction, & they are fully committed once the auction ends. Additionally, they need to ensure that they have finished all of their due diligence before the auction, and they must be ready to close on the property & acquire it with cash.
Closing Statement
After going through the blog, you must have figured out some of the best bidder practices that you must keep in mind if you plan to participate in online CRE auctions. CRE online auctions are known to be a convenient and effective method of buying and selling properties just like the way in-person auction room auctions are conducted.
BidHom is a trusted Brokers Online Auction Platform that enables different real estate firms across the world to build dedicated auction solutions and conduct online auctions with ease. If you have more queries to clear or plan to boost your real estate online presence, connect with our experts today.