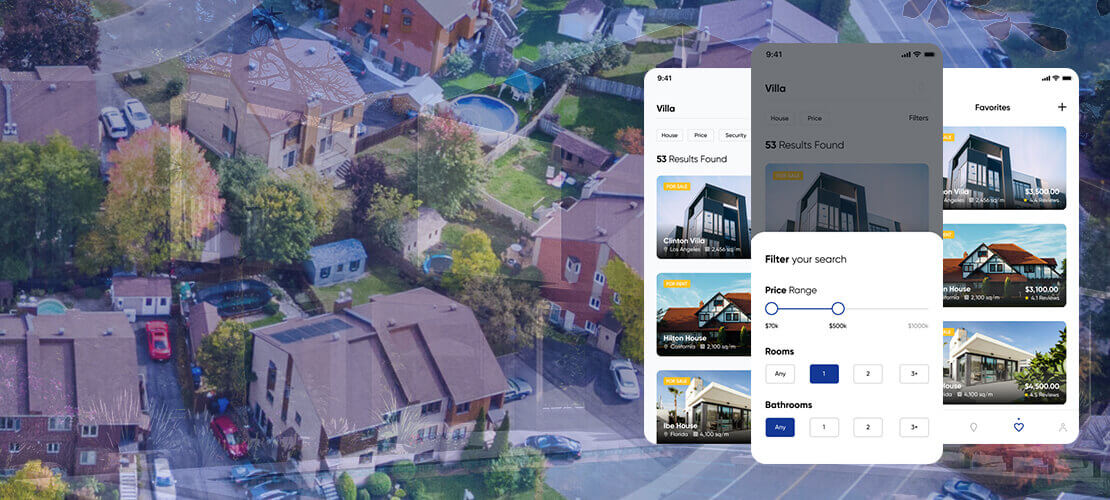 January 5, 2022
Reading time about 7 minutes
The real estate sector is one such industry that is transforming every year with tremendous growth in digital solutions aligned with the latest tools and trends. Technology is the main driver that is enabling real estate firms to gain a competitive advantage. With more and more people relying on online search for home purchases, it is evident that having a real estate website is needed to cater to the needs of digital home buyers.
One question that may pop up in your mind is – how to build a real estate website? To get the answer to this question, you can check out how BidHom, our ready-to-go real estate platform that can help agents, brokers, and auctioneers manage any property hassles with ease. Find out everything you must know about BidHom and how it can help you boost your online presence with faster property search and smart lead capture.
What is BidHom?
BidHom is a customizable feature-packed real estate platform with strong architecture to help brands manage properties the way they want. Beneficial for agents, brokers, and auctioneers, BidHom comes with a robust set of features to promote property listings online with the help of custom-made real estate web portals and mobile apps. With exclusive features like custom IDX, lead generation engine, online auction, etc. the platform has helped various real estate firms across the globe to boost their business growth with a faster & smarter home selling experience.
Steps to Build a Reliable Real Estate IDX Website Using BidHom
When you plan to build a real estate website for your business, it should serve a purpose that helps in solving users' problems such as the smart search for a new home to buy or sell a property with ease. With different business sizes, the needs of one real estate firm may vary with another. To build a reliable and tailored real estate website aligned with MLS IDX Integration using BidHom, you need a few steps, which we will discuss in the below section –
Register
The first step before building your custom-made real estate website is to register on the BidHom platform and you can go live with your new site in just a few clicks.
Choose a Website Name
Take time to analyze and choose the desired name for your real estate website as it will help to boost brand value and get a noticeable online presence.
Pick a Plan
To match your requirements and budget, choose the most suitable option among the predefined packages or go for custom pricing in case of any special needs.
Make Payment
After finalizing the desired plan and consulting with the experts' team of BidHom, it's time to make the payment for the plan that offers the essential features.
Make Website Live
The last step is to make your customized real estate agent website with IDX/MLS integration go live with all the desired features to get a boost for your brand presence.
Types of Real Estate Websites That You Can Build
Known for the capability to help brands manage their online presence with best-in-class real estate custom websites, BidHom is the most reliable real estate platform for promoting the properties online with MLS, advanced IDX search & capture leads, all using a single platform.
Considering different user roles in real estate firms where each has different functionality, there are many types of real estate websites that one can build as per the users i.e. for the ones who will sell, buy or rent the house.
Here are some of the main website types you can choose from –
Property Listing Websites
These types of websites are the ones where people rely on to search and find homes for sale or rent. On some of these websites, homeowners cannot list their properties without the help of an agent. For example- Realtor, Zoopla, etc.
Property Management Websites
Mainly for homeowners, these types of websites help them in fully managing their properties and their potential customers. These websites deal with residential and commercial properties. For example- Appfolio, Yardi, etc.
Real Estate Marketplaces
This is the most common website that acts as a single platform to connect homeowners & buyers/renters. Here, homeowners can list their properties on the website, set a price & find potential buyers or renters. Buyers can search for the desired place; check out property photos, building plans. For example-Zillow, Airbnb, etc.
Real Estate Aggregators
These real estate websites collect property ads from different websites & display them on one. They offer the best way to find a property to buy/rent as it enables users to compare the price, location, size, etc. in one place. For example-Apartments.com
Core Features of BidHom Real Estate Web Platform
With stiff competition in the real estate market, many real estate professionals are struggling to make a difference and gain a competitive advantage. Some main features make BidHom a reliable and trusted real estate platform, which is stated below –
Build Feature-Packed Websites
BidHom offers premium designs that can be tailored to match the needs of different real estate firms. They are built in such a way that they are mobile responsive, optimized to function uniformly in every screen resolution and they also come up with an innovative CRM system to cultivate leads for quick conversions.
Integrated IDX/MLS Search
Using BidHom, any real estate firm can offer a smart property search experience to their customers with the integration of IDX and MLS. Additionally, it supports robust keyword search to help users find the property listing of their choice and interactive map search to help them locate the property's location with ease.
Lead Generation Support
Building just a mere website is not enough if you cannot target the right audience i.e. home buyers & sellers. With BidHom, you can design and build websites based on SEO-based marketing to help customers reach you faster and easier. Managing thousands of leads can be hectic but with the right lead management support, you will never miss any opportunity to convert sales.
Online Real Estate Auction
BidHom helps you build an auction platform connecting home buyers and sellers in one place. Auctioneers or sellers can post the property listing & sell them effortlessly with the best price as per the market value. Homebuyers get the chance to bid on the desired property & get notified of the final bid closing. Every property listed using BidHom is secured and verified following the strict legal procedure.
How to Choose a Suitable Pricing Plan?
Whether you are the owner of a real estate startup or an established firm, budget plays a main role in every organization, which is why it is essential to analyze & plan everything before you invest in real estate website development. BidHom offers multiple plans with different features available at different rates. The plans are named Essentials at $199/month, Pro at $299/month & Premier for customized pricing as per the services or features. They come with different one-time setup costs.
If you are planning to build a simple website with basic features & a limited number of property listings, go for the basic package which is the Essentials edition. But if you need an advanced website with a bunch of robust features, automation, third-party integration & others, go for the Pro edition. If you cannot find the package that suits your business requirements, you can consult our experts and build a tailored solution with a custom pricing plan option. Just keep in mind that the more complex features you add to your website more will be the price of the development. Choose the features wisely and opt for the plan that offers only what you need in the initial level as you can always upgrade them later on.
Final Thoughts
As we know auctions are no longer for deep-pocketed business people but also common men looking for homes at best deals, it's time to boost your online presence & build a larger customer base using a reliable real estate online auction platform. However, choosing the right partner is essential to build a custom solution that matches your brand value and increases the likelihood of auction platform success. Connect with our expert developers that can guide you to build an auction website from scratch or update an existing solution with new features.