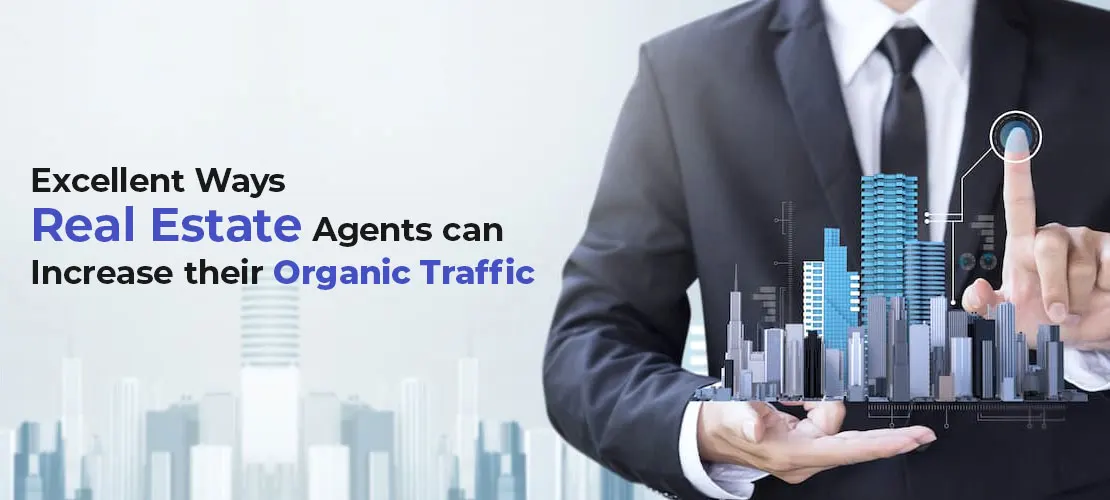 August 5, 2022
Reading time about 5 minutes
Real Estate Agents are always riding on the horse when it comes to boosting their organic traffic and why not as it's the only way to get better leads and get more customers onboarded. The biggest question every real estate agent is looking upto is how can you attract clients when you're competing against relators all across the globe?
To stand out you must look for mobile app development for realtors but, what's more important is to checkout and find some suitable ways to generate organic traffic and how can you use it for building your real estate business into a successful one for a long run. In this article we will study about the best ways to increase organic traffic. Taking the references from the best real estate agent websites, here's how you can increase your website's organic traffic in the long run.
Breaking down the basics of Organic Traffic and its Perks
Organic traffic can be defined as the website visitors who're reaching your website through various search engines including Google, Yahoo etc. Now these people are basically the ones who are actively checkout for the services your brand is willing to offer and may have come up seeing your website UI/UX or maybe the content and services. Organic traffic has by far been the best source of for clients and businesses and what could be the reason? Because you are only getting those clients onboarded who are actually looking for the services you have to offer. There's simply no need to give them an extra dose of explanation to confirm that you're the right person for this job.
Talking about the perks, as we've already discussed, you need not find other marketing tactics to convince clients in your favor. Apart from this, you're not investing extra amount on ads, promotional foyers etc. It's pure content and that's it! Your services should be sound enough to catch hold of customer's attention and the rest is good with the organic linking.
Tips of Increase the Online Traffic
Once you have your well-equipped website ready to slay, it's the time to boost your traffic. Here are a few tips to checkout-
Optimize Website for Search Engines
Undoubtedly this is the most imperative factor for increasing the organic traffic. Optimizing your website for the search engines basically means making sure that your website is easy to find and it is ranking high in the search results. You can do multiple things to optimize the site including keyword research for finding out which keywords are trending and most people are making use of to find real estate agents in the areas around. The next step would be fitting those keywords in the content, making your site more relevant in terms of searchability.
Use Long-Tail Keywords
Just making use of relevant keywords isn't enough, you must use long-tail keywords which are more specific, dedicated and more likely to be used when customers are closer to a final purchase. For instance, rather than making use of just one single keyword "real estate agent" you can make use of long-tail keywords which seems more relevant like "best real estate agent in the USA". This can make the search easier and more relevant. Long-tail keywords are generally more specific and likely to be closer to a conversion.
Content is the Key
Not everything can depend on the keywords added on the website or a piece of marketing driver, as a business you must think about creating compelling content which ranks higher in the search results. You can start with writing relevant articles and blogs to be posted on the website or to be posted of third-party websites as well. While creating content make sure the keywords are paced right and your content is well-researched, informative, and presented in such a way that it can attract the customers instantly. A great content marketing can bring back customers pretty well and make them come back more and more.
Call-to-Actions
If you want quick conversions or at least ensure better traffic, adding call-to-actions is quite a suited option. CTAs are the buttons available on the website or the links available on the webpage that directly connect the users to the main website. For instance, f you want people to stay connected to your website make use of CTA like "Know More", "Connect to an Executive", "Book a Demo" etc. This makes the user to take quick actions and sign up to your brand services, products offered. Have an edge over the rest with placing connecting CTAs making it easier for the users and for the brand to fetch user details too.
Wrapping Up
Every real estate agent must have a dedicated website to showcase their listings and it is highly important to have t altered according to the customer expectations. To checkout what suits the best, find the top real estate IDX website software solutions providers near you or in the vicinity to cater the right audience and find the best match for your business as well. Having a strong digital presence is inevitable and a significant part of promoting online presence for a real estate agent looking to widen their curriculum. Get set with the right option and stay an edge above the rest in the competition.