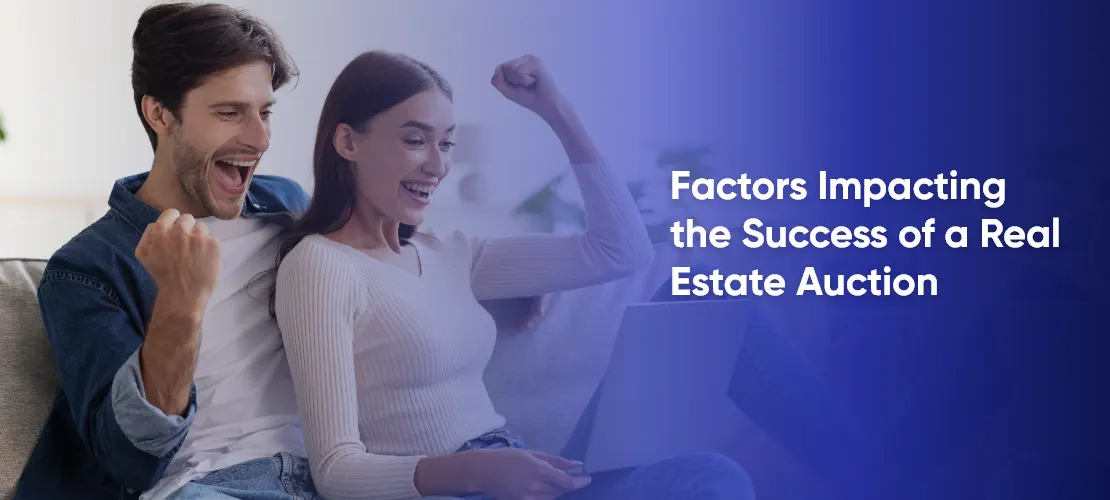 August 7, 2023
Reading time about 5 minutes
Years ago, real estate auctions were only done for quick sales of properties in distress! However, talking in recent times, real estate auctions are no longer meant for selling off foreclosure or distressed properties. It is now considered a cost-effective way that allows home sellers to sell their property with ease and in lesser time. For instance, people prefer the auction process rather than labouring for months and years to sell units of development one by one.
The only problem is not many are aware of the ways to make the real estate auction process successful. To help you overcome the Challenges of Real Estate Online Auction, we have come up with the main factors that can impact the success of real estate auctions.
Significance of Real Estate Auctions
A real estate auction is a home buying and selling process that change ownership with the help of bids. In this approach, any interested home buyers can take part in the auction process, but the property gets sold only to the highest bidder, the one who is willing to pay the most gets the property.
In most cases, homes & other real estate types that are either being foreclosed or when failed to pay property taxes generally end up in auctions. However, real estate auctions are being used to sell off any type of property with the best market price. In auctions, the starting bid for homes will be based on the type of property.
Apart from banks and the government, any homeowner can organize an online real estate auction or a live bidding process for their property. In many cases, participants or bidders are allowed to attend the event after inspecting the auctioned properties. On the other hand, some auctions don't allow bidders to inspect the properties before placing bids in auctions.
Online Real Estate Auctions are becoming a great way to publicly sell real estate, especially after the COVID-19 outbreak. Whether you take part in a live auction or online bidding process, there can always be a case of proxy bids. Real estate auctions can be safe if it's organized by a licensed auctioneer team. It is always advisable for bidders to determine if they can inspect an auctioned property in person before placing their offers.
Main Factors That Can Impact the Success of an Auction
Though real estate auctions offer great benefits to buyers and sellers, it is crucial to consider some of the main points that can impact the success of real estate auction sales. Property auctions have gained huge attention in the US market over the years. They are not only cost-effective but are also quite effective for any home seller's schedule. Making the auction process a success is essential to have a genuine win-win situation for all parties involved.
Here are some of the factors that must be considered to make the real estate auction process a success for both buyers and sellers-
Genuine Expectations for Sellers
To make the auction process of selling off a property a success, sellers must have realistic expectations, which means they must understand the fair sales price of the property, agree on sales terms & allot an appropriate time before the auction.
Desirability of Auctioned Property
Another thing is the property's appeal or desirability which includes the location of the property to be auctioned, the condition of the property along with the value of the surroundings or locality of the property, which contributes to the auction's success.
Know the Auction Type
Take time to understand the trade-offs involved in each auction type to make your auction a success. For example, if you opt for an absolute real estate auction, you can get a guaranteed sale but lacks the safety net for sellers. On the other hand, reserve auctions give more control to sellers but fail to generate more buzz among buyers.
Well-Planned Marketing Strategy
The foundation of any successful auction sale is the marketing strategy. This means you must implement a strategy and target prospects based on personal preferences can be quite useful.
Professional Partnership
Another wise thing to do is to partner with skilled professionals to increase the chance of conducting a successful auction. This association with such professionals will ensure things work as planned in the auction.
Due Diligence of Information
Offering buyers all the information collected from due diligence such as property reports, title details, tax information & others is an important factor when selling property at an auction.
Prepare Property Before Auction
Ensure that you make your property well-prepared before the auction and in the best condition possible before presenting it to potential buyers to help in gaining their interests.
Closing Statement
As we can see, real estate auctions are becoming a common alternative that offers immense benefits to both buyers as well as sellers. It creates a win-win situation for buyers who wish to acquire properties without the need for an agent or broker and sellers who want to obtain immediate cash for the property. Another best thing about the auction is that it allows sellers to eliminate virtually all long-term carrying costs, which eventually helps in passing savings directly to home buyers in the form of reduced property value.
BidHom is a reliable Real Estate Online Auctions platform that enables several brands across the world to conduct property auctions with ease giving sellers and buyers a chance to get benefits in the best way. If you are also planning to host an auction for property or wish to boost your real estate online presence, connect with our BidHom experts today.