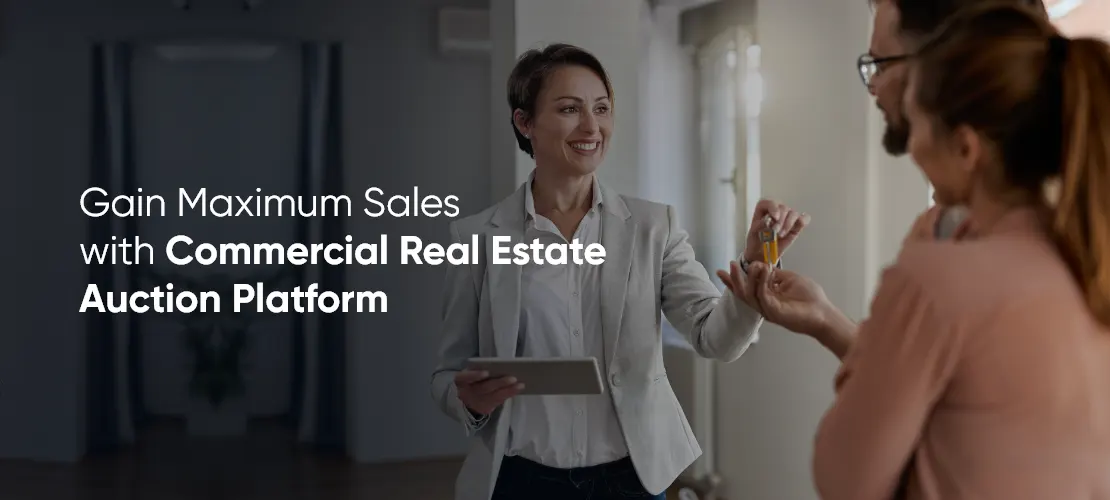 June 7, 2023
Reading time about 5 minutes
The real estate market has a significant growth with an influx of deals in the last two years. Today, many more deals are conducted through online auctions rather than selling properties through traditional sales. In this scenario, commercial real estate auction platforms are becoming more popular among agents, brokers, and realtors as it provides easy selling of properties, evaluating, and purchasing for the end-users. A custom real estate CRE auction platform streamlines the process of listing, marketing, and growth of real estate businesses.
How Does the CRE Auction Platform Bring Maximum Sales?
Commercial real estate auction software provides a broad exposure of potential buyers for agents, brokers, and property dealers including investors, developers, and brokers. However, it should actively market and promote the auctioned properties to ensure maximum exposure. It should facilitate a transparent and efficient bidding process that allows participants to submit competitive bids in real time. Thus, it creates a sense of urgency and competition among buyers.
Real estate auction software builds effective marketing and promotion of your listed properties for sale. The auction platform should employ robust marketing strategies like online listings, social media platforms, email campaigns, and targeted advertisements to reach the right audience.
Real estate online auction platform ensures serious buyers and minimizes the risk of default by prequalifying bidders. This ensures maximum sales when only qualified buyers participate in the auction. Apart from this, scheduling auction and auction countdowns avoid conflicting events and consider market conditions to attract the highest number of potential buyers.
CRE auction platform should prioritize transparency in all aspects of the auction process. It easily builds trust among buyers and sellers by providing accurate property information and encouraging their participation. Thus, auction platforms maximize sales and close the deal faster.
Real estate auction software can bring maximum sales if they have better listing properties, market your listings, find buyers, and provide transparency in transactions.
Why Choose BidHom CRE Auction Software Solutions?
BidHom CRE auction software solution benefits agents, brokers, and realtors to auction their real estate owned (REO), foreclosure and special servicer deals with minimal hassle. Unlock the potential of your real estate business with the industry-leading real estate auction platform. Let's see the various parameters that justify why BidHom is the best CRE auction platform for real estate agents, brokers, and realtors.
Flexible Auction Formats
BidHom is a SaaS-based real estate online auction platform that supports multiple auction formats including live-stream webcast auctions, timed auctions, or hybrid auctions to attract a broader range of buyers. You have the flexibility to choose the best format for your property auction to accommodate various buyer preferences.
Comprehensive Property Information
Maximize your sales by providing detailed information about the properties being auctioned, including high-res photos, videos, virtual tours, floor plans, property descriptions, and any relevant documents. Clear and accurate information helps buyers make informed decisions and encourages their participation.
MLS Search & IDX Listings
Grow your real estate business with top-notch listing features. BidHom helps brands to develop a tailored website with MLS search and IDX listing capabilities using all the best tools and technology. Build a free website builder for realtors, create listings, and drive more leads in less time with BidHom.
Advanced Marketing Features
Commercial real estate auction platforms include software and technology that improves efficiency for commercial property asset management, deal-making, and investment. Our state-of-the-art online auction platform provides advanced marketing features like- email marketing, social media sharing, etc. to attract more bidders for the auctions.
Benefits of BidHom's CRE Auction Software Solutions
A CRE auction platform offers numerous benefits by fostering a transparent, efficient, and competitive marketplace for commercial real estate. It acts as a valuable tool for agents, brokers, dealers, and realtors seeking to optimize their sales.
Enlist Property Details & Explore Market Trends
BidHom provides a highly detailed assessment of commercial property characteristics. You can list details, images, videos, locations, and other details to showcase your properties. Stay updated with the latest and trending features of real estate auction websites to never miss out on sales. Accurately compare properties against competitive sets and define holding periods by analyzing market trends.
Optimize Performance
Personalize your business outreach & track website activity with AI-powered analytical reporting tools. Make smart and data-driven decisions with reports and information and gain a competitive advantage in the market.
Deliver personalized listings by tracking website activity.
Easy to understand reporting dashboard.
Get insights to tailor messaging & communication with potential customers.
Competitive Bidding Environment
The competitive nature of BidHom real estate auction software leads to higher sale prices for the auctioneer. Online auction platforms enable buyers and sellers from different geographical locations to participate without the need for a physical presence. Interested buyers compete against each other, driving up the price of their property. As a result, real estate businesses can gain higher returns for the properties. Global Reach and Access:
Marketing and Management
Attract new opportunities, generate leads, and close deals before your competitors with a free website builder for realtors. Never miss potential leads with a complete lead management system and gain significant advantages for your real estate businesses. Market your properties and listing with the inbuilt SEO strategy, email marketing, and much more.
Boost Your Real Estate Business with CRE Auction Software solutions
Commercial real estate online auction platform is the need of today's real estate brands and businesses. It provides a transparent and competitive marketplace, allowing buyers and auctioneers to come together and determine the fair market value of commercial properties. If you are looking for commercial real estate auction software for your real estate businesses, then we at BidHom can help you with the right CRE auction platform with IDX and CRM software solutions. Create a free website builder for realtors to start gaining new sales opportunities.