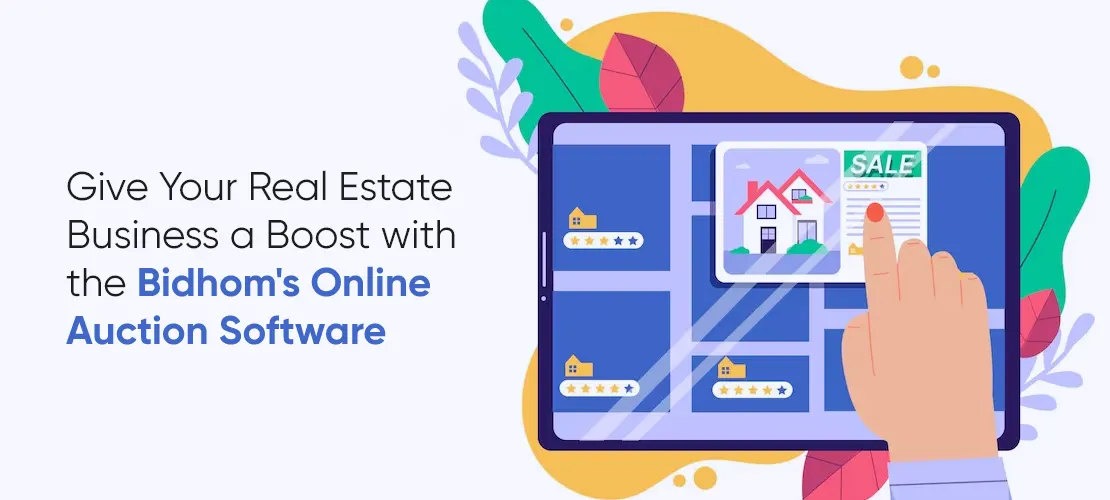 May 19, 2023
Reading time about 5 minutes
When we talk about the commercial real estate industry, we know the market is quite competitive and timing is really important. After earning a new listing, it's crucial to put accurate property details and attractive visuals to gain the attention of potential buyers as early as possible before they turn to other opportunities.
To stay ahead of the competition, you must create a professional, well-planned, and easy-to-navigate property website, which is why you must take the help of the reliable Property Auction Website Builder. Let's find out how BidHom can help your business gain a competitive advantage.
How Custom Real Estate Website Builder Can Help?
Create Appealing Listing Websites
By using the website editor of BidHom, one can easily create attractive property listing websites that can help to generate leads in the competitive marketplace. Whether you need to build a website from scratch or update an existing one, the new Website Editor of BidHom enables users to get the functionality of a custom website without the need for coding knowledge or design work.
With the help of our user-friendly editing tool, it becomes easy for anyone to update details like pricing and descriptions, add, modify, or remove components such as media or content, change the information order, etc.
Enhanced Flexibility & Control
One of the biggest drawbacks of using website templates is that you can only display limited information. For example, there may be some listings that may need highlighting square footage or property type, while for others, it may not be required. Additionally, in some listings, you may need only space for one price, a property with multiple units may need spaces for different rent structures or lease price formats, which may require flexible customization options.
On the other hand, if you choose to work with the Custom Real Estate Website Builder of BidHom, you get to enjoy more flexibility and complete control over all the elements, allowing you to reorder, remove or add details as per your preference. This allows you to tailor the information presented to the most qualified buyers and highlight the essential details for each listing.
Tailored Experiences for Client's Goals
Another best thing about the BidHom Website Editor is that it is designed to cater to meet any client's goals, giving them the freedom to tweak property listings as per your preferences. Let's consider an example of a property that is exceptionally photogenic, anyone would want to highlight multiple photos and videos to showcase its visual appeal.
Similarly, every property is different, which is why you should be able to showcase different elements of the listing, depending on the property's features. BidHom website editor is capable of creating an exceptional experience that meets your client's goals, meet the expectations of the target audience, and helps leads to take any desired actions.
Key Benefits of Using Website Editor
Customizable Templates
The Website Editor offers several fully customizable templates to fit your brand and style preferences. Choose from a range of responsive designs that'll ensure your website looks great on any device.
Intuitive Drag & Drop Functionality
The website editor's user interface is intuitive and straightforward, allowing you to drag and drop elements on your website and create your desired layout quickly.
Built-In IDX Functionality
With the website editor, you have built-in IDX functionality, which means you can easily integrate MLS listing data into your website.
Mobile-Responsive Design
In today's digital-first world, your website must look great on mobile devices. The website editor is optimized for mobile, ensuring that your website looks fantastic on any device, no matter the screen size.
Integration with Third-Party Tools
The Website Editor integrates seamlessly with several third-party tools, such as email marketing services, live chat, social media platforms, and more.
SEO-Friendly
The website editor is designed to be search engine optimization (SEO) friendly, providing you with the ability to customize your website's URL structure, metadata, and tags so that your website appears at the top of Google search results.
Lead-Generating Tools
With the website editor, you can create custom contact forms, add lead capture features, and track visitors to your website, helping you generate more leads and close more deals.
Analytics and Reporting
The website editor provides you with valuable data on your website's performance, including visitor tracking, lead statistics, and traffic sources.
Above all, the BidHom Website Editor is easy to use making it simple for every user to operate, and by the ones that don't need any technical skills to build an effective property listing website. Even if there is any problem or issue, there is a full-fledged team that works 24/7 to provide every kind of assistance if needed.
Closing Statement
As we can see, using a trusted real estate website editor can offer numerous benefits that help in building beautiful, highly functional, and customizable listing websites at affordable rates. So, if you are planning to create a strong online presence for your property listings, stand out from the competition, and generate more leads, the BidHom website editor is all you need to enjoy more flexibility and control over your property listings.
BidHom, an all-in-one Real Estate Online Auction Platform has a decade-long expertise in helping property agents and businesses to grow with the website editor that offers customizable features, flexible pricing options, multiple photo uploads, personal branding, lead generation tools, and more. Get in touch with our experts to give your business a boost with a well-crafted auction property website and meet evolving expectations of your target audience.