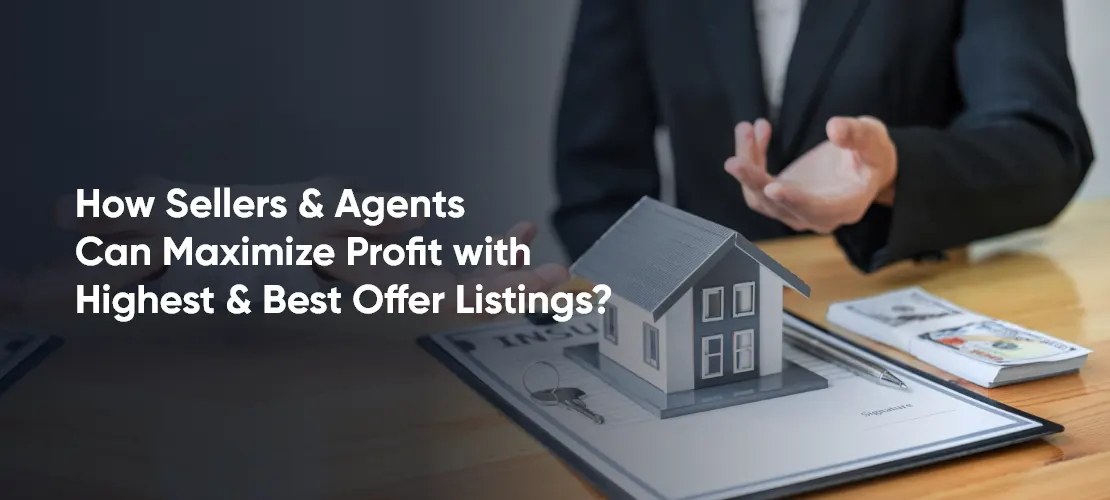 November 3, 2023
Reading time about 10 minutes
When we talk about the real estate sector, we know that property listings play a huge role in showcasing real estate properties that are for sale or rent. Whether it's online platforms, newspapers or real estate magazines, listings can be done in any form to attract potential buyers. Good property listings help buyers get a fair idea of what is being offered, improving the quality of leads, and saving time that would have taken on casual buyers leading to more productivity and faster property sales.
One of the most trending strategies in property listings is 'Highest and Best Offer in Real Estate' and we will learn about it today in detail.
Things to Know About Highest and Best Offer Listing
If you are wondering what exactly the highest & best offer listing is, we will find out everything. For instance, you spent weeks or months searching to find your new home and you are confident that, the house will be yours. You receive a message from your realtor asking you to submit your highest and best offer instead of accepting or making a counteroffer.
You may not be prepared for this, and you don't know what you need to do to make your offer accepted. Well, not anymore! We will find out the meaning of the highest and best offer and how you can ensure that your offer succeeds.
In the real estate hot market, sellers may get several offers, which is good for their sales and can even get them a higher price for the property, but it can be time-consuming too. As the seller needs to examine all these offers, they need to compare them and negotiate individually with every buyer. This needs a lot of hard work and time as they wait for counteroffers from buyers and so on.
This leads to the evolution of better and easier options where they can send out a call for the "highest and best offer", which comes with a deadline helping you and your realtor to decide quickly. As a buyer, you know that the seller has multiple good offers, and they want to streamline the process rather than wasting time negotiating or waiting for a counteroffer.
Once the deadline is over, the seller will evaluate all the offers received from the potential buyers and choose one. As a buyer, you must know that this is the one last chance to win the listing offer of your dream home.
What Sellers Expect in a "Highest & Best Offer"?
We know when sellers look for this higher and best offer strategy, they will look at the amount of money you will offer. Undoubtedly, money is a critical part of this process, but buyers must know that money alone is not enough to make the decision. Sellers also keep focus on other factors like contingencies, closing dates, and the overall terms of the offer.
If you are a home buyer and are genuinely interested in buying the property, you must understand the seller's needs and preferences properly to increase your chances of having your offer accepted & win the home over other potential buyers.
For instance, if your home seller is in a hurry to move to a new location due to a job switch or the start of a new school year, they may look for a quick closing date over a higher bid. Another situation may be where the seller plans to maximize profits and they are not in a rush to sell, it may take time to get the highest bid. Apart from that, some sellers may value offers with fewer contingencies just to minimize the risk of the deal falling through.
The key point is to understand the seller's motivations so that you can tailor your offer that align with their needs and increase more chances of success.
Effective Tips to Win in a "Highest and Best Offer" Situation
After you have gained an idea about the "highest and best offer" and what sellers are looking for, it's time to check out some strategies to help you come out on top.
Offer to Pay More
Though money isn't the only aspect sellers consider, a higher bid can help to catch their attention. However, a slightly lower bid can work if all other aspects of your offer are competitive.
Keep in mind that you don't want to get caught up in the bidding and avoid overbidding beyond what you can afford.
Go for Cash Payment
If you have the means, offering to pay in cash can be a great advantage. This is because a cash offer ensures the seller that the deal won't fall through due to financing conditions.
The best thing about the cash offer is that it helps with a quicker closing process, making it appealing to sellers who are eager to move.
Get Approval Before Time
To figure out your financial readiness and reliability, it's important to get pre-approved for a mortgage before submitting your offer.
Sellers look forward to ensuring that the sale won't be jeopardized due to financing complications. Having your finances in order is a must to gain a competitive edge.
Consider Adding an Escalation Clause
An escalation clause will help to ensure that your offer is the highest on the table without overpaying. This clause defines that you are willing to increase your offer value by a certain amount above the highest bid, up to a specified maximum price.
Going for this strategy ensures you stay competitive while maintaining control over your budget to win your desired home.
Reduce Contingencies
Contingencies are the clauses in a contract that help you to back out of the sale under certain conditions. However, in a "highest and best offer" situation, contingencies can be a disadvantage.
Take focus on minimizing the number of contingencies in your offer if you plan to increase the seller's confidence in the deal and improve your chances of winning the offer. Some common contingencies are-
Home Inspection: Ensuring the house passes inspection.
Financing: Securing a loan for a specific amount on time.
Appraisal: Ensuring the house appraises for the offer amount.
Home Sale: Selling your current home before closing on the new one.
Be Flexible on the Closing Date
You can go for flexibility with the closing date in your offer, which will make it look more appealing to sellers.
If you are ready to accommodate their preferred timeline, whether it's a quick close or a delayed one, it shows your willingness to work as per their needs thereby increasing the attractiveness of your offer.
Add a Personal Letter
Creating a personal letter along with your offer can help to build an emotional connection with the seller. In the note, you can express your appreciation for the home highlighting aspects that work best for you.
Remember to be cautious and avoid any violations of the Fair Housing Act where you cannot mention protected class information. If you need help, you can consult with your real estate agent to create a well-crafted letter which is appropriate and effective.
Work with an Expert Realtor
Though there are many ways to win the heart of the seller and increase your chance of success, you can take the help of an experienced real estate agent who can help to navigate a "highest and best offer" situation.
A knowledgeable agent who has expertise in this field can guide you throughout the process, help you understand the seller's motivations, and create a compelling offer that can make you win your dream property.
Reasons to Choose the Highest and Best Offer Strategy
Home sellers in the competitive market get multiple offers, which could benefit their sales with the best price on the property. In the traditional approach, sellers compare all the bids before trying to bargain with each buyer. Later, they counteroffer, wait and receive a counteroffer from the buyers. This is a long and time-consuming process, which is why the "highest and best offer" is a better option enabling realtors to act promptly as it comes with a deadline.
Here are some of the top reasons that show how the "highest and best offer" strategy benefits the sellers in many ways-
Faster and Effective Selling Process
Many home sellers or agents wish to sell fast rather than wait for a long time. Sellers can avoid the back-and-forth of negotiation by opting for the "highest and best offer" where they choose to request the highest and best final bids from all the potential home buyers shortlisted.
This saves time as it comes with a deadline where buyers are allowed to submit the offers rather than going for a traditional selling approach where it can be delayed for many days for each round of offers and counteroffers.
Better and Higher Offer Price
This approach helps in finding out the genuine interest of the buyers in the property as the "highest and best offer" may encourage the buyers to pay more than the desired price.
However, it is important to ensure the best offer is submitted by buyers in terms of the sellers more quickly and not overbid beyond what they can afford.
What Makes Bidhom a Good Real Estate Highest and Best Bidding Software?
Known for the capability and years of expertise in helping brands manage their real estate online presence with top-notch websites, BidHom is the most trusted Real Estate Highest and Best Bidding Software. As a state-of-the-art auction platform, BidHom helps businesses simplify and streamline the highest and best offer listing process for faster property sale closures at the best price.
Whether you are looking for a user-friendly interface, real-time updates, or secure bid submission, BidHom offers every feature that is committed to helping sellers maximize the properties' values. By making use of the highest and best offer listing strategy, sellers can create a competitive environment encouraging buyers to submit their best offers.
If you are struggling as a home seller or agent, BidHom can help you maximize profits by reaching out to successful buyers with competitive bidding and a faster selling process. Connect with our experts to book a demo of BidHom and see how it can help you boost your property-selling process in no time.
Concluding Statement
As we know competition is too high in the world of real estate, so keeping updated about the new trends and concepts is important. Getting a thorough understanding of the concept of a "highest and best offer" and implementing effective strategies can be a great help to improve your chance of winning the property deal and gaining the attention of the seller.
Keeping focus on the seller's needs and offering competitive terms is the key to winning the property among different potential home buyers. Additionally, you can start working with an experienced real estate agent who can help you position yourself as a strong contender in a "highest and best offer" situation. Always take time for thorough research, tailor your offer accordingly, and approach the process with confidence.
Bidhom is an all-in-one Real Estate Auction Software that enables real estate agents and brokers to simplify the complete home bidding and selling process with their dedicated real estate portals. With the right expertise and auction software, any buyers can increase their chances of success to secure the home of their dreams and sellers can close the deal at the best possible value effectively. Connect with our real estate experts to help you know more about the highest and best offer strategy in real estate listings.