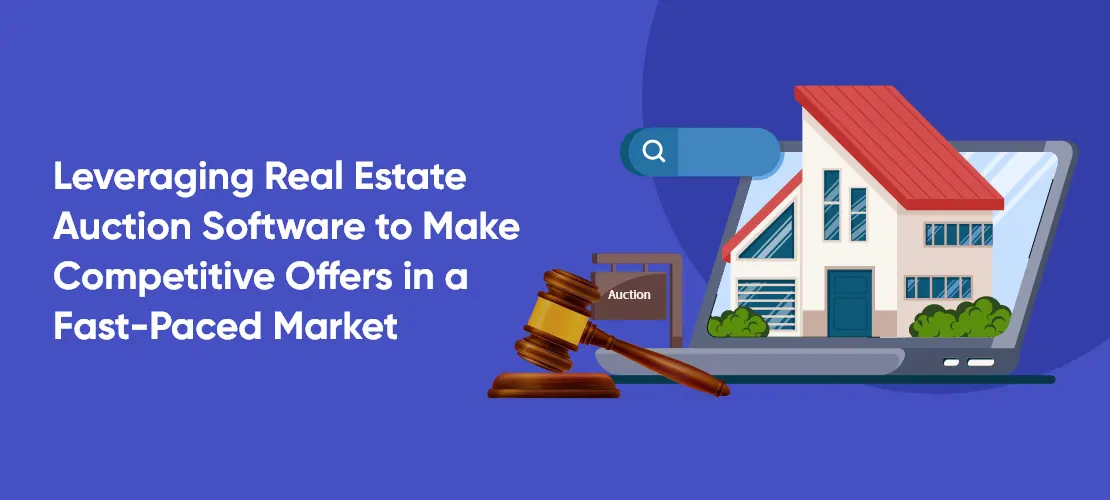 August 11, 2023
Reading time about 5 minutes
Online auction is a way to attract more audiences and encourage them to participate in your online auction. Real estate online auction platform not only allows you to auction your listed properties but also delivers various insights into your competitors to make competitive offers to your participants in this fast-paced market competition. In this blog, we will look at the different types of real estate auctions and how they can make competitive offers by analyzing your competitors.
Understanding the Various Types of Real Estate Auctions
Auctions of properties are becoming a trend among real estate agents and brokers to sell their properties easily and effortlessly. With the ease of online bidding, real estate agents and brokers are getting the best price for their property or sometimes even more than the expected price. Let's see the various types of online auction of real estate and how they can enhance your real estate auction.
Reserve Auction
In a reserve auction, real estate agents and brokers have the right to set a reserve price or minimum price for the property. This helps the agents and brokers to gain competitive prices for their listed property for auction. In this type of auction, homebuyers can start the bidding at a low price until the reserve price is met. Real Estate auction software allows agents and brokers to accept the deal, or they can reject all the bids.
Absolute Auction
Since a reserve auction does not guarantee a sale, an Absolute auction guarantees a sale to the online auctioneer who is participating in an online auction. When homebuyers participate in the online auction then the property is sold to the highest bidder regardless of the price. This type of auction of properties builds excitement until the highest bidder wins the property by making an offer in the online auction.
Dutch Auction
Real estate agents and brokers use Dutch auctions for specific situations, such as when a property is unique or difficult to appraise, and there is uncertainty about its market value. In a Dutch auction, the price of a property starts high and is gradually lowered until a buyer is willing to accept the price within the real estate online auction platform. Thus, we can say that it is the reverse of a traditional auction where the bidding starts low and increases until a buyer wins with the highest bid.
Sealed Bid Auction
A sealed bid auction in real estate is a type of auction where potential buyers submit their bids electronically within the real estate online auction platform without knowing the bids of other participants. The bids are then opened and reviewed by the seller or auctioneer at a specified date and time, often in the presence of interested buyers. The highest bid wins the property, and the winning bidder is obligated to complete the purchase according to the terms of the auction.
Adopting a Competitive Approach with Real Estate Auction Software
In a fast-paced real estate market, where properties are being bought and sold quickly, leveraging real estate auction software can provide you with a competitive advantage in making an offer in an online auction. It streamlines the process of participating in property auctions, allowing you to submit offers, and making online bidding efficient and effective for the participants.
Market Research and Alerts
Real estate online auction platform uses the latest technology like Artificial Intelligence to stay updated on upcoming property auctions. It analyzes various IDX and MLS websites and researchs the listed properties that are getting higher reach and views. Being among the first to know about upcoming auctions gives you a head start in preparing your offer for your potential customers.
Due Diligence of Properties
To make an offer in an online auction, due diligence of properties is very important before auctioning your real estate properties. Perform thorough due diligence on properties of interest and the real estate auction software provides access to property details, inspection reports, title information, and other essential data. Research the property's history, neighborhood trends, and potential for appreciation to make informed decisions.
Competitive Bidding
An online auction can be an effective way to find the right property for homebuyers by making an offer in an online auction. Competitive bidding is a common practice for real estate agents and brokers to bid for the same property listed on platforms. Interested customers must submit their bids within a specified timeframe. It brings better transparency, and equality of opportunity, and delivers the best value of property to the real estate agents and brokers.
Auto-Bidding and Proxy Bidding
BidHom auction software platforms allow you to set up auto-bidding or proxy bidding. Real Estate auction software allows homebuyers to automatically place bids on your behalf, up to a specified maximum amount. Proxy bidding allows the software to incrementally bid for you, ensuring that you remain the highest bidder without exceeding your predefined limit.
Instant Offer Submission
When participating in online auctions, real estate online auction software can facilitate quick and seamless offer submissions. You can enter your bid amount and submit it electronically, reducing the time and effort required to participate in the auction.
Real-Time Updates
Stay connected to the auction process in real time. The software may provide live updates on bidding activity, informing you when you're outbid or when your bid is successful. This enables you to adjust your strategy as needed. Thus, homebuyers can easily place their bids on the registered auction. This enables you to sell your properties in the auction faster and more efficiently.
Conclusion
With the rise in digitalization, real estate online auction platform has become an effective tool for real estate agents and brokers in this fast-paced market condition to generate potential revenue for their real estate businesses. BidHom is an all-in-one software solution for real estate agents and brokers that empower auction houses to bridge the gap between buyers and sellers with tech-powered solutions. Connect with us today to stand apart and ahead with our online auction software solution.