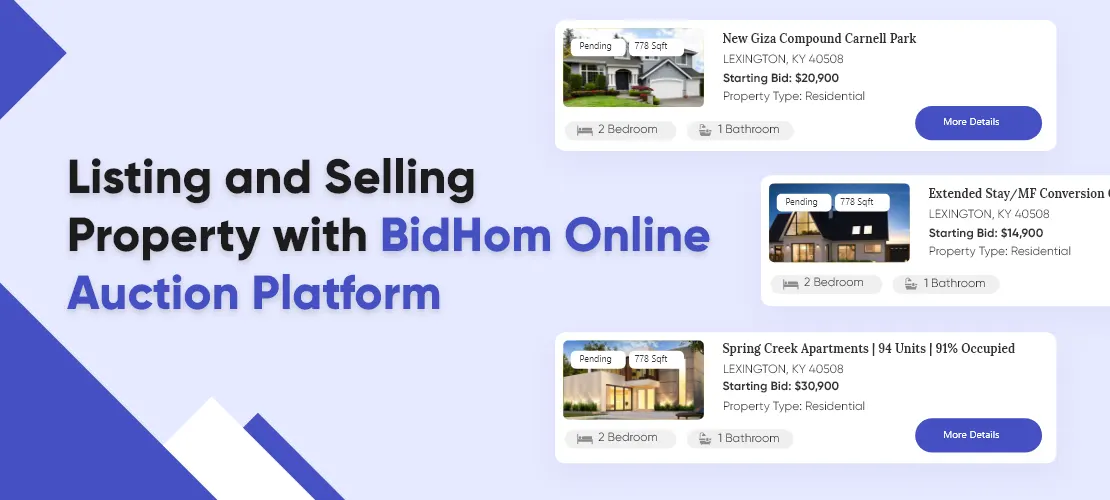 June 27, 2023
Reading time about 6 minutes
The online real estate market has gained more popularity than ever. Most people conduct online research and look for properties online right from their devices and have become more mainstream for purchasing properties online. In such scenarios, real estate auction platforms have become mainstream for online brokers, agents, and realtors to list and sell their properties.
According to Statista, the value of the real estate market is projected to reach US$113.60tn in 2023 and it is expected to reach US$142.90tn by 2028 with a CGPR of 4.70%. Online real estate MLS and IDX listing platform with auction software are a great way to generate interest in your property and attract new buyers. Here, we will discuss how real estate agents and brokers can list and sell their properties using BidHom real estate auction platform.
Why Do Agents and Brokers Need Real Estate Auction Platforms?
Gone are the days when properties were sold privately or through traditional real estate agents. In this age of digital generation, most real estate agents and brokers are building free real estate auction websites and engaging customers with their listed properties while building their brand image. BidHom online auction platform is a great way to list your properties, attract and engage audiences, and create live auctions for your properties.
BidHom is an all-in-one platform for you to list all your properties instead of listing on various platforms to sell your properties. BidHom auction software solutions best meet your needs and help you in getting the best price possible for your property whether it's a commercial property, residential property, or a plot of vacant land.
With BidHom real estate auction platform, customers keep coming back when they experience an exceptional property search. It displays different property listings on your site through an MLS listing search supporting a wide range of filters. It comes with an integrated marketing solution that helps you attract new opportunities, generate leads, and close deals faster than before your competitors.
Features of Real Estate Auction Platform
Premium Tailored Designs
BidHom comes with inbuilt real estate design templates. Choose from a wide range of real estate web design templates or you can create your custom templates that suit your brand's theme and experiences.
Integrated CRM to Manage Your Sales
Never miss potential leads using our high-end real estate CRM software. Make use of CRM software and keep your leads and business on track. Track activities of potential customers, target them efficiently, automate real estate processes, manage and safeguard data, and easily turn your leads into quick conversions.
IDX MLS Integration
Get access to display different property listings on your site through MLS listing. Keep your customers coming back for more with an exceptional property search supporting a wide range of filters.
Inbuilt Marketing Solutions
BidHom real estate auction platform comes with smart, automated & customized email marketing and SEO (Search Engine Optimization) tools. Target your audience and let them find you quickly and easily. Thus, you can engage and connect with wider audiences through various marketing campaigns.
Multiple Auction Formats and Management
BidHom is a SaaS-based real estate auction platform that supports multiple auction formats. You can easily create and manage auctions for your listed properties including live-stream webcast auctions, timed auctions, or hybrid auctions.
How to Get Started with BidHom Auction Software Solution
Real estate agents and brokers can easily list their properties and can sell their properties online. Selling properties through online real estate websites and auctions is a lucrative option for those who want to make quick money without a hassle. Come let's see how you can list your properties on BidHom real estate auction platform and can start your free real estate auction website.
Create an Account & Launch Your Website
Create your account on BidHom online auction software platform and get started with a free real estate auction website. After completing registration, you can verify yourself by clicking on the verification link on your registered email. Choose the right theme and launch your top-notch real estate agent website with IDX
Choose Your Property Type for Sale
A real estate sale online auction can be used to sell various properties, including:
Short sale properties – when a homeowner sells the property at a significant discount to its fair market value to consolidate their mortgage and other debts.
Foreclosed properties – When banks or lender takes ownership of the property to sell the property to recover the amount when a borrower defaults on their mortgage payments.
Real Estate Owned (REO) – REO properties refer to lender-owned property that is not sold in foreclosure auctions. These properties become REO and then owners or bank repossesses them to sell.
Retail Properties – when real estate property owners need investment by enabling them to diversify their portfolios such as stores, malls, and other property.
Flipped Houses – Property owned by business owners who have spent money improving the property and getting it ready for sale.
List Your Property
After choosing the right type of property for sale, you can list your property. Add recent photographs and videos in addition to an accurate description to engage customers with your property. It is a stringent requirement for sellers to publish by keeping an eye on the notes and disclaimers relating to the property. Describe your property properly while keeping an eye on the described legal rights, obligations, property details, and payment modes.
Activate Your Auction
Choose the listing that you want to make the auction. Create a scheduled auction with countdown timer to engage more and more audiences. Activate the listing for auction. Get your convenience to set bidding rules, bid amount, historical price, target price & others. BidHom real estate auction platform supports cloud-based applications enabling users to watch and bid auctions in real-time.
Get Notifications & Real-Time Updates
Real estate agents, brokers, as well as customers can get real-time updates and notifications of the live status alerts & receive updates on upcoming auctions. BidHom cloud-based applications enable users to watch and bid in auctions in real time.
Conclusion
At the end of the day, the online auction is a convenient and secure way to sell your properties at a higher profit. BidHom real estate auction platform comes with property listing software and offers you a platform to sell your properties. Set a reserve price so that your home has a guaranteed value and also see what other properties are up for sale in your area before placing your own listing. Start your free real estate auction website today!