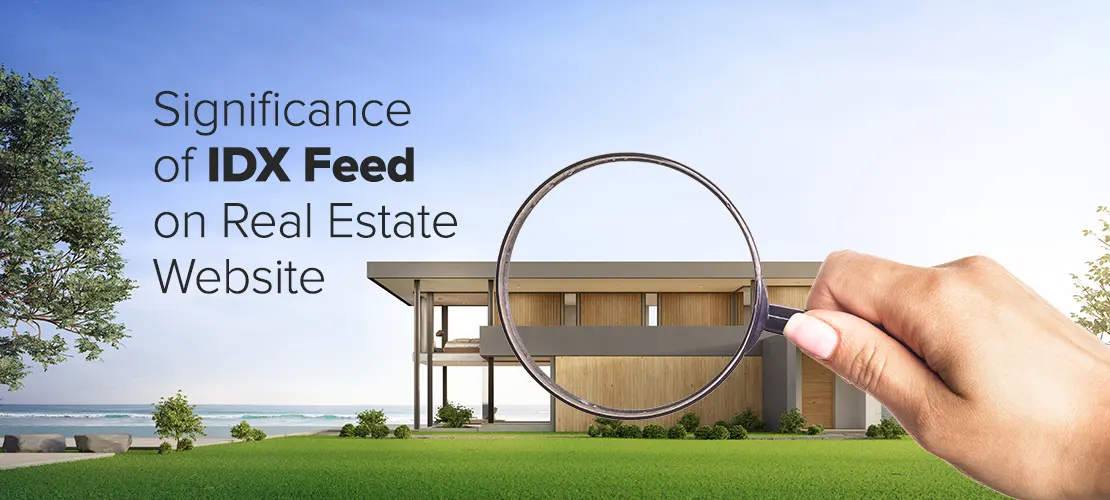 May 20, 2022
Reading time about 6 minutes
For a real estate business to grow, property listings play a great role for agents, brokers as well as buyers. But not many are aware of how these listings are compiled, shared, and viewed. That is where IDX and MLS come into action. Real estate agents upload and manage them while buyers browse them. One question that may come to your mind is- where do listings come from, where do they get stored & how are they uploaded. Can everyone view your listings or are the listings visible to only agents? What is IDX feed and does your real estate website need one? We will check out everything in this blog about real estate IDX solutions and the pros and cons of IDX feed on your website.
Brief Understanding of IDX and IDX Feed
An IDX, also known as Internet Data Exchange, is software that enables buyers to search for the MLS (Multiple Listing Service) properties in a particular area. MLS allows agents/brokers to upload, manage & share local listings. Every MLS contains listings from a location i.e. a city or region.
Instead of relying on paper or word of mouth, agents/brokers must log in to the database to access properties with ease. These databases are hosted on software like IDX, which allows anyone to share MLS data on a third-party website. This allows agents and buyers to view the most updated local listings at any time.
Coming to IDX feed, it can be defined as the way that helps members of the MLS to integrate real estate listings into their real estate website. Having an IDX feed on your real estate website can have pros and cons, which is why it cannot have a straight answer on whether using an IDX feed is right or not. The honest answer would be – it depends on your requirements and business goals. Before you build real estate IDX websites for realtors, ensure that you consider both the advantages and disadvantages that come with adding an IDX feed on the website.
Advantages of Having IDX Feed on Your Real Estate Website
Up-to-date Property Listings
Research by Statista says that 93% of home buyers rely on online search to buy a home & only 7% of homebuyers say that they didn't use any websites to search and purchase a home.
To cater to the needs of 93% of buyers, your website needs an IDX feed as buyers want to see listings for a better home search experience. Adding IDX feed will ensure that you provide visitors with the latest and updated property listings in your preferred area. This not only targets visitors looking for brokers and visitors looking for homes on sale.
More Accurate Listings
Talking about the renowned real estate apps like Zillow, people like them as they are user-friendly and offer easy & smarter search. However, their drawback is inaccuracy in listings. This is because they don't pull data from the MLS, which means listings are not always up-to-date. Research says 20% of listings on Zillow and Trulia are overstated and sold houses still appear in listings on these sites.
IDX feeds solve the problem as they pull listings from the MLS that get updated every 5 minutes, making listings very accurate. Adding IDX feeds on your website will ensure that you are giving buyers an accurate alternative to these popular apps like Zillow and Trulia.
More Visitors to Your Site
Adding an IDX feed will make home buyers search for listings on your website, which means they have more reason to visit your site. People are more likely to stay on your website for more time as they can easily browse at available options. Knowing about a broker may take a few minutes but it can take hours to search for homes online.
Having IDX feed on the website will not guarantee an increase in website traffic but you can make use of SEO & ad marketing to drive more organic and paid leads to your site.
Connect Information about Leads
Another advantage of having IDX feeds on your website is it helps in collecting information about potential buyers regarding the type of homes they are looking for, their preferred area, etc. With an easy home search option, you will get many users that may want to sign up for updates when new homes are listed & may even create an account for better search.
IDX Feeds help in collecting not just users' data but also properties that are gaining lots of attention and the type of properties preferred by most users. This increases the chance of closing quality leads in a shorter time.
Weaknesses of Having IDX Feed on Your Real Estate Website
After finding out about the benefits of having IDX feeds on your real estate website, let's see some of the drawbacks too-
Difficult to Compete with Top Players
Having an IDX feed on the website doesn't mean you can compete with top real estate websites like Zillow and Trulia. These sites are the most popular options for many home buyers and they compete for local home searches in paid and organic leads, which make many brokers believe that they should try on your website.
Doesn't Improve Organic Search Rankings
Adding IDX feed on websites doesn't increase organic linkings on Google or Bing. You will indeed get updated property listings regularly but that doesn't mean your website will do good in terms of SEO.
IDX Feeds can be Expensive
Though there are many different IDX providers, they come with a wide range of budgets. From getting more updated listings to a better chance of lead closure, IDX benefits are many but they don't come for free. You don't just have to pay for IDX feed but also the MLS fees.
Difficult Rules & Regulations
IDX rules and regulations are different for every MLS which can be quite confusing for many real estate agents or brokers. Keeping track of each MLS and their IDX listings can be difficult, which is why many brokers prefer not to have IDX feeds on their websites.
Closing Statement
As we can see, IDX feeds on your real estate website offer both pros and cons but we can say the pros outweigh the cons for many real estate brokers and agents. If you are planning to boost your real estate presence and close more leads in no time, IDX feeds is a must.
For any queries related to IDX feed integration along with Custom Real Estate Website Design and Mobile App development, connect with the experts of BidHom and get everything you need in one go.