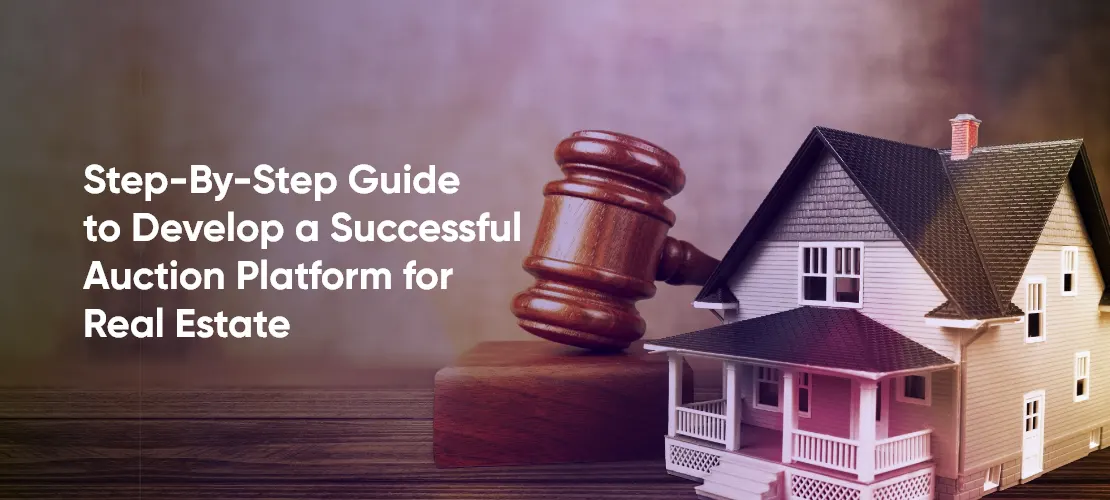 February 16, 2023
Reading time about 5 minutes
Gone are the days when people used to gather around in halls screaming for homes and properties for auction. Today, online real estate auction platforms are gaining huge popularity replacing traditional systems. Auction platforms are likely to grow in the coming years. Almost 30% of all eCommerce transactions were performed by online auction users in 2002. This clearly shows that it is profitable to own Online Real Estate Auction Software.
In this blog, we will discuss everything we need to know about the real estate auction platform along with its advantages & disadvantages and what the steps are to build successful real estate auction software.
Know the Pros and Cons of Auction House Management Software for Real Estate
Using real estate auction platforms not only provides ease to both sellers and buyers but also helps in closing deals faster with lesser effort. Here are some of the top advantages of using an auction platform for real estate business-
Capability to list and check a wide range of properties online without physical visits
The contact-free sale or purchase of property during the social-distancing time
Capability to see every bid on the desired property in real-time with daily updates
Higher security of platform ensuring data protection
Opportunity to bid on different properties and keep watch on different live biddings at a time
Simple to use and 24/7 openness to connect from any location
Here are some of the cons of using real estate auction platforms-
No chance to check out properties in person
There is a possibility of fraud cases from some illegal online auctions
Anonymous bidders that conceal their identities can be a problem
Tips to Build a Real Estate Auction Platform & Make It a Success
1. Thorough Market Research & Competitors Analysis
One of the most important aspects before building a real estate auction platform is to conduct in-depth market and competitor research to get a deeper analysis of the idea, requirements, and possible challenges.
Doing this will help in discovering different aspects of the future product development like core goals, product features, technology stack, software architecture, the scope of work, customer pain points, challenges, user journey, and more.
2. Create a Unique Value Proposition
As the competition is quite high in the real estate online auction market, it is important to build a website with a unique value proposition to ensure that your business stands out from the competitors. One idea is to make use of financing and bridge loans to attract more bids.
Bridge loans are short-term financing that enables homeowners to buy new homes before selling their current ones considering existing ones as collateral. Bridge loans can be used to pay for the down payment, bid closing costs & remaining balance payment on the existing mortgage.
3. Choose a Desired Development Type
Take time to choose the desired type of development-whether you choose in-house development or outsourcing. The in-house development approach enables product developers to stay in control working together with the team to make decisions & deliver results. But, it can be quite time-taking and need more resources for control, recruitment, hiring HR specialists, etc.
Outsourcing offers lesser personal control and is often backed by project managers that work as a bridge between product owners & the development team. Outsourcing takes lesser time and money as compared to in-house.
4. MVP Development & Product Launch
Starting with an MVP is always a great idea before investing in your actual development process to save a lot of time and money. If you are planning to launch a real estate auction website, you must start with an MVP as it can help to launch your website faster with lesser risks.
As MVP only includes the core product features, it serves as the best way to implement the idea into an actual project & represent it to the audience or investors before implementing the fully-featured real estate product.
5. Ensure Higher Security of User Data
Making a real estate auction platform a trusted place is essential to help every user prevent any type of fraud during the sale of real estate auctions. Here are a few things that must be kept in mind-
ID Authentication-Conduct a thorough ID verification of every user to avoid data misuse
Real-Time Auction Tracking-Track all the current ongoing bids & receive all bid updates to keep control of the current auction situation.
Ratings-Take time to collect feedback from genuine customers to increase trust and attract new customers
Depending on the complexity of the real estate auction website, the time taken for the development of the real estate auction marketplace will vary. Our experts suggest the use of Python for the back end and React for the front-end development of the real estate auction platform.
Why Choose BidHom?
Online real estate auctions are here to stay for a long time, as they are not only preferred by deep-pocketed businessmen but also for common men looking for a home at the best deals. BidHom is a renowned Online Auction Platform Development Company that has a bunch of expert developers for building custom-made auction solutions for an increase in value & likelihood of auction platform success.
Having worked with hundreds of successful auction projects across the world, our team has all the expertise you are looking for to build a reliable auction website from scratch or update an existing one with new features. Our clients have achieved immense success in no time with more than 30% growth of user base, a 60% increase in home buyers, and a faster selling process with up to 3.5 speed up than before. Book a demo with our experts to see how BidHom can help you boost your real estate business presence.