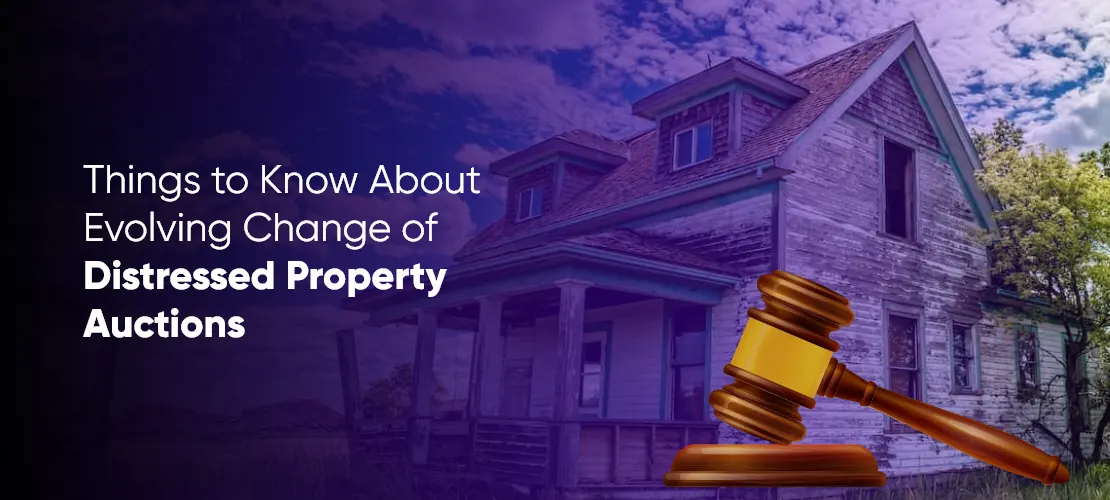 April 21, 2023
Reading time about 5 minutes
Distressed home sales are the reality that has been highlighted by the recent economic upheaval affected by the coronavirus pandemic. Economic turmoil has indeed triggered a crazy demand in many local housing markets as buyers struggle for a limited supply of lower-density housing far away from the crowded market. Research by NAR, National Association of Realtors showed an increase in pending home sales and another report by Mortgage Bankers Association witnessed a hike in purchase mortgage applications.
The right Real estate online auction platform can bring a transforming change in the way auctions of distressed properties happen. Let's find out about the changing reforms in real estate auctions and how they can impact property sellers and buyers.
Transformation in Distressed Property Auctions
Exploring the market of distressed properties is not child's play but knowing how the properties became distressed and go to the auction market is crucial. Before you consult with the experts of the real estate software solution to build an auction platform for real estate, we suggest you check out the changes associated with distressed property auctions.
More Consistently Competitive Marketplace
If we talk about buyer competition, auctions are undeniably outperforming the retail market. The research by Redfin stated that the share of MLS listings with multiple offers increased tremendously and even reaches above 50% in some markets like Boston, Dallas, Washington, D.C., Denver, etc.
Even with this record, the share of retail homes with multiple offers is still very less as compared to the share of multiple bidders for distressed homes sold through online auctions. Auction.com shows 85% of all bank-owned (REO) homes that were sold got bids from multiple and unique bidders, which was well above the 49% of retail share in May 2020.
Comparing the data between retail sales and REO Auctions, the share of REO online auctions increased with competing bidders but the buyer competition at online auctions was seen as less volatile than the retail market. 75% of REOs were sold on the Auction.com platform had multiple and competing bidders.
Decrease in Holding Costs
The inconsistent level of competition in the retail market can be quite harmful to distressed properties that are not producing income for sellers and are also not serving as a shelter. Every day, the distressed property stays on the market displaying additional holding costs that serve no good purpose for the homeowner (neither for shelter nor for rental income).
Also, distressed property in the market for a long time adds extra risk to the seller as well as the surrounding neighborhood by contributing to neighborhood blight. One of the main reasons for distressed properties staying in the market is the unpredictable demand in the retail market.
Research shows that the REO homes sold on the MLS take around 275 days to sell from the completed foreclosure auction whereas homes sold via online REO auction using Auction.com takes only 131 days to sell after the foreclosure auction.
Improved Price Execution
Even without considering holding and resale costs, Auction.com research shows that distressed homes sold to third-party buyers at foreclosure auctions perform better in terms of price execution relative to the seller's credit bid at a foreclosure auction.
Most of the third-party foreclosure sales are sold for an average of 116.6 percent of the seller's credit bid, while homes after being reverted to REO and then resold on the MLS are sold for an average of 93.2 percent of the seller's credit bid set back at the foreclosure auction — without considering for any costs associated with holding & selling of homes.
Increase in Owner-Occupancy Rates
Many mortgage servicers are committed to promoting neighborhood stabilization through their distressed disposition strategy i.e. renovating and reselling to retail buyers. The research found that REO properties resold on the MLS were less likely to be owner-occupied a year after a foreclosure auction than properties that are sold to third-party buyers at a foreclosure auction
Another report says more than 69% of properties sold to third-party buyers at the foreclosure auction were owner-occupied in a year, as compared to the 46% percent owner-occupancy rate for properties that reverted to REO at a foreclosure auction and were resold on the MLS. This shows that cash-buying real estate investors are much better than mortgage servicers when it comes to efficiently get distressed homes into the hands of owner-occupants.
Opportunity to Build Wealth Locally
Many foreclosure auction buyers are usually small and local real estate investors. Auction.com report says around 76% of buyers brought 5 or fewer properties in 2019- selling in 2019.
The sale of homes at the foreclosure auction has added neighborhood stabilization benefits giving local entrepreneurs that are more likely to invest back into the community an opportunity to build wealth locally.
The owner of Rehab2Home Properties, Michael Johnston believes in buying and providing rehab services to distressed homes located in low-income zones as he wants to give back to the neighborhood community while building wealth.
Final Takeaways
Hopefully, after going through the blog, you must have got an idea about the increasing performance of real estate auctions in the retail market. The sale of distressed properties via auctions is becoming one of the most trending things in the real estate sector outperforming the sale of retail homes.
Bidhom is an all-in-one real estate auction property platform that holds expertise in helping thousands of home sellers or agents to list any property types & sell them through auctions effortlessly. Be it distressed, foreclosure, bank-owned, or mortgage properties, we help to bid and sell any property across the country. If you are planning to build a top real estate IDX MLS website, connect with our experts to create a free website first and launch them whenever you are ready.