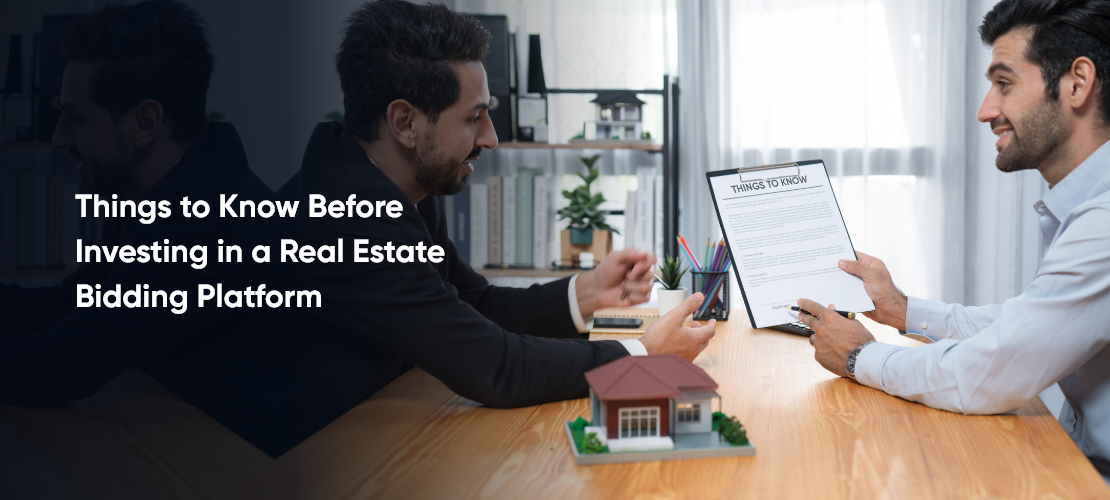 October 23, 2023
Reading time about 6 minutes
The real estate industry has been growing tremendously over the years with the evolution of technological advances. If you are planning to start a real estate bidding platform, it can be a great opportunity for growth. However, you need a proper plan and detailed research to gain a competitive edge in the market.
Before you build a real estate website for brokers, we suggest you gain a good knowledge of the industry to ensure a successful business launch and achieve sustainable growth of your real estate platform. Let's check out some of the main aspects that you must keep in mind before you invest in a real estate platform for your business needs.
Main Mistakes to Avoid While Starting a Real Estate Business
There are common mistakes that real estate businesses often make to hinder your business progress in the real estate bidding environment. Here are some of them that must be avoided before entering the market of real estate.
Improper Market Research
One important aspect is to conduct thorough market research that will help to identify key trends, and target demographics, and overcome potential challenges.
Without understanding market dynamics effectively and customer preferences, you will face difficulty in developing a viable business model & creating an IDX website for realtors that can effectively meet buyers' and sellers' demands.
Poorly Planned Business Plan
Take time to focus on making a well-researched plan that addresses all aspects of the real estate platform and assesses potential risks that can impact business growth.
A good business plan helps to outline the purpose of your platform which signifies a clear vision of the goals, identifies key differentiators, and has a proper sales and marketing strategy.
Ignoring the Competition
Another important aspect is to have a comprehensive knowledge of competitors and their offerings. Starting a real estate business without proper competitor analysis can hinder the success of your real estate platform.
To help you in analysis, you must study market demands, learn from competitor's successes and failures, monitor their unique selling points, come up with a unique value proposition and build a competitive edge.
No Focus on Technology Infrastructure
The next crucial mistake is neglecting technology infrastructure because without using reliable technology in your real estate platform, you cannot achieve success in meeting the expectations of evolving customers.
Without prioritizing technology infrastructure, your business will face several issues such as slow performance, security vulnerabilities and customer dissatisfaction. Take time to invest in a scalable platform with robust security measures and integration with relevant APIs.
Underestimating Costs
Another common mistake is when real estate business entrepreneurs start their real estate businesses without estimating the costs involved. This could lead to financial strain, and poor resource allocation leading to business failure in the long run.
Take time to analyze the costs on time considering many factors that affect the cost such as technology infrastructure for smooth functioning of the platform, proper budget plan for marketing & advertising, operational cost to run the platform, etc.
Main Features to Check Out in Your Real Estate Platform
After going through the mistakes that must be avoided, you can unlock the path to the success of your real estate business. From conducting market research to building a solid plan for your business, you must give special attention to knowing the competition and invest in the right technology infrastructure to ensure long-term growth.
Here are some of the main features that you must consider before building your real estate bidding platform—
Transparent Real-Time Bidding
One feature that your real estate platform must offer is the capability where buyers can start the bidding process by submitting an offer with a credit card deposit and signing offer agreements using any device.
Additionally, sellers should be able to receive offers for review in real time via email and text alerts enabling them to accept or reject offers as needed and even provide immediate feedback to interested buyers.
Documents Storage & Management
Another important aspect is to provide complete access to documents in no time with the capability to automate all common real estate business processes and manage and protect data within a few clicks.
Having secured online storage is a great way to manage all the signed documents where users can access the contracts page with all the contracts' data information. Also, they can share documents with any registered user or outside platform using a shareable link.
Easy Lead Management Process
Your real estate platform should help monitor the status of the potential leads and their offers where you can receive notifications when other offers are submitted.
This not only enables sellers and buyers to gain complete control over the property sale process but also allows them to review offers on time whether to accept or decline them, thereby leading to faster property sales.
Simplified Real Estate Auction Process
Before you invest in a real estate platform, ensure that it offers an all-new personalized experience to manage property auctions and sell properties.
From finding the best property among the thousands of properties listed to enjoying the transparent bidding process that allows you to bid on the property at the best rates, you can close the property deals with ease.
Smart Notifications
Your system should enable interested property buyers to receive real-time updates and email alerts whenever offers are submitted on a property of interest to sell on-the-market homes quickly. This not only accelerates the deal closings but also helps to deliver updates keeping buyers and sellers informed.
Closing Statement
With stiff competition in the real estate space, building a revolutionary solution in the real estate domain can be a challenge without proper expert guidance. If you are planning to build a real estate presence to offer a transparent way that connects home buyers and sellers in one place with genuine lead generation, BidHom can be the right choice.
Whether you want to build a web-based platform or a mobile app, BidHom has a bunch of skilled real estate developers that can help you quick sales closures effortlessly. Having years of expertise in delivering customized real estate solutions, BidHom is known as the most helpful Real Estate Bidding Platform enabling several agents, brokers, auctioneers, and auction houses to scale their business growth.
Connect with our experts if you want to boost your real estate business brand towards success. Start by building your real estate website with just $99 per month to generate new sales opportunities in one go.