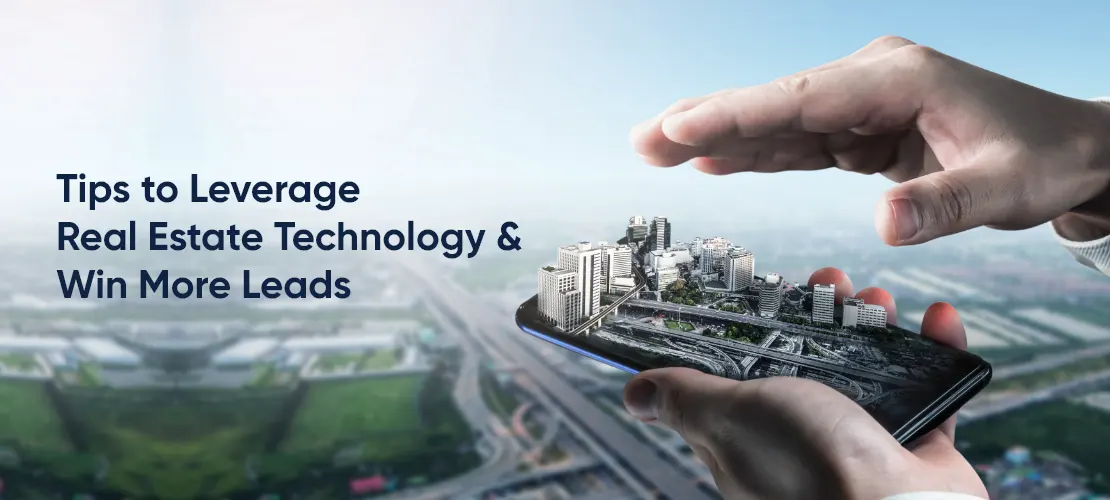 August 21, 2023
Reading time about 5 minutes
Technological advances are transforming all areas of businesses irrespective of the industry type and the real estate market is no exception. Competition is quite high in the real estate market, which is why getting genuine leads is the lifeblood of your real estate business. Without leads, no business can simply succeed. That's why it's crucial to make lead generation your number 1 priority in your real estate business.
If you planning to have an online real estate presence & attract customers to buy or sell homes, you need reliable real estate auction software to generate leads regularly. However, with new technologies and changing expectations, your traditional way of getting leads may not work as they once were.
Why Use Real Estate Technology to Bring in More Leads?
To cope with ineffective ways of generating leads, you need real estate technology that can help you beat the competition enabling you to grow your business faster and more efficiently. In this section, we will check out some of the best new ways to leverage real estate technology and bring in more leads.
Make Use of Paid Ads For Better Website Promotion
Promoting your real estate IDX website is essential to boost your presence and make your target audience aware of your brand. Make use of paid ads campaign if you want to attract leads by giving a link to your page with contact information on business cards.
Capture the Best Aesthetics of Properties with Drones
To attract buyers, you can highlight the property's best exterior features with amazing aerial shots of properties using drones. Focus on investing in a drone to help you capture video of properties in a whole new way different from what competitors do.
Live Streaming Option for Open Houses
Another important way to leverage technology is by live streaming your open houses to increase the attention of your audience and help to attract more leads. But first, you need to set up social media page with engaging content and once there is enough engagement, you can announce open houses that will go live enabling users to live stream and watch later after download
Choose a CRM program for Real Estate
One effective way to manage all your leads from one place is through CRM, which can also help track the relationship between the brand and customers keeping track of every interaction with each prospect and encouraging them to move to the next stage of their journey.
Let Your Audience Find "For Sale by Owner" Properties
The "For sale by owner" section is gaining popularity as it makes it easier for people to buy and sell homes without relying on real estate agents. For instance, any user can access pricing reports. This provides benefits for both homeowners who want to list their homes and buyers to browse homes without a realtor.
Unlock the Power of Social Media Presence
Brands must be present where your customers are active and they are more likely to search for information about properties through social media. These social media platforms help brands to meet their customers and reach out to them more effectively. Go for an effective social media strategy to reach your lead generation goals.
Gain Real-Time Insights with a Predictive Analysis Tool
Getting valuable insights with the help of a predictive analysis tool is essential to predict future events such as the likelihood of homes being sold. This means home sellers, agents, brokers and investors can easily analyse deals to calculate ROI faster and figure out if the property is worth their time without putting in extra effort.
Get QR Codes on Business Cards
With technology upgrades available today, business cards must be updated to easily share contact information with QR codes for real estate websites or social media pages. Getting QR codes printed on your business cards help users to hold up their phone cameras & get an instant link to access website or services.
Make Use of AI Chatbots for 24/7 Support
Giving customers what they need to know easily and instantly is a must and chatbot is a great help in helping them take important decisions before buying or selling their homes. Using a chatbot will not only help to get customer queries answered but also help to boost engagement for faster deal closures.
Use MLS for Commercial Properties
Getting MLS designed is a must for commercial properties as real estate agents or investors get access to all the information that is needed to make informed decisions. This helps to check out every detail of commercial properties beforehand & even get contact info for the homeowners.
Virtual Staging Technology for Home Tours
When buyers start browsing for properties, they may become interested to take virtual tours but showing empty properties can be disappointing for buyers and even hurt the sellers' chance to make a sale.
Making use of virtual staging real estate technology helps buyers to visualize how they can decorate their future homes and how the house might look after moving in. This gives sellers a better chance to sell their homes.
Closing Statement
As we know the significance of using real estate technology to generate leads in your real estate business, it's time to move ahead from the traditional approach and meet the evolving needs of customers. This will not only help you with a wide range of tools for prospecting that can bring in more leads but also make you close more deals effortlessly.
BidHom has more than a decade of experience in building dedicated real estate solutions for specific client needs aligned with the latest technology and market trends. Known as a trusted real estate auction platform for brokers and agents, we help brands to close more deals and make more profits with successful lead-generation tactics and marketing approaches. Connect with our experts today and unlock new opportunities to win more leads using real estate technology.