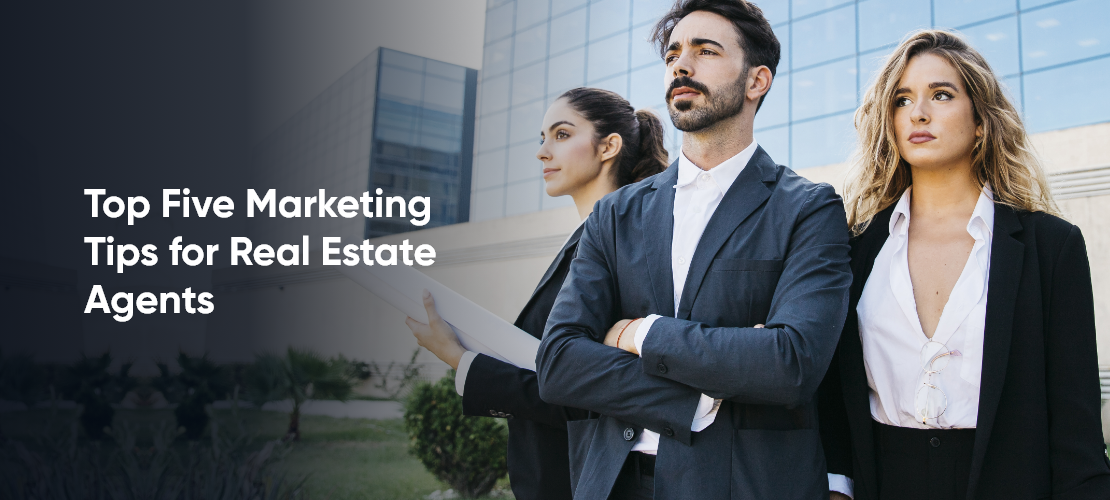 October 20, 2023
Reading time about 7 minutes
Are you struggling to stand out in a highly competitive real estate market?
Are you unsure of the online presence of your business and want to give it a second thought?
It is quite normal for real estate agents to experience these common inhibitions around their marketing efforts. Let's face it! A few years back, people used to look for a property online, shortlist it, and take a tour. Now the scenario has changed. The Internet has taken the real estate industry by storm and changed how property buying and selling traditionally worked. Right from search, and tour to closing, everything happens in the digital space.
And that makes marketing crucial for real estate agents.
Before you invest in reliable Real Estate Auction Software For Brokers, let's find out some of the main reasons why the real estate industry needs to embrace new changes by implementing the right technology.
Marketing is no gimmick when it comes to real estate space. But remember, not everything on the plate is for you. You must start by understanding your marketing needs.
This blog will discuss top marketing tips for real estate agents along with what common mistakes are to be avoided during the course.
Why Marketing is Important for Real Estate Agents?
Your potential buyer has more options to buy a property than you think. A highly competitive real estate market is hard to penetrate. The quest starts with appearing in the right searches and ends with successful lead conversion. It isn't as easy as it looks.
Primarily, it is important to invest in marketing in this digital era to sustain and thrive in your business. Second, it is important to exert marketing efforts in the right direction.
Marketing helps a real estate agent in-
Making an online presence
Generating quality leads
Building credibility
Create differentiation
Engaging potential clients
Your potential buyers are more interested in knowing what you can do for them rather than what you have done previously. Here's a straightforward way to understand this. One of the biggest turn-offs for online users is excessive real-estate content on your social media platforms with no value. If your content isn't offering them a solution or aid to make an informed decision, it isn't serving the purpose. After all, you don't want to position your real estate services as another social media page that posts about real estate. If it isn't producing revenue, it isn't worth the investment.
Here's a Heads-up: Real Estate Space is Highly Competitive
The global real estate market is growing tremendously and is expected to expand at a compound annual growth rate (CAGR) of 5.2% in the next five years. With a global market size of $3.7T in 2021, sales type CAGR is estimated to soar above 6.1% in coming years. People are more tilted toward owning luxurious homes, villas, and second homes after the pandemic episodes.
These facts promise good days ahead but not necessarily good business. Despite the market turning bullish, real estate agents struggle to get customers because this space is highly competitive.
Buyers and sellers have plenty of options when working with an agent. Real estate agents who offer great customer service can stay on top of their game by using digital marketing tools and strategies. A well-planned digital marketing strategy can help real estate agents in-
Building trust and credibility
Responsive communication and transparency
Client management
Reputation management
Here we've got your back with top marketing tips for real estate agents.
1. Build an Online Presence
The real estate marketplace has moved online and that's a callout for all real estate brokers and agents to build their online presence. According to the National Association of Realtors, 70% of broker associates and 69% of agents have a website.
An IDX website for realtors is essential for setting up an online presence and brand recognition. Though many real estate agents get their leads from referrals and repeat business, a new customer will still search for the business's presence online. Not finding enough information on the internet, they might change their mind. An IDX website also helps you get quality leads. Inbound SEO marketing and paid marketing campaigns can serve the purpose. Blogs and case studies can help you educate the website visitors, offering value and ultimately establishing thought leadership.
2. Leverage Social Media Marketing
Social media has become an integral part of the real estate space in the past few years. Mere having an online presence is not enough, you must position yourself as a brand, and social media marketing is the perfect tool to achieve that.
By creating social media accounts on various platforms, it's easy to reach a wider audience and attract potential customers. You can run ads for your real estate auction platform on various social media platforms. The interesting part is that SMM allows you to run ads based on demographics, interests, and behaviors. Moreover, social media allows two-way communication and prompts users to interact with your posts. You can present your property listing on your social media platforms and stay on top of your mind. Social media also allows tracking matrices through various analytical tools to adjust your marketing efforts.
3. Don't Discard Traditional Marketing Methods
There's no way you should discard the traditional marketing tools. Most real estate agents are location-bound and must consider endorsing their offered properties and related services through canvassing cards, brochures, portfolios, and other print material in their neighborhood.
Traditional marketing tools will set you apart from your competitors and personalize your services. Going further, you can be creative about how you share your contact details. Your business card can tell a story of how you helped a client get their dream home.
4. Create a Smart Marketing Strategy
There are plenty of digital marketing tools out there. What has worked for some other business might not produce the same results for you. That is where creating a smart digital marketing strategy comes into play. Having IDX and MLS integration for your website is a must-have. It helps you keep your list of properties up to date.
Subscribing to a real estate auction platform can be a great investment. Besides, you can familiarize yourself with the content management platforms like WordPress and HubSpot. A new real estate business should put more emphasis on organic marketing through quality content and SEO. Even if you opt for a blend of paid and organic marketing, do not forget to assign a budget beforehand and track the performance.
5. Keep a Tab on Your ROI
Do delve into questions like- which blog got more traction? Do people interact with blogs more or videos? How many click-throughs do you get on your emails? Tracking your returns on marketing spend is as important as cracking the right marketing mix for your real estate business. Data is the fuel for real estate success. When you track your marketing spending, you get useful insights into the performance of each marketing channel and campaign. It enhances your efficiency and cost-effectiveness.
Tracking returns on your marketing efforts can help you distribute your resources and budget accordingly. You can shift your budget to those campaigns that are producing good leads.
In a Nutshell
Technology is the new way for real estate businesses. Unleashing the enormous scope of marketing can do wonders for your business. Successful real estate businesses make use of pioneering tech-based solutions to ensure their digital success. There are credible broker real estate auction platforms that help you set an ideal base for your marketing efforts.
Bidhom property listing software enables real estate brokers and agents to stay ahead of the curve through innovative solutions to buy and sell properties. Start building your real estate website and much more with Bidhom today.