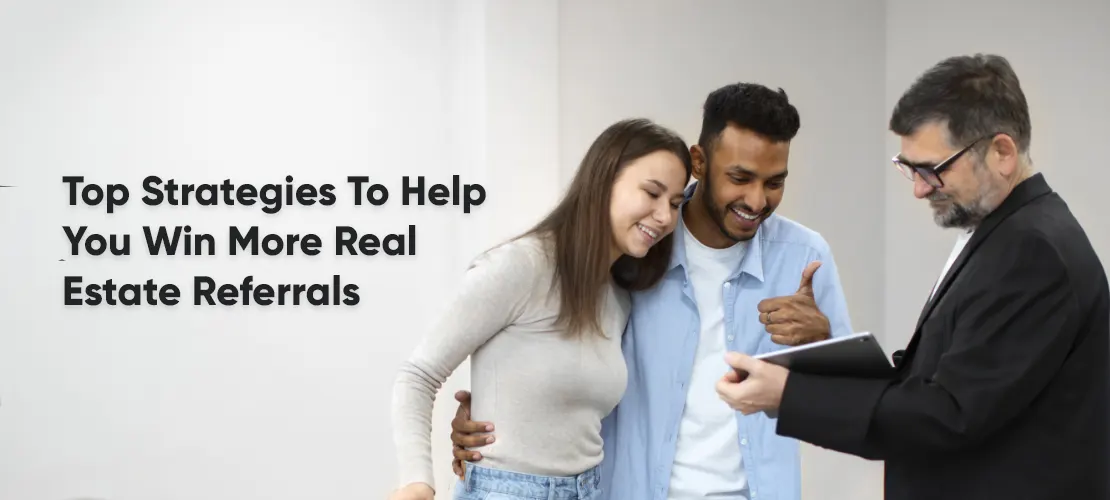 August 1, 2023
Reading time about 5 minutes
Irrespective of the industry type, businesses need referrals to make them grow and generate business with a higher customer base. The real estate sector is no exception and referrals act as the lifeblood. Recent research by NAR also stated that more than 50% of all home buyers and sellers find their agents with the help of personal recommendations or referrals from friends or families.
However, to get referrals for real estate agents, we must focus on two aspects that help in referral generation i.e. client satisfaction & networking. In this blog, we will learn some of the top strategies to earn referrals and how firms can take the help of reliable Property Listing Software For Agents to grow their businesses.
Why Real Estate Firms Need Referrals to Grow?
The significance of getting referrals cannot be ignored as it is essential to keep your business going & thrive even during changing market demands. Keeping the focus on client satisfaction is the first step to making your business a success. This is because satisfied clients are all you need to help you provide more repeat business and they are the only ones that are more likely to refer you.
Research has shown that happy and satisfied clients are 2.6 times more likely to refer than that dissatisfied ones. If you are a struggling agent or broker thinking of a way to increase your customer base, you must focus on building referrals from your existing customers. Having a mere Real Estate Website For Brokers or agents is not enough as client satisfaction & networking play a huge role in generating valuable leads through referrals.
Another way to generate leads is by building connections with other industry professionals like lenders, title companies, home inspectors, etc. As a real estate agent, your goal is to cultivate relationships with clients that endanger trust. If executed correctly, your efforts will pay off and help you earn referrals your business needs. The next section of this blog will help you with the most effective tips to strengthen your referral generation skills.
Sure-Shot Tips to Generate More Referrals
Focus on Best Client Service For More Referrals
Like every other business, your goal is to keep clients on top priority. To do so, you must show them how much they mean to your business. Here are some of the ways such as
Know client needs & preferences to offer an exceptional customer experience with tailored recommendations leading to satisfaction & referrals.
Meet your client expectations by keeping the focus on personalized services that helps to offer rewarding & positive experience.
Reach out to customers with regular updates, potential developments or solutions that may resolve their queries.
Build a Brand that Earns Referrals
As competition is high, building a strong personal brand that helps you stand out from the crowd is needed to attract referrals.
Differentiate your business from others by showcasing your unique selling points like extensive market knowledge and exceptional customer service.
Another way is to share the success stories of your clients and testimonials shared by happy clients to build the trust of new ones.
Use social media & content marketing to boost visibility and attract referrals by working on engaging content.
Transform Old Clients into Referrals
Keeping your old clients engaged is the key to building long-term relationships & turning them into valuable referrals.
Organize exclusive events to show your appreciation for them & give them the best experience helping build credibility in the local area who may refer their friends when required.
Send customized gifts with a simple thank you note as simple gestures can also act as a great way to drive referrals.
Build a Network to Get Referrals
Your business can expand its referral network by building relationships with industry professionals such as lenders, inspectors, designers, architects, developers, etc.
Be a part of real estate conferences & events to increase the chance of generating referrals as they feature high-profile speakers.
Partner with service providers to unlock benefits for the growth of the referral network increasing meaningful contacts.
Make Use of a Real Estate Referral Program
Building customer loyalty is also essential to build referrals, which is why having your referral program is a must to build trust with potential customers.
Create a referral program designed exclusively to offer attractive incentives to clients like free services, exclusive promotions and perks that encourage referrals.
Promote the program effectively on every channel like social media to reach a higher impact helping you get more referrals.
Another way is to track referrals you earn to get an idea of the ROI of referral efforts by keeping focus on key metrics like number of referrals, conversion rate, average transaction value, CPA, CLV, repeat referrals and referral program costs.
Go for Digital Marketing to Build Referrals
Another effective way is to embrace the power of effective digital marketing to make your success and increase referrals.
Make use of email marketing to build real estate referrals by staying connected with past clients and industry experts & share about market trends, buying tips, etc.
Opt for paid advertising to attract referrals from specific audiences with tailored messaging and ads, which are more likely to build interest among genuine home buyers.
Closing Statement
If you are planning to build a strong referral network that can help to boost your real estate business, BidHom is a great choice to consider. Having deep expertise in working for multiple brands across the world, our real estate development experts can help in building a dedicated Real Estate IDX Website aligned with the best features to grow businesses with higher referrals in no time.
Ensure that you go through the referral marketing strategies stated above to get an idea of how you can implement them in your business & unlock better growth. Still have doubts, connect with our experts and generate more real estate referrals for the higher customer base.