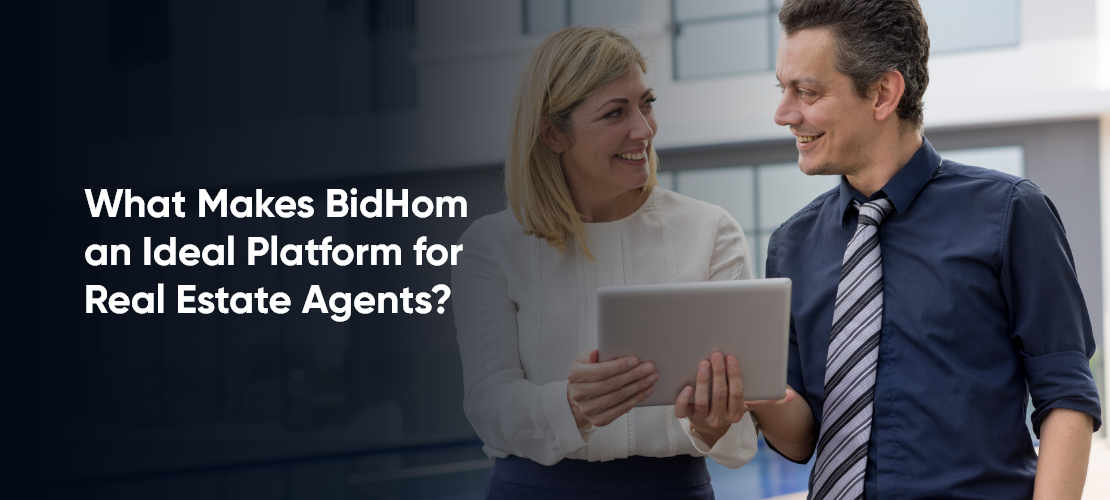 September 28, 2023
Reading time about 5 minutes
Having an online presence for your business is not just an option but is an essential part of reaching out to your target audience. The same goes for the real estate industry as more and more people rely on online searches to buy and sell their properties with ease. However, they need real estate agents to help them understand and manage the transactions.
No matter how much technology advances aligned with real estate websites that have transformed the real estate process, it can never replace the real estate middleman- the agents. Many real estate agents struggle to gain a competitive advantage and build stronger relationships with their potential buyers and sellers.
A reliable Real Estate Property Listing Software is what real estate agents need to promote and showcase their property listings effectively. In this blog, we will find out how BidHom serves as an ideal real estate platform for agents with its wide range of features.
Top BidHom Features That Help Real Estate Agents to Grow
Having the right expertise to build customized real estate websites for your business needs is required if you want to adapt to evolving market demands & changing user expectations. As a real estate agent, you must be aware of growing competition making it difficult to build a unique presence for your brand.
That is why, BidHom brings in all the best tools, technology and features essential to build top real estate IDX MLS websites for agents, brokers and auctioneers enabling them to scale their business effortlessly. Along with smart home search experience, BidHom believes in effective property listing where you know where and when you must promote the particular listing.
Here are some of the best features that must be kept in mind by every real estate agent who is planning to boost their business growth-
Auction & Bidding
BidHom offers the best auction functionality enabling homebuyers and investors to transparently and effortlessly find attractive property deals and bid on them. This feature help agents to plan smooth real estate auction where both parties enjoy seamless interactions leading to faster-closed property deals.
Website Design & Visibility
BidHom experts ensure to build professional real estate website designs exclusively customized to meet every project's needs. We help you choose from a wide range of real estate web design templates to make every website unique and built to target specific home buyers and sellers with less effort.
Build Mobile Responsive & Optimized Website
User experience still plays a huge role in making your real estate portal stand out from the bunch of competitors. That is why, BidHom helps you offer an exceptional user experience with a mobile responsive and optimized website making your website work seamlessly in every screen resolution irrespective of the devices being used.
Manage Sales with Innovative CRM
Our BidHom platform helps you make use of a robust real estate CRM to keep track of leads and businesses helping you focus on important activities. This not only helps in boosting relationship with potential clients but also help in turning one-time visitors into leads with guaranteed quick conversions.
Drive Leads with Smart IDX Search
Adding MLS search and IDX listings to your real estate website can be a great step to boost your business with exceptional search experience, helping you connect with genuine home buyers and sellers. Ensure that you use BidHom to provide clients access to your property listings seamlessly and deliver them the exact search results they wish to see with a range of filters.
Go for Well-Planned Email Marketing
The timing is everything for the real estate business success, which is why you must know how to engage and convert more leads with smart, automated and personalised email marketing campaigns. BidHom helps to segment users based on their search history, viewing behaviour and preferred location, which is essential to sending the right mail to the right customers.
Interactive Map View
Let your clients locate the exact location of the desired property without any issues in just a few clicks. You can do so by using BidHom which offers access to a full-screen interactive map view for a seamless property search experience.
Customized SEO Strategies
To unlock new opportunities, generate leads and close deals faster than your competitors, you must make your IDX real estate website a strong marketing machine by making use of the best SEO strategies. This helps you target your specific audience enabling them to find you quickly and easily.
Social Media Integration & Sharing
As most users today are active on social media platforms, it is important to include the feature of social media sharing where customers can share listings and take suggestions from their friends and followers. Additionally, social media acts as a great way to connect with clients personally and leveraging social media for your marketing is a wise choice to market your property listings or share blog content.
Analytics & Dashboard for Listings
BidHom provides analytics and reporting capabilities to help agents and realtors keep track of their performance and make data-driven decisions. The reports include lead generation reports, listing performance reports, transaction reports, team reports, etc.
Apart from that, BidHom offers an interactive dashboard that provides a real-time view of the real estate agent's performance where they can track their leads, listings, transactions and commissions.
Final Takeaways
As a real estate agent, a great listing feed plays a huge role in making a real estate website a success. Ensure that you work with the trusted Real Estate Software For Agents that help you build dedicated real estate websites with robust features that can showcase unique functionalities, optimize user experience and add value.
BidHom is a renowned real estate platform that enables several real estate agents & brokers to grow with robust offerings & take control over the real estate market by showcasing property listings for guaranteed faster closures. Connect with our real estate agents to unlock your true potential as a real estate agent.