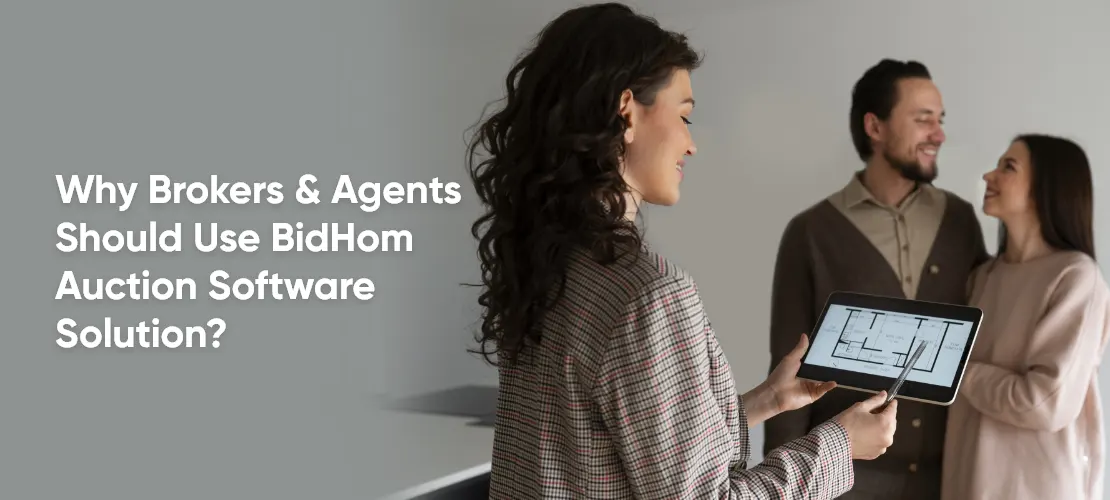 June 14, 2023
Reading time about 5 minutes
Property auctions are complex but still, thousands of properties are sold in traditional and online auctions every year generating billions of dollars of sales. There are many key factors that influence every broker and agent from online property listing software to live auctions. In this blog, we will see the various key factors for choosing BidHom as your online auction software solution.
BidHom Online Auction Software Solutions
BidHom is a complete online auction software solution that allows buyers and agents to list their properties with IDX and MLS integration. We deliver more options and features to sell your real estate properties. Brokers and agents can easily conduct live auctions with real estate transaction management software of their listed properties, customers can make online bidding all along with the set countdown time.
BidHom online auction software has been created to work in any market condition. It enables brokers and agents to manage all their tasks, listings, auctions, and live bidding right from the dashboard. Thus, brokers and agents get full control and there is no risk involved in accepting, negotiating, or rejecting any bids in the live auction of the properties.
How BidHom Turns Your Website into a Digital Property Auction Platform
Why leverage another brand or their real estate platform to create your listings, auction, and manage your listings? BidHom is an all-in-one solution for real estate websites, online auctions, and property listing software. It offers a customizable user experience to the users and quickly turns your real estate website into a fully functioning property auction platform. A real estate agent and broker website have to compete against rival platforms to attract the attention of prospective buyers and vendors while building brand identity. Thus, you need to integrate the best features to reach wider audiences. Real estate transaction management software increases your website traffic and market presence, in turn, strengthens your brand and market awareness.
Embrace and implement the power of feature-rich real estate websites and online auction technology to drive more traffic, leads, and inquiries directly to your business. Track customers' insights, generate reports and influence your market through transparent competition. Thus, increase your customers' engagement and exposure while increasing your brand value
Reinvent Real Estate Auctions with Greater Transparency
For an online auction, due diligence and compliance are key factors to take into account with multiple stakeholders representing every seller and buyer. Thus, it becomes important to have real estate transaction management software that fits your purposes and underlines positive results. BidHom property listing software allows agents and brokers to sell homes faster. The whole process of buying and selling properties is so transparent that the buyers and sellers can see what other buyers are bidding on while providing sellers clarity on the real market value (RMV). Thus, create your free real estate auction website and sell your properties in record time while saving millions of dollars in commissions
IDX and MLS Integration
Add MLS Search & IDX Listings to your website & grow your listing information online by sharing it with other real estate agents who participate in their local MLS. BidHom property listing software allows brands to develop a tailored website with MLS search and IDX listing capabilities to drive more leads in less time. BidHom allows you to provide detailed information about each property being auctioned, including descriptions, photographs, videos, property reports, etc.
Easy Registration and Overview
Prior to the auction, potential buyers can register on the auction platform to participate in the live-stream auction. This registration process typically involves providing personal information and agreeing to the auction terms and conditions. Buyers can schedule property inspections anytime or can visit physically by making an appointment with brokers or agents.
Live Stream Property Auctions
The auction platform sets a specific date and time for each property auction. This information is made available on the website in advance. Brokers and agents can send emails or notifications to the registered customers to take part in the auction. Thus, deliver the ultimate live bidding experience for your property from anywhere, on any device, at any time.
Time-Out Online Property Auctions
Empower your live auction of properties with time-out sessions. This enables customers to have an 'always on' auction. If you want a faster sale, then this type of auction can make your customers stick to your website for demanded value lots and commercial lots within specific geographies. Thus, timed-out auctions can make your business popular and help you in making sales faster.
Live Bidding
Registered buyers can place their bids in real time through the auction platform bidding interface. Bidders may have the option to enter manual bids or use proxy bidding, where they set a maximum bid, and the platform automatically increases their bid incrementally to maintain their position as other bids are placed. BidHom real estate transaction management software integrates live bidding software and allows for fast changes to ask and increments in real-time. The live bidders screen shows how many bidders are active on a lot along with their geographic location.
Conclusion
Live stream property auctions have become increasingly popular in recent years. BidHom online auction tool and property listing software allow potential buyers to participate in auctions remotely without physically attending the event. Agents and brokers can schedule live auctions, and timed-out auctions online through a live video stream. BidHom is offering free real estate auction websites to agents and brokers. Build your own real estate website today and increase your sales.