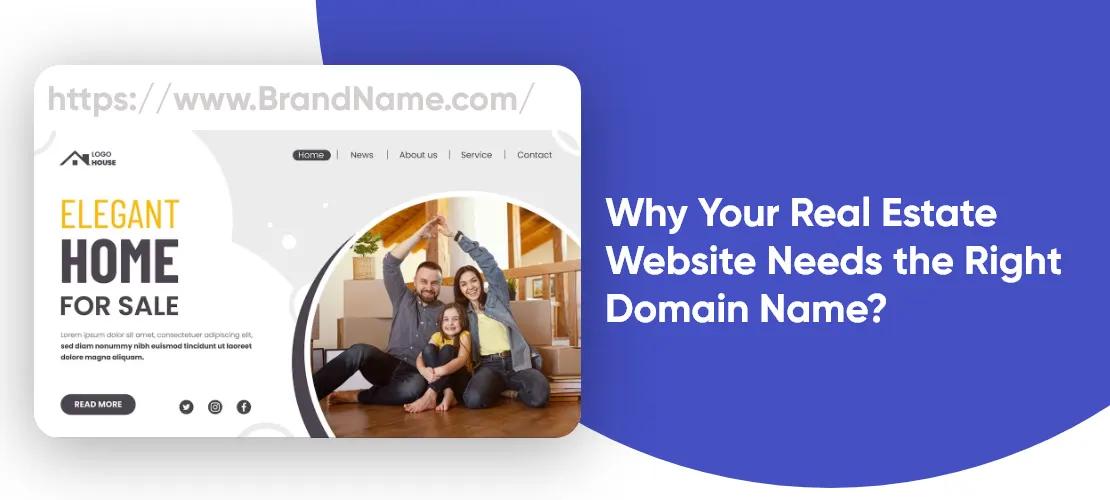 August 25, 2023
Reading time about 6 minutes
Building your brand can take huge efforts and choosing the right domain name for your website is one of the most important steps. It should not just be easy to remember and spell, but also boost your brand image, enabling the audience to find your services among competitors.
With more than two billion websites around the world, getting a unique domain name that helps your business stand out requires research, planning and strategizing. All your effort in building the perfect web content for your target audience will go to waste without the right domain name.
In this blog, we will learn about the right domain mapping for real estate agents and the helpful tips that you can consider to choose the best domain name and make your real estate business thrive.
Reasons Why Domain Name is Important for Your Real Estate Website
Choosing the ideal domain name is a vital part of your real estate website as it enables your target audience to find your business online. The Realtors Auction Website that you build for your business plays a significant role in driving more potential clients to your website and increasing your lead generation rate.
Another main benefit of having the right domain name for your real estate business is that it can help drive more traffic to your real estate website and increase ranking on search engines thereby, attracting more and more customers to make use of your services.
The domain name will represent your business brand image and adds credibility to your business, making your customers more likely to trust your products and services, which in turn help you build stronger customer relationship. Take time to research, analyse and strategize before investing in a domain name as it will help streamline migration, making you free to switch hosting or change things anytime without it harming your SEO or ranking efforts.
Tips To Select the Right Domain Name for Real Estate Website
After going through the section above, it is clear that choosing the right domain name is important for your real estate website to grab immense benefits. Here are some of the tips that can help real estate businesses choose the right domain name-
Keep the Domain Name Short and Crisp
Whether you are building a new website or rebranding an existing one for your real estate business, ensure that you keep your domain name short and professional. This is important as it helps in making your clients easily remember the name. Additionally, you must choose a name that shows what are you offering to your target audience on your website.
Though content using the right keywords plays a great part in increasing website traffic and how search engines rank your website, choosing the right domain name will help to connect your business with the right set of target audience. Make a long-lasting impression on your clients by choosing a short and powerful domain name for your real estate business.
Choose a Unique Website Name
Picking up a unique name for your real estate business website is a must and you must not go with the real estate agent name unless you are well-known in the real estate market. The best way is to make use of highly researched keywords in your domain name to make it recognizable on Google and other search engines.
Also, you must ensure that you pick a unique domain name to gain a competitive edge in the real estate market and leave a lasting impression on your clients. Another tip is to make sure that your domain name is as same as your company name so that it reinforces your brand and makes it easy for your potential customers to remember you. Doing so will help your existing customers to share referrals to their friends and family thereby helping you expand your business with the larger customer base.
Make Domain Name Catchy and Easy to Spell
Keeping the domain name simple helps your audience to remember it without the need to refer to your business card or go through a directory. Ensure that your domain name is catchy and very relevant to the real estate industry, which helps achieve better branding.
The domain name with long words and too hard to figure out can be a drawback and contribute to losing potential traffic and opportunities.
Gain More Control of Domain Extensions
Another tip is to gain control of all the widely used domain extensions like .com, .org, etc. by purchasing them to protect your company name. This will prevent your domain name from being resold online with a different extension and also help to outrank your competitors on search engine results as you have gained more control over variations of your domain name.
Avoid Using Names That are Taken
After choosing the domain name of your real estate business, ensure that it is not taken on Google My Business or any social media platform where your target audience is.
Having a great online presence is an extension of your brand and there are billions of social media users globally, which is why having consistent social media helps to boost your business image enabling users to find you easily.
Key Takeaways
After going through the tips stated above, it's time to focus on brainstorming sessions that can help your real estate business grow with the right domain name. One thing that we have learned is that your domain name doesn't have to be fancy or posh, rather it should resonate with your brand personality and target market. Keep it simple, punchy and meaningful while naming your real estate business website.
Ready to take the next step and grow your real estate business website with the right domain name? BidHom, our trusted Real Estate Auction Platform For Agents and brokers can help with every assistance you need in the process of naming your real estate business as well as for fulfilling your website and app development needs. Connect with our experts today to build the real estate website with the right domain name, drive more traffic and increase ranking.